Most of the U.S.-based air lines were not able to make the most of the low crude oil prices that prevailed at the start of this year, and American Airlines (NASDAQ:AAL) is no different. The stock has lost considerable value this year, declining almost 30% so far in 2016. But, is this an opportunity for investors to go long American? Let's take a look.
Jet fuel and American's no-hedge policy
After trading at its cheapest in more than 12 years, jet fuel has now surged nearly 80% since January 2016. Bob Mann, the president of airline consultant R.W. Mann & Co., said about airlines that, "To the extent that they lost money when oil prices fell, they could have made up some of those losses on the way up," and also that "they would have had exceptional gains on that portfolio if they had hedged."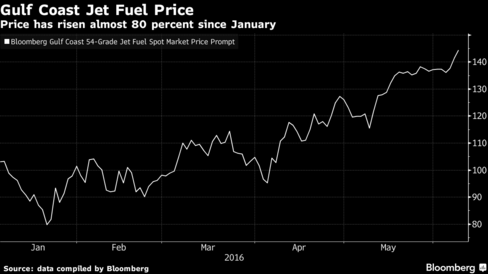 Source: Bloomberg
American Airlines follows a no-hedge policy, which is why the carrier's earnings skyrocketed amid the crude crash. That said, the market believes that American Airlines did not make the most of the opportunity provided by a period of prolonged weakness in crude oil prices.
American Airlines' huge debt burden has put downward pressure on the stock. Instead of using the fuel-related savings to pay back the debt, American's management decided to use the money to buy more fuel-efficient planes, buyback shares, and compete against ultra-low cost carriers on price. As a result, American Airlines shares have fallen steeply from 52-week highs.
But, I believe that American Airlines is a misunderstood stock and the carrier doesn't really need to pay off its debts right away. A sudden debt reduction would not have helped the carrier so much given the low interest rate of American Airlines' debt.
American Airlines instead decided to reward investors by buying back shares aggressively. Even with huge debts, all airlines are making substantial profits with cash left over to return to investors. So, the market's reaction to American Airlines' debt seems exaggerated. High leverage is a characteristic of the airlines industry, and although American's debt is a lot higher than its peers, the company can afford to invest money elsewhere.
This is because most of the debt issued by American Airlines is long term and carries very low interest burden. More specifically, the company's debt maturities are evenly spaced out going forward, which will allow it to meet its obligations without much trouble owing to its strong cash position. The following chart shows the low-interest rate and maturity profile of American's debt:

Click to enlarge
Source: American Airlines
Moreover, there are penalties to be paid if the company pays down the debt prematurely. Additionally, investors should not forget the fact that American's operating cash flow is a low stronger than its peers, even though it is highly-leveraged as compared to its peers. This is shown in the chart below: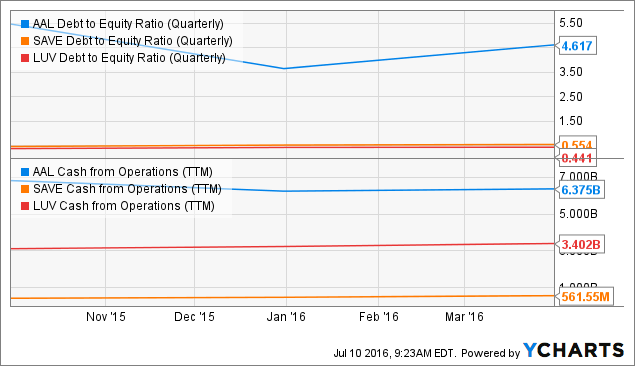 As shown above, American's operating cash flow is way higher than peers such as Spirit Airlines (NASDAQ:SAVE) and Southwest Airlines (NYSE:LUV). This is a result of the no-hedge policy followed by the company as far as fuel prices are concerned. As a result of this strong operating cash flow, American will be able to service its debt and interest expenses going forward.
For instance, over the next three years, America's total debt maturities are expected to come in at $5.5 billion, while interest obligations will come in at $2.2 billion, according to the company's latest 10-K. Considering that American has robust operating cash flow, and has total cash of almost $7 billion on the balance sheet, it should be able to satisfy its obligations going forward.
Low unit revenue is a headwind
The unit revenue or the PRASM (passenger revenue per available seat mile) metric is of immense importance in the airlines industry, probably more than the debt. Many airlines went bankrupt when crude prices crashed in the 1990s due to competing on price. As a result, PRASM has become an important metric as investors have been very sceptical of a price war.
The problem is that American Airlines has witnessed a very sharp decline in the PRASM due to competition in its largest hub, the Dallas Fort Worth area. In fact, American Airlines experienced the largest year-over-year declines in PRASM, "along with the highest increase in costs per available seat mile, ex fuel (CASM Ex-fuel)."
This is because American Airlines has engaged in a price war with ultra-low cost carrier Spirit Airlines. American Airlines did not have any cost advantage over Spirit, and consequently, the company suffered. Cheaper prices may have lured flyers in the short-term, but now that fuel prices have again surged, American Airlines will have to raise prices again. The margins in the aviation business are already razor-thin, which is why competing on price never goes down well with investors.
Conclusion
In my opinion, investors are missing the actual problem at American Airlines as the discussion above indicates. While I believe the market is overreacting about the carrier's debt, a further decline in PRASM can send the stock lower.
But, investors should also consider the stock's valuation. American Airlines is trading at roughly 2.6x trailing earnings, which is way lower than the industry average of 8.5x. Granted, the company's earnings will take a hit with oil moving higher, which in turn will push the P/S ratio higher, but the stock seems undervalued at current levels.
As such, investors with a higher risk appetite can consider initiating a long position in American Airlines because if the company is able to improve its passenger revenue per available seat mile, it could make a comeback going forward.
Disclosure: I/we have no positions in any stocks mentioned, and no plans to initiate any positions within the next 72 hours.
I wrote this article myself, and it expresses my own opinions. I am not receiving compensation for it (other than from Seeking Alpha). I have no business relationship with any company whose stock is mentioned in this article.