The markets quickly forget - the price of WTI has doubled from the lows of ~$26/bbl in February 2016 to the highs of ~$51/bbl in June 2016 (impressive, given a span of less than 6 months), which has led to analysts, such as the International Energy Agency (IEA) amongst others, proclaiming that the bottom of oil has been seen. Suddenly, the picture for WTI has become rosy.
This is dangerous, as it was only in June 2014 that WTI was trading above $100/bbl, and it has taken approximately two years for its value to be cut down by two-thirds. When a market falls at such a rapid pace, there are high odds that one might get the bottom-calling exercise wrong, and a safer bet is to stick with the major trend, which in this case is downwards.
If you think supposed breakeven levels of oil published by the media should be relied upon as a good gauge of an anchor in oil, I postulated in a previous article that such information (breakeven level at $60/bbl) should be ignored, and that it would be more accurate to focus on the bearish price action at hand. Then, Brent was trading close to $40/bbl and I called for the next 10% move to be lower.
Technical Analysis: Using Elliott Wave Theory and Fibonaccis
When we focus on price signals a market is giving, we start by analysing the market's technicals. According to Elliott Wave Theory, the main trend within a market consists of 5 waves: Waves 1, 3, and 5 are continuations of the trend, while Waves 2 and 4 are retracements (against the current trend). The extent of the continuation/retracement often follows a Fibonacci ratio.
As can be seen in the monthly chart below, we see Wave 1 igniting the plunge down in prices below $100/bbl in 2014. Plotting a Fibonacci extension of Wave 1, we see Wave 3 hitting the 23.6% extension before price action retraced back to the $45/bbl we are currently seeing today.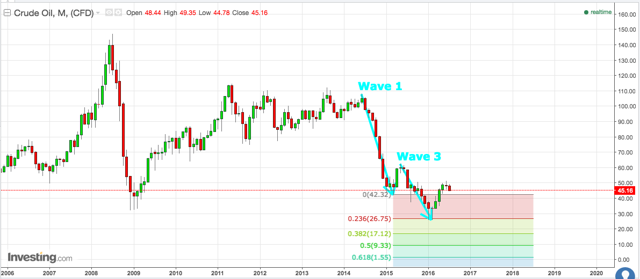 Click to enlarge
What about Wave 5? The market for WTI has faced some resistance around $50/bbl and looks to be rolling over. If we plot a Fibonacci extension of Wave 3 to determine where Wave 5 could possibly go, we see in the chart below that WTI prices could potentially reach sub-$20/bbl (or $17.39/bbl to be exact), a level which interestingly, coincides with support found in 2002. At the very least, I expect prices to return to retest the 2009 lows of ~$32/bbl.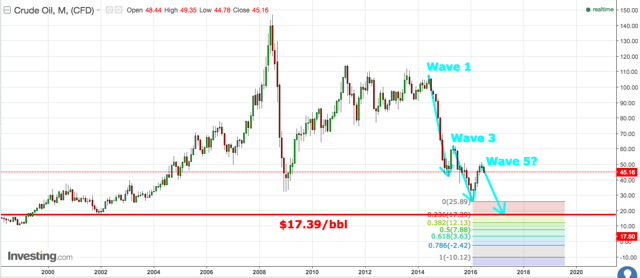 Click to enlarge
Global Macro: Strength in safe-haven assets is bearish for WTI
Since the start of 2016, safe-haven assets have been performing pretty well. We saw USD-JPY plunge from above 120 to current levels of sub-101, while gold has impressively rallied from lows of 1050 in mid-2015 to current levels of 1365. The rally in these safe-haven assets has coincided with fears of adverse economic consequences from Brexit, volatility in Chinese equity markets/devaluation of the yuan, as well as the Fed seemingly see-sawing from using a hawkish rhetoric to a dovish one.
This rally in safe-haven assets is telling us that investor confidence in risk assets may be waning. Yes, the S&P 500 looks set to break all-time highs, but I am highly skeptical with regards to the sustainability of this 7-year bull market when safe-haven assets like gold and the JPY are rallying alongside it. In addition, other equity markets in Europe and Asia have underperformed to a large extent versus the U.S. markets - the Nikkei 225 is down ~20% YTD and the Euro Stoxx 50 is down ~13% YTD. An increasing risk-off environment may put downward pressure on WTI.
On top of that, the Fed is in a tightening cycle (albeit an increasingly gradual one), and we have seen the Dollar Index stabilise of late on back of a weakening EUR-USD, thus offsetting a falling USD-JPY. Typically, the USD and oil prices have an inverse correlation and further downward pressure on EUR-USD (I stated in an earlier article a case for the EUR to hit parity by year-end) may lead to a sharp adverse reaction in WTI prices.
The bottom line: The WTI market has sharply recovered from its recent depths of ~$26/bbl to ~$50/bbl in less than 6 months, but we must not forget that this is a market that saw ~$100/bbl just two years ago. WTI prices firmly remain in a long-term bear market, and utilising technical analysis while looking into the current global macro outlook, I believe there will be further downside in the WTI market, at least to ~$32/bbl. A good short opportunity using ETFs like SCO considering oil trades in a contango, thus providing an investor with positive carry? I think so.
Disclosure: I/we have no positions in any stocks mentioned, and no plans to initiate any positions within the next 72 hours.
I wrote this article myself, and it expresses my own opinions. I am not receiving compensation for it (other than from Seeking Alpha). I have no business relationship with any company whose stock is mentioned in this article.