Ok, what's wrong with this picture?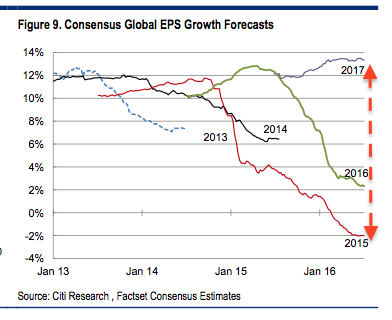 (Chart: Citi, my additions)
Apparently, global earnings growth is going to rebound from an estimated 2% this year, to some 13% in 2017. Just like it did from 2015 to 2016. Oh, wait...
So yeah, that's a pretty optimistic forecast. And one that isn't likely to come true. What if we break out expectations for US EPS growth? What say you, Goldman?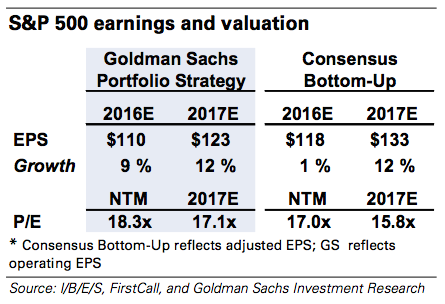 (Table: Goldman)
Hockey sticks, folks. Hockey sticks.
What's particularly amusing about that is it's set against the following commentary:
Four issues will drive a disappointing 2Q earnings season and add to the case for tactical US equity downside: (1) Weak earnings: a seventh consecutive quarter of declining year/year S&P 500 EPS (+1% excluding Energy); (2) Disappointing revenue growth: negative sales surprises given the USD has strengthened by 6% and crude has dropped by 26% relative to 2Q 2015; (3) Negative guidance: Financials struggling with a challenging interest rate and operating environment; and (4) Margin compression: S&P 500 profit margins will fall, led by Information Technology in general and Apple (NASDAQ:AAPL) in particular. The poor fundamental metrics will correspond with a seasonal drop in discretionary corporate repurchases that will extend for another month until around August 5th.
So weak earnings, top line malaise, lackluster guidance, thinner margins and reduced buyback activity; none of which, apparently, will matter next year, when corporate America's collective bottom line will miraculously grow by 12%.
And you'd better hope it does. Why? Well, as I explained on Saturday, overly optimistic earnings expectations combined with artificially compressed risk-free rates are a recipe for a deceptively high equity risk premium. For those who missed it, let me show you what I mean:

Click to enlarge
(Charts: SocGen)
See the problem there? If earnings estimates are revised lower and Treasury yields come back to any semblance of reality, you could get a rotation out of equities and into bonds as the latter get progressively more attractive versus the former. Here's another way to look at it: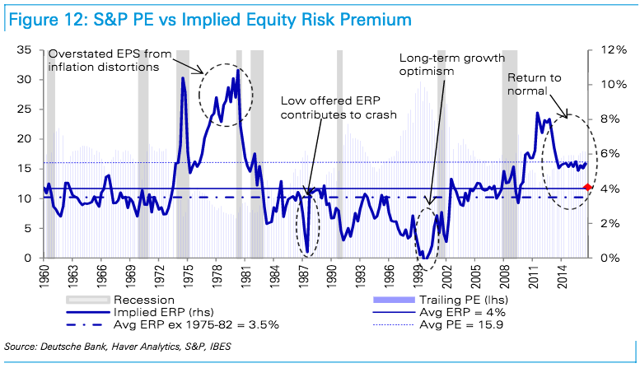 Click to enlarge
(Chart: Deutsche Bank)
See why that makes no sense? Look at the TTM multiple (light purple bars) versus the ERP (dark purple line). You've got multiples and an ERP that are both above their historical average. So stocks (NYSEARCA:SPY) are expensive and cheap at the same time.
What about the bigger picture (i.e. global equity valuations)? Well, let's take a look: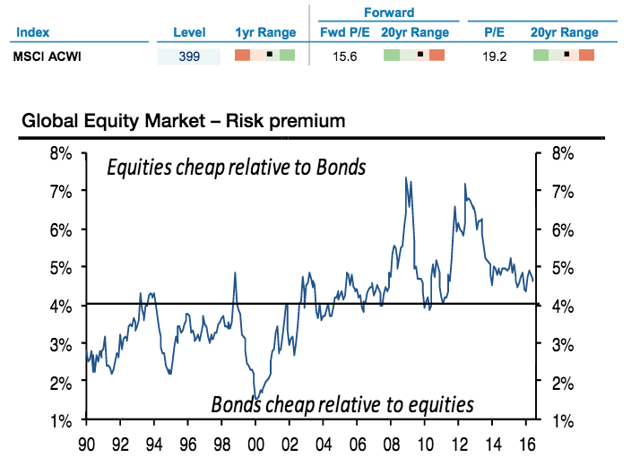 Click to enlarge
(Top pane: Morgan Stanley; bottom pane: SocGen)
So pretty much the same story. Stretched valuations based on multiples and reasonable to cheap valuations relative to bonds.
Now have a look at global government bond yields and tell me who's right, multiples or the ERP:

Click to enlarge
Or, alternatively, it could all be overpriced and traditional metrics may have lost their meaning in today's distorted markets. As Deutsche Bank put it over the weekend (emphasis mine):
We can't think of a time the S&P was more disjointed from other asset class price moves than in recent days. While we believe interest rates have shifted structurally and thus discount falling rates and a flatter curve as signs of recession, indeed many of our signal criteria need recalibration.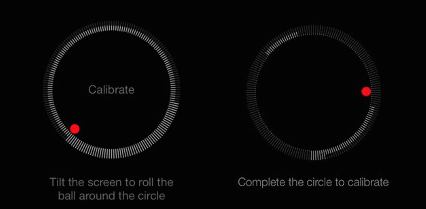 Disclosure: I/we have no positions in any stocks mentioned, and no plans to initiate any positions within the next 72 hours.
I wrote this article myself, and it expresses my own opinions. I am not receiving compensation for it (other than from Seeking Alpha). I have no business relationship with any company whose stock is mentioned in this article.