Fixed income really means capital appreciation in the last 3 months. This will probably sound strange to a university student, but this is the reality we are facing. Many preferred stocks have gained more than 10% in the last 3 months.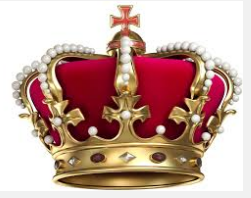 On the 11th of May, I published an article "The Best Fixed Rate Preferred Stock," where Wells Fargo's (NYSE:WFC) preferred stock WFC-L was crowned as the winner. It has had a sharp move to the upside recently, and it seems a good time to revisit the trade. What does the data look like at these new valuations?
Price performance
Click to enlarge
Source: Google
I am happy to see my choice of best preferred stock outperforming its brother preferred stock and the related treasury benchmark. However, as much as I'd like to take credit, it is doubtful this is related to the simple screening in my last article.
As you can see, WFC-L closely tracks the iShares Barclays 7-10 Year Treasury Bond ETF (NYSEARCA:IEF). This is the case with many preferred stocks. It seems that the algorithms track deviations in IEF values.
WFC-L was a constant outperformer for the last 3 months, but suddenly someone pressed the "Nitro button." The IEF correlation has disconnected, and the outperformance of its brother WFC-W is apparent. As far as I know, there has not been any fundamental change in the stock.
Why did WFC-L rally so sharply?
The only possible reason I can find is that it was a surprise addition to the S&P U.S. Preferred Stock Index as seen here: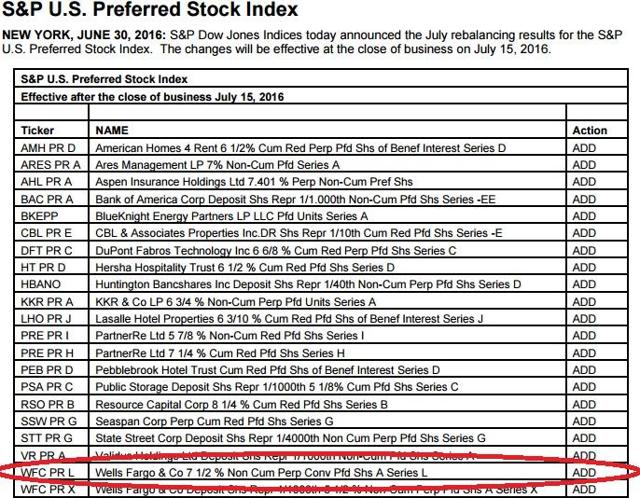 Click to enlarge
The announcement was made on June 30, 2016: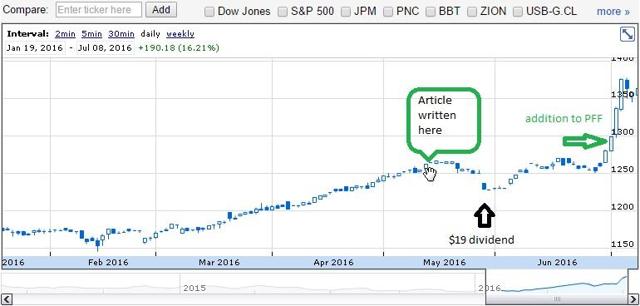 Click to enlarge
Clearly, my article had absolutely no effect on the price of the stock. Occasionally, I get a comment at the end of my articles accusing me of trying to influence price; with results like this, perhaps, you will believe me when I say I have never had such a motive!
When the additional announcement was made, there was a sudden surge in WFC-L. Actually, being part of an index is not that big of a deal. I personally find this to be irrational behavior, but I will not complain too much as irrational behavior provides my edge.
I think this is a good time to cover a long position in the stock, because a technical buyer (one who buys because the stock is an addition) is not what I call "smart money."
WFC-L now and then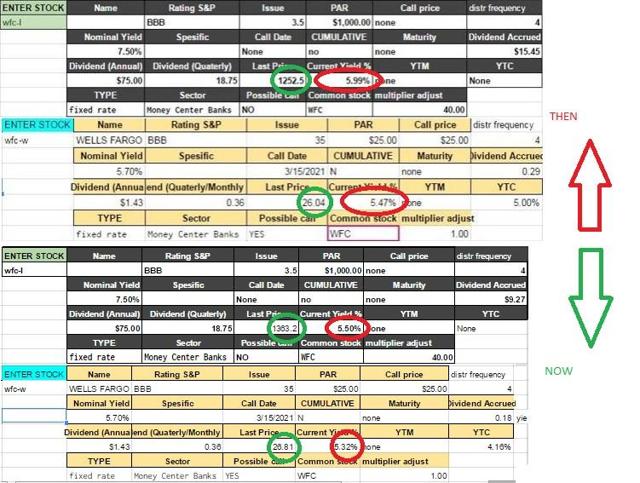 Click to enlarge
The current yield spread has narrowed significantly. This could have been expected on any drop in treasury yields, because WFC-W is capped by its possible future redemption, while WFC-L is not callable and yield to worst is always the current yield.
WFC-L at current levels has way higher duration and is definitely the riskier issue. I personally am a seller of WFC-L at these levels. This might be a nice way to hedge your preferred stock portfolio from interest rate risk.
Is WFC-L still the best fixed rate preferred stock?
My personal opinion is that a 10% move in any "normal" preferred stock is enough to take out any arbitrage. I clearly see no further arbitrage opportunity in WFC-L, and am ready to strip the crown off its head without any regret. Very soon, we will have a new king to crown in a future article.
My stupid trade in WFC-L
As disclosed in my last article, I had a small short position in WFC-L due to a technical mistake when covering my long position. I focus more on hedging than I do on risk management, so I decided to keep this stock short as a tiny interest rate hedge to my longs. Currently, I am losing around 130 points (including dividend paid), which is a new record loser in terms of points for me. Well done Arbitrage Trader! The money lost is not huge in dollar terms, but the joke is on me for sure. Why would I keep a short position in the "best fixed rate preferred stock?"
Conclusion
It is strange how things become invisible once we close our eyes. It is the same with arbitrages. WFC-L was there all the time, but it needed to become part of an index for investors to see its true worth.
The hunting season for a best fixed rate preferred stock is now open again. Share your thoughts in the comment section.
Disclosure: I am/we are short WFC-L.
I wrote this article myself, and it expresses my own opinions. I am not receiving compensation for it (other than from Seeking Alpha). I have no business relationship with any company whose stock is mentioned in this article.