Part of investing and managing your own portfolio means spending a fair amount of your time checking on the companies you now own. As my portfolio has grown to 30 companies, it has been important to me to locate a handful of companies that I don't need to worry much about or spend any time on. Some of them I have written on include Old Republic International (NYSE:ORI), AT&T (NYSE:T) and Altria Group (NYSE:MO). While nothing these companies do is exciting or headline-grabbing, they deliver strong year after year of performance, have exceptional management teams, and provide a necessary service or product.
The Brexit fallout provided a great opportunity for me to add a company I have wanted to own for some time. I first started paying attention to this company when I noticed a lot of the staples inside my home were produced by them. From Dove soap to Klondike bars, this company owns a lot of shelf space in supermarkets and big-box stores all over the world.
Click to enlarge
(Source: Unilever)
Unilever (UL, UN, OTCPK:UNLYF, OTC:UNLVF, OTCPK:UNLNF, OTCPK:UNLRF) is an absolute monster. By my count, the company owns 63 brands and peddles its wares on every continent but Antarctica. Its solid financials, healthy dividend and growth and incredible diversity across the globe makes this a great addition to my Long Leash collection of companies.
*Disclaimer: All figures reported from Unilever are in euros. I have converted those figures into USD based on the exchange rate on July 8th, 2016.
Financials
In 2015, the company generated $58.93 billion in revenue, which was a 10% YoY increase. Reaching back to the end of 2006, where it generated $43.85 billion in revenue, gives us a modest 3.34% in annualized growth. The recession saw only a minor 1.72% drop in revenue, from $44.82 billion to $44.05 billion from 2008 to 2009. In 2010, revenue rose just over 11% YoY for a quick recovery. The resilience shown during the recession is reason enough to be very interested in Unilever.
At the close of 2015, the company reported having $2.54 billion in cash and $15.39 billion in long-term debt on the balance sheet. At first, the debt appears to be a concern at 6 times cash on hand, but with $5.3 billion in free cash flow, its debt obligations are well covered. Compared to rival Proctor & Gamble (NYSE:PG), however, it is for more levered, with PG only having 2.45 times the debt as cash on hand from its last quarter. The company has been adding debt to take advantage of ridiculously low rates, some as low as 0.08%. Overall, the debt appears healthy, and with the increase in revenue, volume growth of 2.1% YoY, and a healthy profit margin of 9.9%, I don't see this as something to lose sleep over.
Dividends
This is where things get tricky, at least for US-based investors. There are six different versions of shares for Unilever (listed above). For the sake of this article, I will cover what I invested in which is the UL class, or the American Depositary Receipt. These are traded on the New York Stock Exchange, making it very easy for US investors to obtain. Right off the bat, I'll also mention that there is no UK tax withholding on the dividends paid to US investors, so you won't get double-tapped by the tax man and the tax bloke. In case you didn't want to sift through pages of legalese in the above link, here is an excerpt from the 20-F (linked above).
Under United Kingdom law, income tax is not withheld from dividends paid by United Kingdom companies. Shareholders, whether resident in the United Kingdom or not, receive the full amount of the dividend actually declared.
Also of concern with the UL shares is the currency exchange rate. The dividends are announced in euros and paid in euros and adjusted on their way to you. If the euro is doing well against the dollar, you'll get more money. Lately, the dollar is about the strongest thing since Captain America's shield, so our dividends suffer slightly. That being said, it is still respectable. Since the 4th quarter of 2009, the company has also been paying dividends quarterly. For those of you invested in other overseas companies like Vodafone (NASDAQ:VOD), you'll know this isn't common.
Now that we have the concerns out of the way, let's get to the good stuff on the dividend. Unilever recently treated investors to a 6% raise in the first quarter up to .32 euros, or $.3648 as it was paid on June 1st. This raise means that since the company started paying quarterly, it has provided a raise each year like clockwork, averaging 5.5% since 2011. This recent raise was a strong statement, especially when considering Proctor & Gamble's raise was just 1%.
There is plenty of room left for dividend growth as well. The company's payout from FCF is at just ~43%, having paid ~$2.26 billion in dividends in 2015. At current prices and assuming the exchange rate remains unchanged, investors are getting a 3.07% yield here, which isn't too shabby considering the possibility of share price appreciation and the healthy annual growth of the dividend itself. If the euro can make up some ground it lost after the Brexit shock, the yield will only get better for investors. Of course, the euro could continue to lose value as well.
Growth
The companies that I consider long leash also have ample opportunities for growth. Unilever is truly a multinational company with brands being sold the world over. Its first quarter showed remarkable growth in emerging markets, which is something I want to be a part of.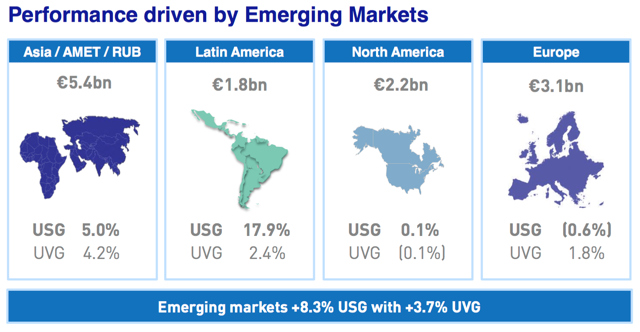 Click to enlarge
(Source: Unilever 1Q 2016 Presentation)
The underlying sales growth in Latin America was remarkable, especially considering the economic situation in many key players in that region. Underlying volume growth, which brings greater margins, is also encouraging in Asia and Latin America. Unilever was also able to demonstrate some pricing power, with the effect of price changes coming in at 1.9% for the year.
Overall sales growth of 4.7% in the first quarter illustrates strong gains in market share across all four of its segments. The company has been getting creative with the sizing and pricing of products, which has resulted in positive results.
The strong and diverse portfolio of Unilever brands that cater to local populations will continue to generate positive numbers. The strong GDP growth from key emerging markets is promising as well, and that is not lost on Unilever management.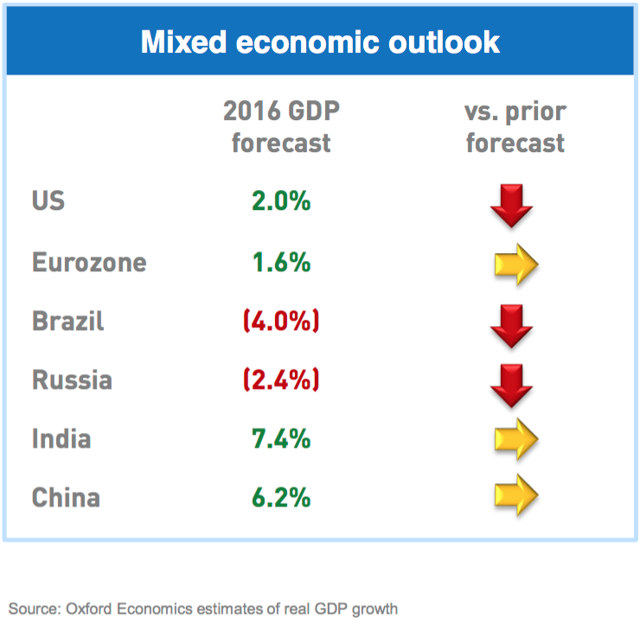 Click to enlarge
(Source: Unilever 1Q 2016 Presentation)
Even with sideways numbers from India and China, the growth is still significant. I'm optimistic about the company's emerging market growth and expect this area to keep doing well and providing great numbers year after year.
Conclusion
Unilever is a great candidate for my Long Leash list of companies. Just simply being a consumer staples company could be enough. Consumer staples are an outperforming asset class over the last ten years.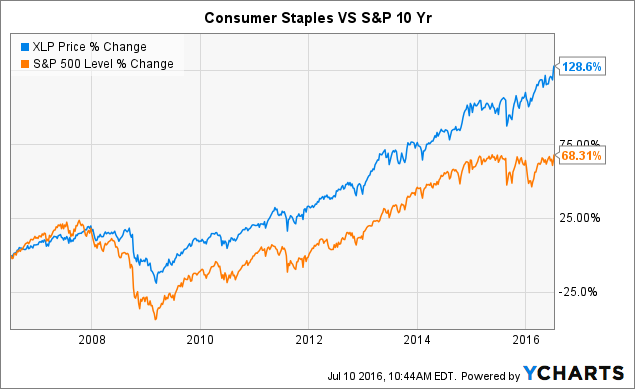 As populations grow and emerging markets become established markets, companies like Unilever are great long-term holds. Opportunities for growth, coupled with passionate and experienced management that has delivered for investors means I won't have to worry much about Unilever. My only job at this point as a part-owner in this company is to sit back, collect my dividends and check up on it a few times a year.
I hope you all got something out of this article. I do appreciate the time you took reading it. If you are one of those who follows me here, I appreciate it; if you'd like to include yourself amongst those individuals, please hit the "Follow" button next to my name as well as following other contributors whose work you enjoy. As always, please leave any feedback and questions you may have in the comments below. Best of luck to you all.
Disclosure: I am/we are long UL, MO, T, ORI, VOD.
I wrote this article myself, and it expresses my own opinions. I am not receiving compensation for it (other than from Seeking Alpha). I have no business relationship with any company whose stock is mentioned in this article.
Editor's Note: This article discusses one or more securities that do not trade on a major U.S. exchange. Please be aware of the risks associated with these stocks.