Introduction
There's an old Dutch (?) song from the sixties called 'so beautiful, so blonde and so lonely'. And that's exactly the feeling I get whenever I look at Accenture's (NYSE:ACN) updates. Despite the gorgeous results, the company doesn't really get the attention it deserves as a resilient and robust cash flow machine. As Accenture has now entered the final quarter of its financial year, I wanted to check up the company after having recommended to buy some stock as a Christmas present. The share price is currently up 10.5% (11.5% if you include dividends), and that already makes me quite happy.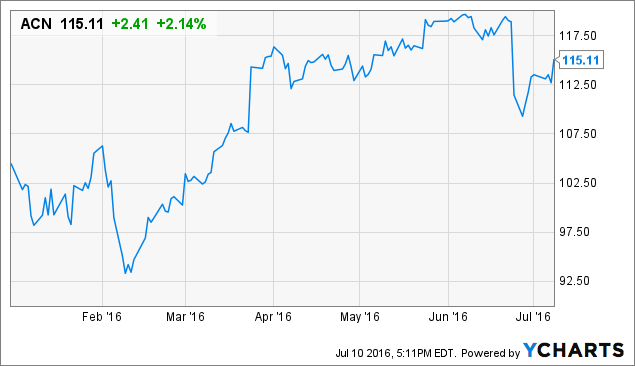 Another 9% revenue increase is very impressive
Accenture's momentum remained very strong in the third quarter of its financial year 2016 as the company was able to add $9.1B to its order book, emphasizing its dominant position in the services markets it's working in.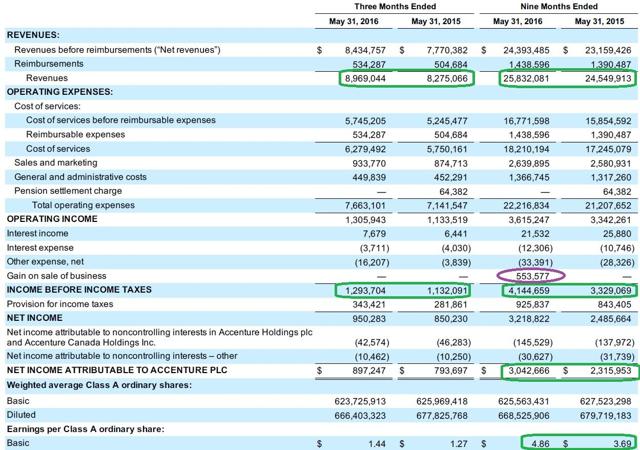 Click to enlarge
Source: SEC filings
The Q3 revenue increased by almost 8.5% to $8.97B (after taking the reimbursements into consideration) and even though that's a great result, let's keep in mind the total cost of the company's services increased at a faster rate (9%+). Fortunately this was mitigated by the absence of a special pension settlement charge (compared to a $64M charge in Q3 FY 2015). This, and the fact the G&A expenses actually decreased by almost 1% despite the substantial increase in Accenture's top line, are the main reasons why the operating income increased by an impressive 15% to $1.3B.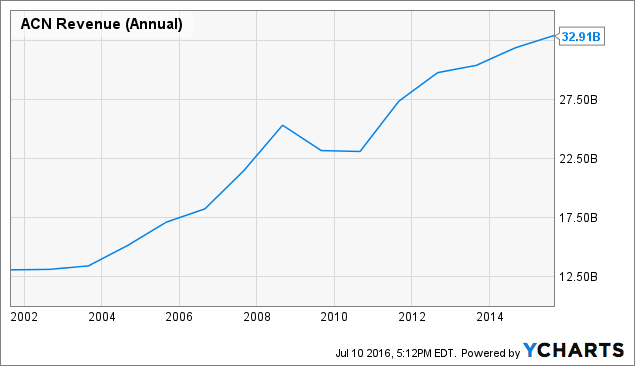 ACN Revenue (Annual) data by YCharts
As Accenture's balance sheet is very robust with a net cash position, the company actually has a net interest income rather than an interest expense, the net income also showed a substantial increase to almost $900M. As the company continued to repurchase shares to offset the dilution by stock options and to reduce its share count on a net basis, the EPS jumped from $1.27 in Q3 FY 2015 to $1.44 in the most recent quarter. That's great, but Accenture's excellent financial year is more emphasized in the 9M results, as the EPS increased from $3.69 to $4.86, an increase of almost 32% (mainly caused by a one-time item; the sale of one of Accenture's subsidiaries)!
Very impressive indeed, and Accenture remains on track to report a net income of in excess of $4B. That's great, but I'm also very curious about the company's conversion rate; what percentage of the net income has effectively be converted into real free cash flow? And will Accenture be able to meet its own guidance of $3.6-3.9B this year?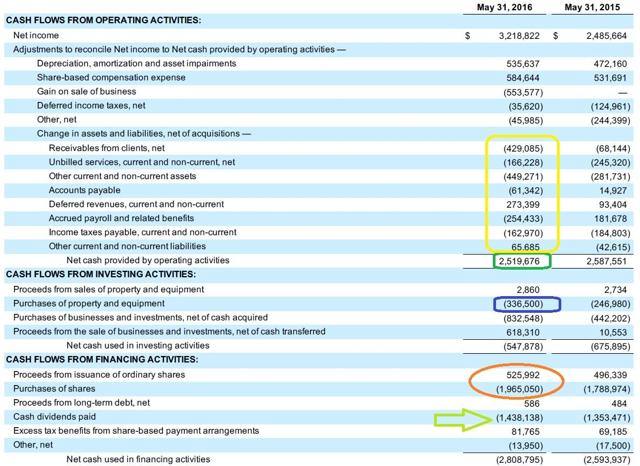 Click to enlarge
Source: SEC filings
Accenture generated a total operating cash flow of $2.5B in the first nine months of the year which is slightly less than the comparable period in the previous financial year, but the adjusted operating cash flow is much more impressive as a lot of the company had to 'lock up' some additional cash due to some shifts in its working capital position. If you'd adjust the cash flows for these changes in the working capital position, the adjusted OpCF was a very impressive $3.7B (and keep in mind this already excludes the one-time benefit from the sale of one of Accenture's subsidiaries). After deducting the $337M in capital expenditures, the adjusted free cash flow came in at $3.35B and it's now really starting to look like the company could beat its own guidance of $3.6-3.9B in free cash flow (on an adjusted basis).
Share buybacks and dividends remain the company's preferred ways to return cash to its shareholders
Accenture is obviously generating plenty of cash these days, but companies sometimes see this as a blank cheque to do whatever they want with the cash flow and it's needless to say some of those decisions don't always increase the value for the shareholders.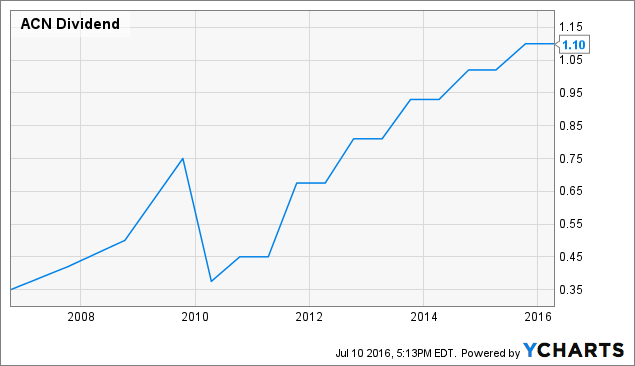 ACN Dividend data by YCharts
Fortunately Accenture does respect the unwritten law of not spending more than you're earning, and the company is keeping its dividend and share repurchase expenses in balance. The total amount of cash spent on dividend payments was $1.44B, but as Accenture pays a semi-annual dividend, this amount won't increase anymore in the current financial year, which means Accenture will have access to approximately $2.5-3B (depending on the final amount of (adjusted) free cash flow to use for share repurchases).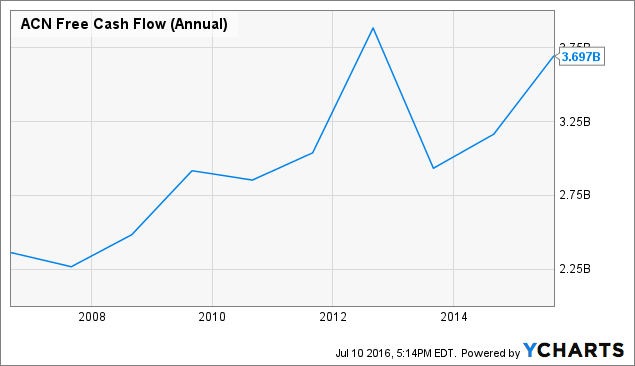 ACN Free Cash Flow (Annual) data by YCharts
In the third quarter, the company has repurchased 4.3 million shares, but unfortunately this had no real material impact on the share count, as several options had been exercised as well. That's also clearly visible in the cash flow statement, as the net cash inflow from issuing new shares was in excess of half a billion dollar, resulting in a net amount spent on buybacks of $1.45B. So, long story short, yes, Accenture's adjusted free cash flow is higher than the total amount that has been spent on dividend payments and share buybacks.
Investment thesis
That's great as this emphasizes Accenture's relatively conservative management style. Despite having a net cash balance of in excess of $3B, the company doesn't seem to feel any urge to spend it anytime soon and that's quite refreshing to see as dozens (if not hundreds) of other companies are even borrowing more cash to buy back stock, a strategy I absolutely don't agree with. Due to the massive amount of options that remain outstanding, the impact of the stock buybacks doesn't have a huge net impact, but it definitely mitigates the dilution factor.
After seeing the 9M results, I think Accenture will beat its own FY 2016 free cash flow guidance (on an adjusted basis), and I think Accenture remains one of the more robust companies out there. The current free cash flow yield still seems to be higher than 5%, and that's a good enough reason to continue to hold the stock, as the company might become one of the backbones of my portfolio thanks to the robust cash flows and the strong balance sheet.
Disclosure: I am/we are long ACN.
I wrote this article myself, and it expresses my own opinions. I am not receiving compensation for it (other than from Seeking Alpha). I have no business relationship with any company whose stock is mentioned in this article.