I thought it would be a cold day in Hades before any US automaker could be considered a buy for long-term income investors. The big US automakers have been limping along for years, if not decades, but the 'Great Recession' was enough to finally send General Motors (NYSE:GM) into bankruptcy several years ago.
Ford Motor Company (NYSE:F) made it through that difficult time, restored itself to profitability, and has come out pretty strong. In 2011, Ford reinstated its dividend and has been slowly increasing the dividend since then. Today, Ford's dividend yields 4.6% and shares trade at just over 6 times earnings. Sounds like a great price for such an iconic company and valuable brand, right? This article looks at Ford and its prospects as a dividend investment.
An unlikely choice
Auto companies are a very particular asset class, in my opinion. During relatively good times in the economic cycle (like these), the company generates plenty of excess cash. During recessions, those earnings tend to disappear. For an illustration of this, look at this earnings chart from FAST Graphs.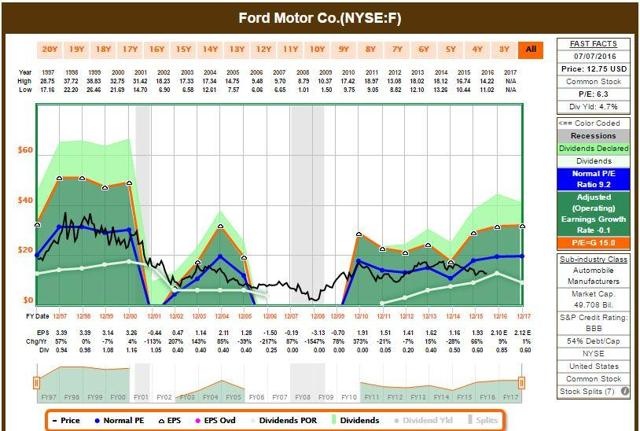 Click to enlarge
Courtesy of FAST Graphs. Earnings represented by dark green shaded area.
As you can see, earnings evaporated in 2000-2001 and also in 2006-2010, both during recessions. Ford, like the other automakers, is a cyclical business.
However, Ford also carries about $60 billion in net debt and operating margins are low; usually somewhere between 5% and 10%. This is a highly capital-intensive industry, not to mention one with a unionized workforce. In this case, Ford operates like other capital-intense, regulated, low-margin industries such as utilities. The difference is that utility companies have pretty consistent returns, even in bad times. Automakers come with a good deal of economic sensitivity. Have a look.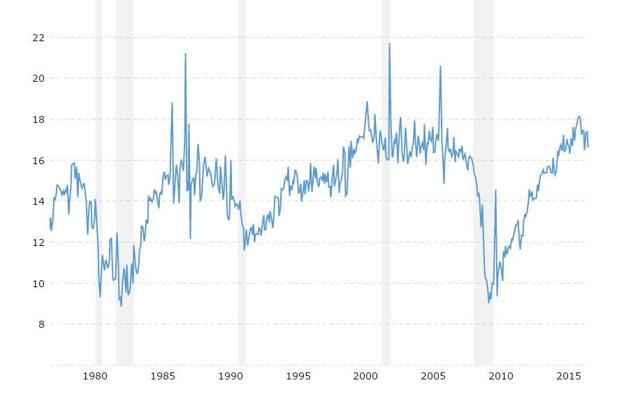 Click to enlarge
Auto sales can drop significantly, depending upon economic conditions. US domestic auto sales: Courtesy of Macrotrends.net.
This combination of capital intensity, low-margins and economic sensitivity is probably why automakers trade at such low multiples and offer high yields. Investors rightfully fear that dividends will go away if recession strikes.
Built tough
As an automaker, Ford does very well. In my opinion, it has the strongest brands and best-run operations of the big three. For example, Ford was the only one of the 'big three' not to need a bailout in 2009-2010.
Ford's cash flow and balance sheet have steadily improved too. Over the last twelve months, Ford generated $10.9 billion in free cash flow (after capital expenditure). Dividends were only $3.4 billion, so there is a big cushion there. Moody's also upgraded Ford's credit rating last quarter and the credit rating is now Baa2; two notches within 'investment grade' status.
Ford is also doing pretty well on the year. Operating margins expanded to 9.8%, with North American margins improving to 12.9%. So far on the year, automotive sales volume is up 10% and revenue is up 11%. The Lincoln brand performed the best, with a 20% increase in sales volume spurred by continued Chinese interest in this luxury brand. North America continues to account for over two-thirds of all automotive revenue. Management expects sales this year to continue their strong trend, thanks to global GDP growth expected at 3.1-3.5%.
Valuation and conclusion
Ford is in a capital-intense, cyclical industry with relatively low margins. This, I believe, makes the stock a less-than-ideal investment for income investors.
Even still, Ford's dividend is good for now and the stock's valuation is quite cheap, even by its standards. Ford averaged 8.7 times earnings and right now trades at just 6.3 times. That's a big discount and don't forget the 4.6% yield. I believe there is a lot of upside for capital appreciation, in addition to that nice dividend. Ford is just too cheap and generous to completely ignore.
So, Ford is a worthy buy for dividend investors here, but I would exercise caution due to the industry itself. If history is any guide, cash flow and earnings evaporate when times get tough, and the dividend could easily follow suit.
If you are interested in Ford, feel free to follow me on Seeking Alpha. I intend on providing periodic update articles when doing so is both relevant and material.
Disclosure: I/we have no positions in any stocks mentioned, and no plans to initiate any positions within the next 72 hours.
I wrote this article myself, and it expresses my own opinions. I am not receiving compensation for it (other than from Seeking Alpha). I have no business relationship with any company whose stock is mentioned in this article.