Look all around you and chances are you can spot someone playing the new mobile game sensation Pokemon Go. The game, made by Niantic Labs, is the latest in a step by Nintendo (OTCPK:NTDOY) (7974 in Japan) to monetize its vast intellectual property library into mobile games. Pokemon Go is absolutely taking over the three countries it is in with an unprecedented rise on the app charts. There is plenty more upside for Nintendo shares, despite a sharp rise to close out the last trading week.
Pokemon Go is the free-to-play app created by Niantic Labs. As covered in my last Nintendo article, Niantic is a spin-off of Google/Alphabet (NASDAQ:GOOG). The company is now partially owned by Alphabet and Nintendo. Niantic was co-founded by John Hanke, who founded Keyhole, which would later become Google Earth. The Pokemon Go game runs on GPS using Google Maps and has existing infrastructure thanks to a smaller game called Ingress, released by Niantic. While you likely haven't heard of Ingress, the game did have more than 13 million downloads in 100 countries and was popular in the U.S., Japan, and Germany. The game is even seeing a slight uptick (21,000 new installs iOS), thanks to Pokemon Go success. While you have probably read about Pokemon Go or seen people playing it by now, it's time to take a good hard look at the numbers and just how big of a deal this game will be for Nintendo.
Pokemon Go shot up the charts to become the number one grossing mobile app (iOS) in half a day. The game has topped the iOS free and top grossing games chart in the U.S. and Australia. The game is the most downloaded game in the U.S., Australia, and New Zealand.
Pokemon Go is making $1.6 million a day in the U.S. on iOS alone. That ranks the game first and to put in comparison, other top mobile games are Mobile Strike ($1.3 million), Game of War ($861,000), and Candy Crush Saga ($440,000). That number translates to $48 million a month and more than $580 million annually. While time will tell if that figure holds up, remember this is just from iOS in the U.S. When Android and other countries are added in, the revenue figures from this free game are going to be quite impressive.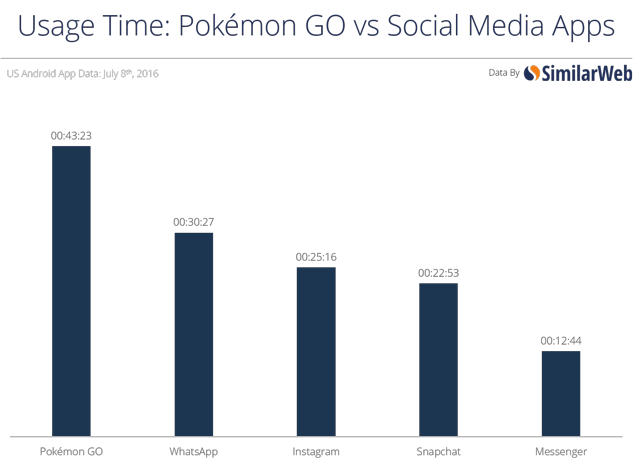 Click to enlarge
(Source: Similar Web)
Want more impressive numbers from Pokemon Go? The game was installed on 5.2% of all Android devices and 60% of those users were playing the game every day. This translates to 3% of all Android users in the U.S. playing Pokemon Go on a daily basis. Pokemon Go is quickly becoming more popular than even Twitter. The current average play time for the game (43:23) is more time spent on apps like Whatsapp, Instagram, Snapchat, and even Facebook Messenger. Again, time will tell if this demand can keep up, but that is some impressive company Pokemon Go is beating out.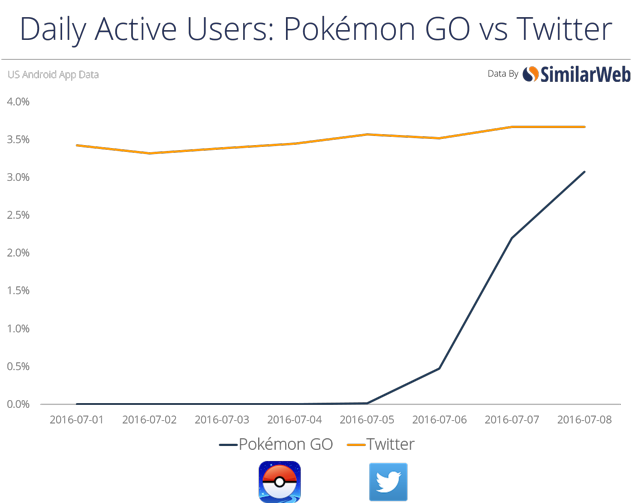 Click to enlarge
(Source: Similar Web)
Another big catalyst for the game is further international expansion. The high demand for Pokemon Go has led to several server issues and some downtime for users. Due to these issues, Niantic has put some countries on delay until the game is fixed. The game was scheduled to be released next in the United Kingdom and Netherlands. Remember, the game has only been released in three countries and is yet to hit Japan, Nintendo's home market. I'm not optimistic about the game ever coming to China, due to the GPS usage of the game and Google's uneasy relationship with China.
Other improvements are also coming to Pokemon Go for the regions it has already been released in. Updates include more interactive usage of gyms, where players can battle, and also a better trading system between players. Now if you stop and think about the game, you can probably think of other updates that could happen to the game like:
· Additional Pokemon added - game has 151 different Pokemon, there are more than 720 unique Pokemon throughout the franchise history, with more new ones coming later this year.
· Interactive Movie/TV Show - here's one that was suggested at my work, what if they brought back old Pokemon show or created a new one and during commercials had a code that you could use to get a rare Pokemon. Could be similarly used for a movie to get people to buy tickets with a code.
· Toys - take the TV show idea and put it to use on toys that come with a game character or code or Happy Meal toys that can be used in the game.
The Nintendo Pokemon Plus Go watch is also set to be released that will add revenue to the game. Pre-sales for the watch at $34.99 have sold out at GameStop (NYSE:GME), Amazon (NASDAQ:AMZN), and Toys 'R' Us locations. The watches are going for more than $200 on eBay if you managed to score a pre-sale password. When the watch is back in stock and officially released, it should be a good seller if demand keeps up for the game. The watch allows players to keep their phone in their pocket and use the watch instead.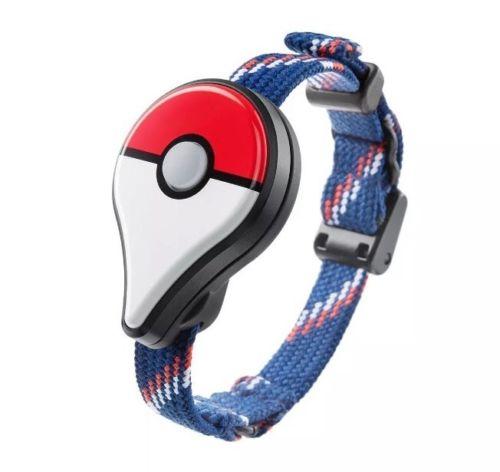 (Source: Amazon)
While often confusing, the ownership of Pokemon shows how this game is a positive for Nintendo. Pokemon is owned by The Pokemon Company, which is jointly owned by Nintendo, Game Freak, and Creatures Inc. Nintendo owns an undisclosed stake in Creatures Inc. as well. Nintendo also owns the rights to the Pokemon characters, while the other two have the gaming/card rights, so it appears that Nintendo has the more valuable part of the company. No matter which way you look at it, Nintendo has a lot to gain anytime the Pokemon brand is successful. Remember, Nintendo also owns a portion of game maker Niantic. Nintendo has positioned itself well here.
The success of the mobile gaming market for Nintendo is a huge catalyst. The company has struggled lately to say the least. The Wii U has been a failing project compared to company estimates. It was reported last week that Nintendo initially expected to sell 100 million copies of the Nintendo Wii. To date sales have been less than 13 million, including only 500,000 in the first six months on the market.
The Pokemon franchise was a good spot for Nintendo to hit here. Remember, Nintendo has a relationship with DeMa in Japan to create mobile games. The company earlier released Miitomo, which saw good initial demand before tapering off. Two more mobile games are expected to be released later this year. Pokemon is the second biggest selling video game franchise (279 million copies), trailing Nintendo's own Mario franchise.
Of course, the other big catalyst for Nintendo is another console coming next year. The Nintendo NX doesn't have a lot of details, but investors are already sour to the fact that the console will be released in March, missing out on the lucrative holiday shopping season.
Nintendo didn't have a big presence at this year's E3 Show, but did manage to pick up some awards. The highly anticipated "Zelda Breath of the Wild" won Best of Show, Best Console Game, and Best Action/Adventure Game.
Aside from the mobile and Nintendo NX catalysts, the new Zelda game and an additional Pokemon game (2 versions) are the major gaming catalysts for 2016. Here is a look at Amazon's current top 100 bestsellers list (as of 7/10):
· #20: "Pokemon Moon" for Nintendo 3DS (11/18 release)
· #29: "Pokemon Sun" for Nintendo 3DS (11/18 release)
· #40: "Pokemon X" for Nintendo 3DS
· #44: "Pokemon Alpha Sapphire for Nintendo 3DS
· #81: "The Legend of Zelda: Breath of the Wild" for Nintendo WiiU (12/30 release)
· #93: "Pokemon Omega Ruby" for Nintendo 3DS
Also take a look at how Pokemon has stacked up so far on Amazon for top selling games in 2016 to date:
· #24: "Pokken Tournament" for Nintendo WiiU
· #68: "Pokemon Moon" for Nintendo 3DS (11/18 release)
· #79: "Pokemon Sun" for Nintendo 3DS (11/18 release)
You can see how Pokemon demand is strong for both old games and the two to be released later this year. Moon and Sun are two of the top 100 selling games on Amazon in 2016 despite being four months away. VGChartz.com lists "Pokemon Sun/Moon" pre-sales as 138,624 copies as of June 11th.
To recap, here are some major catalysts coming for Nintendo to keep in mind:
· First Quarter earnings (July 27)
· Additional revenue rates of Pokemon Go
· Release of Pokemon console games
· Release of Nintendo NX console
· Two more mobile games in fall (Fire Emblem, Animal Crossing)
· Mario mobile game details
· Nintendo based TV shows/movie announcements
Now let's talk risks. First, there are some negatives associated with Pokemon Go that could lead to the game losing its popularity and hurting Nintendo's chance to maximize revenue from this successful game. Among the negatives associated with Pokemon Go are:
· Battery usage-game currently drains phone battery due to using GPS and camera constantly
· Injuries-there have been many injuries reported while playing the game
· Robberies-news came out Sunday that several players were robbed by an ambush at a popular Pokemon Go stop
· Server Issues-the first several days of Pokemon Go have had periods of downtime, making the game unplayable. This could lead to people leaving the game.
Pokemon celebrates its 20th anniversary in 2016 and what a celebration the franchise is seeing. The new game has a broad appeal across several age demographics thanks to the playing style/interaction and also the nostalgic touch of a '90's game/TV show. Speaking of television, Nintendo remains undervalued on the creation of media content to support its intellectual property.
Often the subject of TV show and movie rumors, Nintendo is slowly working on creating content. This could lead to another big jump in the share price, similar to the ones seen on mobile announcements. Nintendo CEO Tatsumi Kimishima has said the company will make animated movies in the future and will seek partnerships from big film companies. A leak from the Sony hack scandal showed Sony was in talks to partner on a Super Mario Bros. animated movie. Zelda is often seen as a television show rumor as well. Immediate plans are not done, but we should expect something created in the next two to three years.
Nintendo saw revenue decline 8.2% in the last fiscal year, due to weaker console and hardware sales. Net income for shares also fell dramatically as margins shrank across the board. One bright spot was the addition of a category called smart devices/IP, which saw full-year revenue of 5.7 billion Yen (around $56 million US), versus $0 in the prior year. This category is going to be a strong point going forward.
My last Nintendo article highlighted the potential of Pokemon Go and how Nintendo had a lot to gain thanks to its partial ownership of Pokemon and Niantic. Remember this is just the beginning for Nintendo in a mobile game dominated world. The company has strong brands and numerous opportunities to monetize its IP through mobile and also television/movies. Nintendo's mobile opportunity could even be bigger and more profitable than its console releases. With that said, the company could have more growth than its entire market capitalization.
Shares of Nintendo (ADRs) were up 10% on Friday to close at $20.73. As I write this, shares of Nintendo are up more than 20% in Japan during Monday's trading session, the biggest move since the 1980s. Shares should see a nice boost in the U.S. on Monday. Watch for the 52-week high of $25.71 to be tested. I still think anything under $25 is worth buying immediately. A jump over that would lead me to caution getting in right now on this big momentum. I suggested a target price of $30 for Nintendo in 2016 and $40 by the time Nintendo NX is released. I stand behind those targets and think we could actually see $30 real soon. Shares of Nintendo haven't seen $30 since 2011 or $40 since 2010. Shares traded at all-time highs of $78.50 back in 2007 during Nintendo Wii mania. Pokemon Go is far from a new console, but truly shows how popular Nintendo's characters are and is the perfect example to show the mobile opportunity set before the company.
Disclosure: I/we have no positions in any stocks mentioned, but may initiate a long position in NTDOY over the next 72 hours.
I wrote this article myself, and it expresses my own opinions. I am not receiving compensation for it (other than from Seeking Alpha). I have no business relationship with any company whose stock is mentioned in this article.
Editor's Note: This article discusses one or more securities that do not trade on a major U.S. exchange. Please be aware of the risks associated with these stocks.