The short trading week was dominated by "the macro" and capped by a better-than-expected monthly payroll report. Interest rates declined to new lows, U.S. equities rallied to new highs, and MLPs were basically flat. Commodities were the big loser, with global economic growth uncertainty and U.S. Dollar strength leading to skittish trading in oil prices.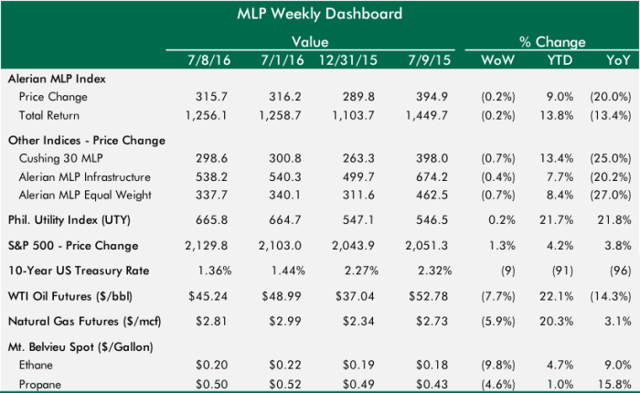 Click to enlarge
The story for MLPs was their correlation with broad stock market strength and limited correlation with oil's 7%+ decline. It seems like the market is gaining comfort with MLP distributions and the global hunt for yield may be providing some support. I wouldn't expect MLPs to hold up quite as well if oil prices dropped 7% again this week, but oil prices for now remain in a range that makes large cap MLP distributions sustainable. As such, large cap MLPs outperformed small caps this week, with the AMZ outperforming the equal weight version by around 50 bps.
Oil prices seemed to sell off more than was warranted given that data points continue to support improvement in supply and demand. It was a case of unrealistic expectations not being met. The 6.3mm barrel draw reported by API Wednesday raised expectations for a big draw from DOE's inventory report Thursday. A big, but not big enough, oil inventory draw Thursday (and a smallish draw for gasoline) sent oil into a tailspin the likes of which we haven't seen in several months.
Poll Question: Earnings Outlook
Earnings season kicks off next week. On 4Q calls, the major themes were capex reductions, distribution sustainability, 2016 equity needs and addressing counterparty concerns. On 1Q calls, earnings calls were more focused on longer-term volume opportunities around NGLs and more project rationalization or delays.
It seems like the 2016 triage is behind us, but the conversation has not yet turned to next year's capital budgets and financing plans. It could be that over the next few weeks, the market starts to differentiate not just on volume growth potential in 2017, but also financing needs beyond this year.
Winners & Losers
It was all small cap, relatively obscure MLPs in the top 5 this week. SunCoke Energy Partners (NYSE:SXCP) led all MLPs for a second straight week, gaining 14.4% this week alone. Larger and more recognizable MLPs dominated the bottom 5. Tallgrass Energy Partners (NYSE:TEP) was the worst performing MLP, despite raising its distribution 7.2% this quarter and 30% year over year. TC PipeLines (NYSE:TCP) was second worst, uncertainty regarding its future weighing on its present stock price.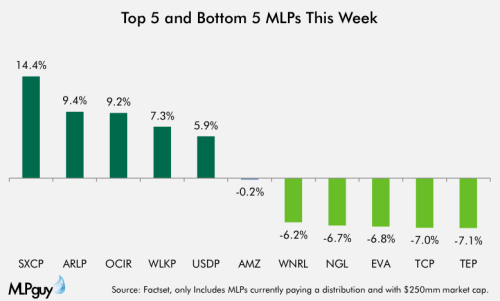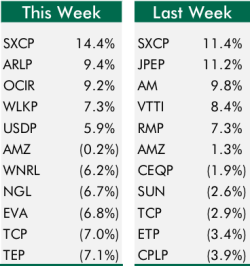 When looking at the year-to-date view, SXCP vaulted to the top of the sector and to 100%+ return. Every other MLP from last week's top 5 and bottom 5 declined this week.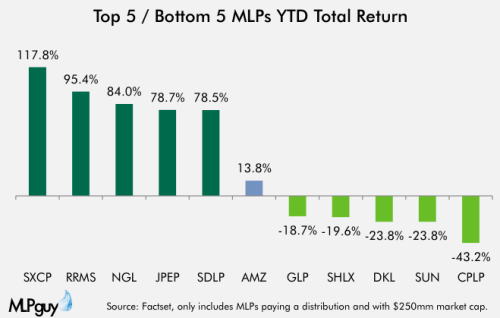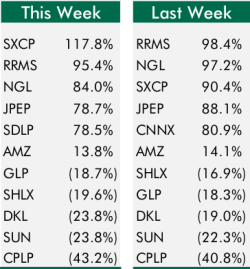 General Partner Holding Companies
GPs underperformed MLPs this week overall, but the range of returns among the group was very wide. Energy Transfer Equity (NYSE:ETE) gained nearly 13% on positive notes from analysts resuming coverage, while Plains GP Holdings (NYSE:PAGP) dropped nearly 9% on analyst downgrades and oil prices as the market waits for an outcome of its strategic structure review. While TEP lagged all MLPs, Tallgrass Energy GP (NYSE:TEGP) was actually one of the better performing GPs for a second straight week.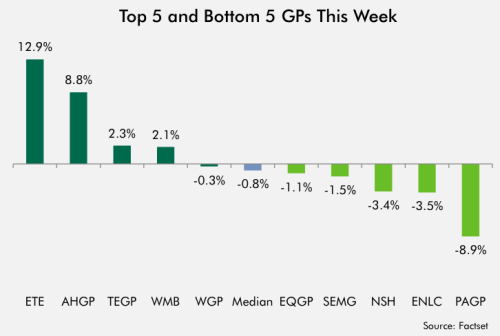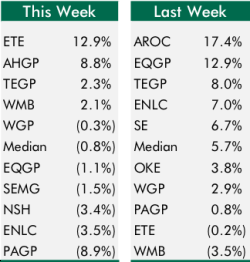 News of the (MLP) World
Very light news week overall, but the news about the FERC and pipeline rates has the makings of a good old fashioned MLP tax scare. For now, the issue remains very far off and unclear as to which MLPs might possibly be impacted and to what extent. Beyond that, we got the beginnings of MLP distribution announcement season for 2Q, but no equity or material M&A.
Financing
Energy Transfer (NYSE:ETP) filed equity distribution agreement to sell up to $1.5bn worth of common units at-the-market (filing)

ETP has been one of the heaviest issuers of common equity in the MLP sector over the last year, along with Sunoco Logistics Partners (NYSE:SXL) and Enterprise Products Partners (NYSE:EPD)
The equity issued by ETP adds incremental cash flow to ETE through additional IDRs, adding coverage to ETE's current distribution at least optically until ETE turns around and grants ETP IDR waivers to support ETP's sub-1.0x coverage ratio

Sunoco Logistics priced $550mm of 3.9% senior notes due 2026 at 99.696% of par (press release)
M&A/Growth
Kinder Morgan (NYSE:KMI) announced new 10-year agreement with Nucor Corporation (NYSE:NUE) to provide in-plant terminal services at 5 steel production facilities (press release)

KMI will be handling 14.8mm tons of scrap steel, pig iron and other feedstocks and will provide other ancillary services
Value of the agreement is approximately $900mm, according to KMI
Sanchez Production Partners (NYSE:SPP) announced acquisition of 50% interest in Cernero Gathering, LLC, a joint venture with Targa Resources (NYSE:TRGP) from Sanchez Energy Corp. (press release)

Assets consist of south Texas natural gas gathering pipelines that will feed the processing plant Sanchez and TRGP are building in the area (not included in the purchase)
Purchase price includes $37mm upfront cash payment and assumption of $7.4mm of capital commitments
SPP expects the 50% interest to generate $7mm in annualized EBITDA, implying a 6.3x all in multiple
SPP's EBITDA guidance prior to this acquisition had been $54-60mm for the full year of 2016 at an enterprise value of roughly $500mm
Other
Distribution announcements:
D.C. Circuit Court of Appeals issued a decision that may have long-term implications for FERC-regulated pipeline operators (National Law Review)

Court ruled that FERC failed to justify adequately the rationale for permitting non-income tax paying entities to include an allowance for income tax in their rates, potentially allowing them to charge higher rates than they would otherwise
FERC can seek to justify their existing approach to the issue or design a new methodology (potentially a pre-tax return target)
FERC apparently will take at least a year to review the process, and should have no impact on pipelines operating with market-based or negotiated rates
Editor's Note: This article covers one or more stocks trading at less than $1 per share and/or with less than a $100 million market cap. Please be aware of the risks associated with these stocks.