Many investors in Arena Pharmaceuticals (NASDAQ:ARNA) have now come to the realization that Belviq will not deliver the level of revenue needed to drive the company or fund the company. That being said, it is the main source of revenue for the company, and tracking the sales remains important. Even if modest, the revenue derived from Belviq at least helps to offset some costs.
This past week represented to closing sales figures for Q2 of 2016. Sales closed out the quarter at about 8,400 scripts after nearly dipping into the 7,000's the week prior. All told, sales for the quarter were about 114,000 scripts. This is the worst quarterly sales performance in 2 years.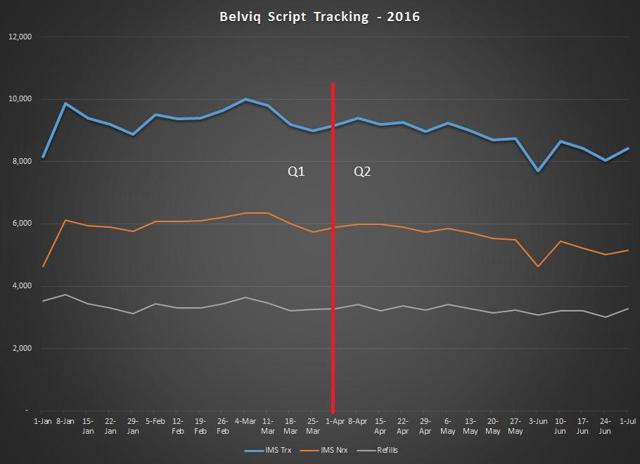 Click to enlarge
Chart Source - Spencer Osborne
On a quarter over quarter basis sales of Belviq dipped from just above 122,000 scripts in Q1 to just below 114,000 scripts in Q2. That represents a decline of 7.15%. Q2 used to be the strongest quarter of the year for Belviq sales, so seeing a Q2 that is lower than Q1 should raise a few eyebrows.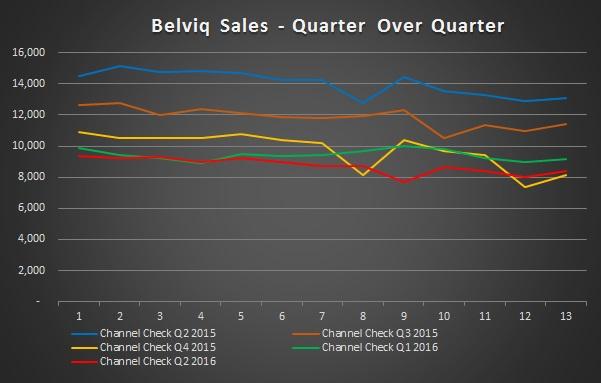 Chart Source - Spencer Osborne
On a year over year basis the news is far worse. Last year Q2 sales came in just above 182,000 scripts and was the best quarter that the company has ever seen in terms of script sales volume. This year, script numbers of just below 114,000 mean that a drop of almost 38% has happened. This will make revenue comparisons in in the Q2 financials look pretty ugly. If you were wondering why the company has laid of most of its work force, the sales performance of Belviq is a pretty easy thing to point to. Prospects for sales in the second half of 2016 are not good.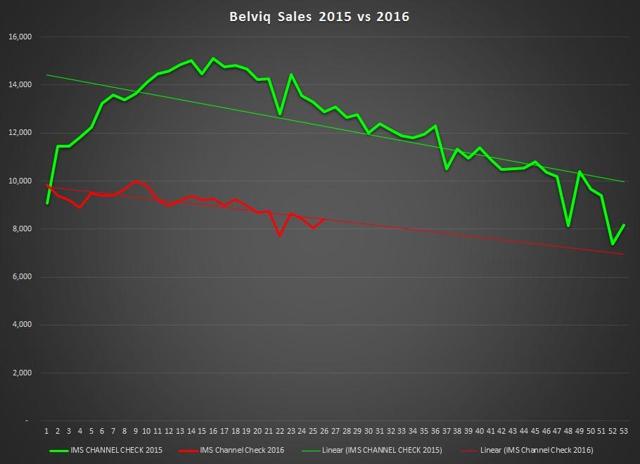 Click to enlarge
Chart Source - Spencer Osborne
In looking at market share, Belviq is seeing more trouble than any other player in the sector. Belviq does sell more scripts than competitor Saxenda from Novo Nordisk (NYSE:NVO), but the trajectory of Belviq sales is the worst in the segment. At this point the Belviq market share is just 23.69%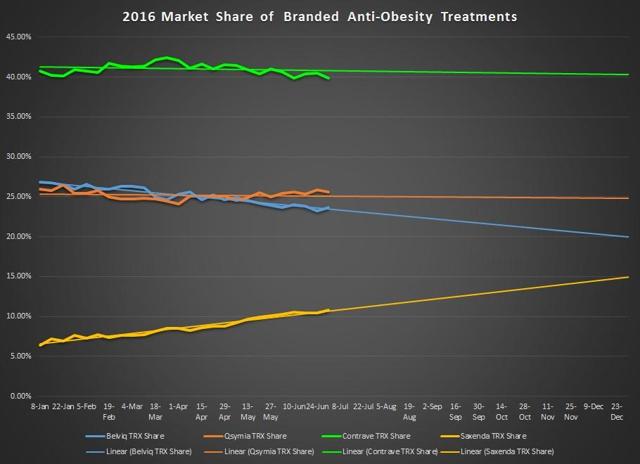 Click to enlarge
Chart Source - Spencer Osborne
If we were to make a general assumption that nets sales is 50% of gross sales in the sector, and then apply the partnership percentages as per contracts, Arena's Belviq has the lowest net after partnership considerations in the space by a wide margin. At this juncture, the healthiest player in the space is the drug with the fewest scripts sold.

Chart Source - Spencer Osborne
The bottom line on Belviq sales is this. They will point to declining revenue in the financials, and prospects for seeing the sales turn upward are slim. The lack of marketing support by Eisai (OTCPK:ESALY) is likely to continue, meaning that cost cutting and getting pipeline results that are good is critical.
In my opinion Arena investors are very likely to see a private placement using the $250 million shelf offering in the very near term. This strategy, in my opinion, puts the company in the best possible position to negotiate partnership deals on APD 811 and APD 334. Some investors seem to feel that APD 371 can bridge the gap, but I do not see that as likely given that APD 371 is still a phase 1 candidate, and the company has cut costs to the bone. In my opinion APD 371 is not yet mature enough to command the level of money that would take a private placement off of the table. If it can not erase the need for a private placement, why rush it to an early partnership at discount prices?
There is potential in the pipeline, and at current prices there may be some attractiveness. Had a private placement already been done, we might see more action in this stock. I think that many are waiting to get that cash overhang erased before jumping in. Stay Tuned!
Disclosure: I am/we are long ARNA, NVO.
I wrote this article myself, and it expresses my own opinions. I am not receiving compensation for it (other than from Seeking Alpha). I have no business relationship with any company whose stock is mentioned in this article.
Additional disclosure: I have no position in Eisai
Editor's Note: This article discusses one or more securities that do not trade on a major U.S. exchange. Please be aware of the risks associated with these stocks.