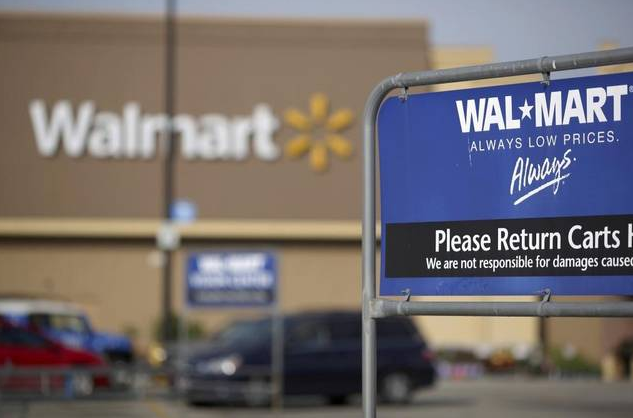 I haven't been a big fan of Wal-Mart (NYSE:WMT) for some time now as investors have taken a company that is struggling to grow and bid the stock price up immensely. I don't have anything against Wal-Mart but it is painfully obvious it is losing to Amazon. As that company's sales continue to fly higher WMT is paring its store base and producing very weak growth, if any at all. WMT's recent rollout of Shipping Pass is being praised by bulls but this is hardly the savior the company needs.
(click to enlarge)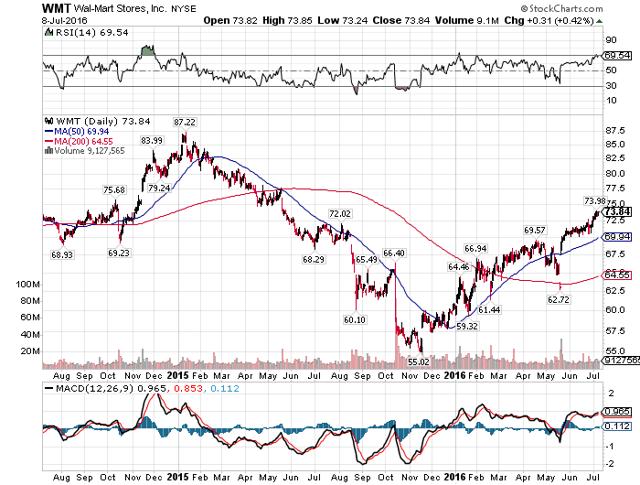 Click to enlarge
As we can see, WMT's rally since the bottom last November has been nothing short of epic. I'll admit that I thought it would have ended a long time ago - in the $60s somewhere - but here we are at $74 with WMT making 52-week highs. In addition, its 50DMA and 200DMA are both moving higher and will likely serve as support on any pullbacks. In other words, it seems investors couldn't be much happier with the retailing giant.
After being left in the dust by Amazon, WMT has spent the last couple of years thinking of ways it can better compete. Some of those things include making its supply chain more efficient but it is also dipping its toes into previously uncharted waters such as with its Walmart Pay and the aforementioned Shipping Pass. I applaud these efforts because part of the reason why I didn't like WMT a year or more ago was that it was a dinosaur in a tech-savvy world, lost as to how to compete. But the old girl has fired up the R&D engine and has thought of some creative ways to draw people in. Credit where its due, of course.
But how likely are these things to actually produce higher levels of sales and profits? Other pay initiatives like Apple Pay and Android Pay have turned out to be little more than novelties. After all, what's the difference between having your phone and having a card with you? Will WMT really see incremental traffic or sales from having a different way to pay? History would suggest it won't and while it's great that WMT is finally trying to move out of its old ways, this is merely a side note.
But what about the much ballyhooed Shipping Pass? Essentially, this is a watered-down version of the Prime service Amazon offers that only gets you free shipping. With Prime, you get a much bigger selection of merchandise, same-day or better delivery in some markets, unlimited music and TV/movies and more. What do you get for half the price with Shipping Pass? Shipping. That's it. The $99 is much easier to rationalize for consumers for Prime than the $49 for Shipping Pass because you get lots of other stuff with Prime, including original content. Offering a stripped down version of the same thing your competitor is using to beat you isn't exactly a recipe for success. And that's all Shipping Pass is; it's a way to try and compete with Amazon in the only way WMT can but it won't be enough.
Why? Because Amazon has one key advantage that WMT can never replicate and that is the fact that Amazon doesn't care about losing money. It will ship a $2 item for free to someone's house, perhaps losing $2 or $4 on the deal, over and over again to keep the sales growth moving higher. Amazon wants to generate volume and doesn't care what it costs to do that. WMT cannot do anything of the sort because it has shareholders that demand EPS and more importantly, a huge dividend. Copying Amazon's no-margin strategy is impossible and thus, WMT will always lose to Amazon.
The only thing that I see coming from Shipping Pass is that if it does indeed turn out to be a success, WMT's margins could very well be at risk. After all, if WMT is currently charging for shipping for items that it will soon be shipping for free, margins must be reduced. That's the perverse reality of Shipping Pass; either it flops and makes no difference or it succeeds and likely causes WMT's margins to fall. Programs like Prime and Shipping Pass encourage small transactions, the enemy of the scale that is needed to make this sort of thing work. If WMT begins shipping $2 items for free (just as a for instance) it too will see declining margins. With unlimited free shipping, consumers don't care about bundling items and will simply order what they want when they need it, resulting in lots of small transactions that are very difficult to make profitable. Amazon doesn't care about this WMT certainly does. That doesn't sound great to me and WMT's shareholders likely wouldn't tolerate lower margins over the long term.
WMT is at 17.3 times this year's earnings and while that's certainly not a nosebleed multiple, for a gigantic retailer with significant risks to earnings growth, that seems lofty. The chart appears to show the makings of a bubble rally to me but besides that, excitement over Shipping Pass is overblown. I see it as a neutral at best and a margin-killer at worst so for now, I'm maintaining my bearishness on WMT; Amazon will always win at WMT's expense.
Disclosure: I/we have no positions in any stocks mentioned, but may initiate a short position in WMT over the next 72 hours.
I wrote this article myself, and it expresses my own opinions. I am not receiving compensation for it (other than from Seeking Alpha). I have no business relationship with any company whose stock is mentioned in this article.