Banking behemoth JPMorgan (NYSE:JPM) is going to kick off bank earnings for Q2 later this week. The reports for all big banks will be watched closely for clues into how the banks are dealing with many different things that impact their earnings and JPM will surely set the tone. I've been bullish on JPM as more of a safety and yield play in the banking space and after the Q1 report, went as far as saying $70 was in sight. With shares around $62 at present, that number is certainly within striking distance this year but if that is going to happen, a strong Q2 would go a long way.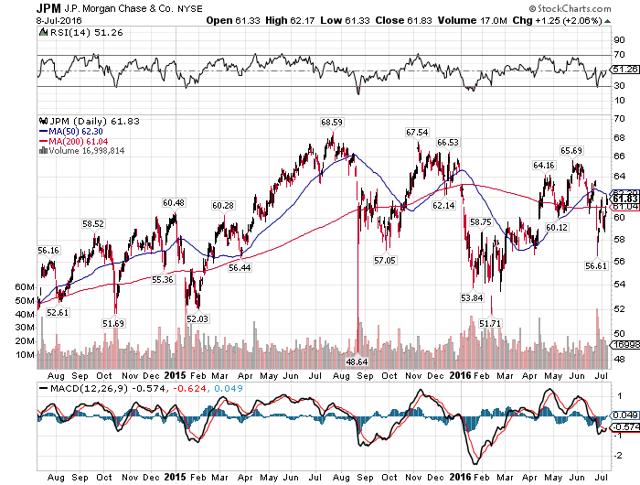 Click to enlarge
JPM is expected to produce a small decline in revenue of about 2% and a more sizable decline in EPS from $1.54 last Q2 to this year's $1.44. Nobody likes to see negative growth and unfortunately for JPM, those estimates haven't budged in the past few months. The malaise from Brexit, oil prices, rock bottom rates, you name it; none of those things has afforded JPM a lower expectation for Q2 earnings so let's take a look at the things we should be focusing on when the company reports.
If you recall, we had significant market weakness across the globe in Q1. The beating that financial markets endured early in the year was a loser for the banks that rely on trading volume and higher prices to make money. JPM had a nice Q1 despite this but Q2 was much stronger indeed in terms of financial market behavior so on the trading front, I expect we'll see a decent result from JPM. The company expects trading revenue to be up in the double digits in Q2 so unlike Q1, trading could be a source of real strength this time around.
In addition, we all remember the toll oil and gas prices took on collective bank earnings in Q4 and Q1 and JPM certainly was not immune from that. Oil and gas accounted for $562 million in reserves in Q1 and with oil prices having recovered somewhat and JPM already reserved heavily, I expect we won't see much of anything in this space. The only thing of note I could see happening is if for some reason JPM wasn't reserved enough in this space; that could be a downside catalyst but likely wouldn't be huge.
With rates having gone as low as they have, JPM's outlook on its willingness to lend will also be of note. JPM has a loan-to-deposit ratio of only 64%, an absurdly low number that is owed to the bank's caution with respect to chasing yield. It continues to collect deposits and began to turn on the spigot in terms of lending in Q1 but did that continue in Q2? Is JPM finally using its enormous hoard of deposits or have low rates scared it off? JPM has a lot of potential sitting on its balance sheet in terms of deposits so whether or not it has decided to use them in earnest is of terrific importance.
The credit cycle has been kind to JPM and others so if the bank comes out with weak guidance on credit metrics, all hell could break loose. JPM is a huge credit card player so any news there is always of great importance, but overall, JPM and others have been very targeted with their loan book growth. What JPM has been doing in Q2 as well as what it will do for the rest of the year is going to be interesting to be sure.
Impact from Brexit should be very minimal apart from the fact that JPM seems interested in moving its staff out of the UK should things get messy there as a result of the vote to leave. From an earnings perspective, Brexit should be nothing more than a side note but if JPM has to restructure a significant portion of its European staff, that could be potentially quite expensive and messy when the time comes. But otherwise, Brexit should be a relative non-event.
JPM is perhaps the best run bank our nation has to offer and indeed, I have the utmost respect for Jamie Dimon. Whatever happens, JPM will be fine but in terms of the stock, it looks pretty cheap heading into earnings. We are at just 9.8 times next year's earnings and with JPM's massive capital return program coming into relevance starting in Q3, EPS growth should be easier to come by. Q2 should be a lot quieter than Q1 but some things to watch include JPM's willingness to lend in a very low rate environment, its outlook for trading revenues, its outlook for the credit cycle and any residual impact from Brexit or commodities. I think we'll get robust but cautious guidance as JPM has a history of beating its own predictions and releasing guidance it knows it can hit. If that happens, it means the $5.62 in EPS this year is likely too low but we'll know later this week. With JPM already over its 200DMA, the stage is set for another leg of the rally; JPM just needs a solid report to get it going.
Disclosure: I am/we are long JPM.
I wrote this article myself, and it expresses my own opinions. I am not receiving compensation for it (other than from Seeking Alpha). I have no business relationship with any company whose stock is mentioned in this article.