Despite largely negative economic news over the past month or two, US stocks have managed to decouple from the global situation. The S&P 500 (NYSEARCA:SPY) flew 32 points (1.5%) higher on Friday, following what the market viewed as an exceedingly positive jobs report.
The S&P 500 isn't acting alone. The Dow Jones (NYSEARCA:DIA) has retaken the 18,000 mark and may well make new all-time highs this week. The Nasdaq (NASDAQ:QQQ) is within 5% of new highs for this bull market, though it has a bit farther to go if it wishes to exceed the dot-com high.
Last week's bull movement brought the S&P 500 2,129 at the Friday close. This is a single point shy of the closing record high set in May of 2015. The all-time intra-day high is 2,134, also set in May of last year.
The S&P 500 futures are currently about 8 points higher at this hour, suggesting that the market will open at a new all-time high this morning. After more than a year of rangebound trading, the bulls have managed to overcome a variety of negative developments and stagnant earnings to power through overhead resistance.
For those looking at the continuing uncertainty in Europe and lagging economy in China, the initial reaction would be to fade this rally and sell or short stocks. My take is that this would be the wrong reaction. You have to remember that the market has spent many months trying to break through this level; now that we're here, you're going to see a lot of people buying stocks to "avoid missing out":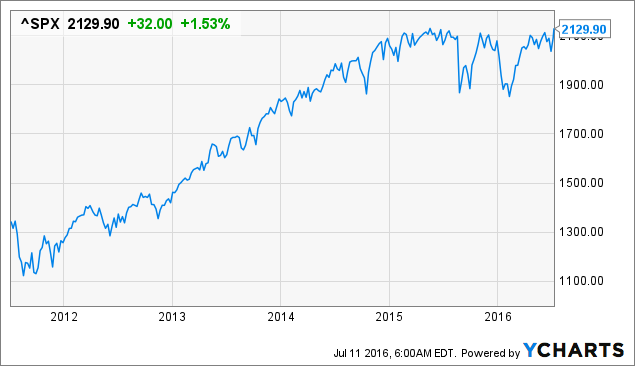 This is the stage of the market where poorly performing hedge and mutual funds feel compelled to chase the market up to new highs as they try to keep from underperforming the market by an even wider margin. Throw in the bears that are going to stop out today as they throw in the towel with stocks clearing a long-held peak and you have plenty of fuel for another push upward.
To be clear, this is an entirely technical reaction and has nothing to do with the market's fundamental value. On that front, the S&P 500 has made little progress. Earnings are stuck, and the global economy continues to head slowly in reverse. There's really little reason to pay higher prices, particularly as the commodity market is really starting to fade. Don't look now, but crude oil (NYSEARCA:USO) is under $45 this morning.
There are two errors that many traders make at this point, when the market hits new highs that aren't seemingly justified by economic developments. The most instinctive of these is to sell or short the market, saying: "prices are too high."
Yes, the market is "too high" on a fundamental basis, but markets frequently ignore valuation in the short term. At this point, one must respect momentum; despite a litany of reasons to sell the market so far in 2016, prices have managed to climb higher.
Now with it summer and most of the street (and Europe) set to go on long vacations between now and September, there's little institutional firepower to trigger a major sell-off. Barring a major unexpected negative economic event, the market is likely to at worst trade sideways and perhaps move significantly higher purely on inertia thanks to the market's break to new highs. Never short a dull market in the summer.
The other potential mistake at this juncture would be to commit heavily to new stock purchases thinking another major leg of the bull market is kicking off. Yes, with resistance cleared, it wouldn't be surprising if the market moves up another 5-10% in relatively short order. I grant that there is now a good chance of this occurring.
However, earnings growth is minimal, foreign economies are showing great strain, and the surging US dollar will strongly limit upside for US multinational firms. At this point, a bet long on the market is almost entirely predicated on an expanding PE ratio and hopes that investors will chase yields even further.
This could well happen, but these reasons alone are not a solid justification for allocating new investment funds to the US stock market. There's always place for speculation if you wish, but remember that long-term returns (think 10 years out) will likely be poor given the S&P 500's current level of overvaluation. You can play hot potato, buying stocks now to sell higher in a few months, but as long-term investments, this market is far from favorable.
As for the outlook over the next month or two, unless there are unexpected new dramatic economic or political events, we're likely to have a pretty quiet environment. Brexit has created major economic dislocations, particularly in the currency market; however, people appear ready to ignore them until major losses on bank balance sheets force the market to suddenly pay attention at a later point.
As much as it is tempting to short things here, this is a good moment to study your holdings, refine your watchlists, read market history, and otherwise prepare yourself for a more fruitful moment of action that will arise later this fall. In particular, I'd suggest that, despite the huge fall, this is a particularly bad time to go long volatility (NYSEARCA:UVXY), as it is likely to continue melting away like a popsicle at the beach: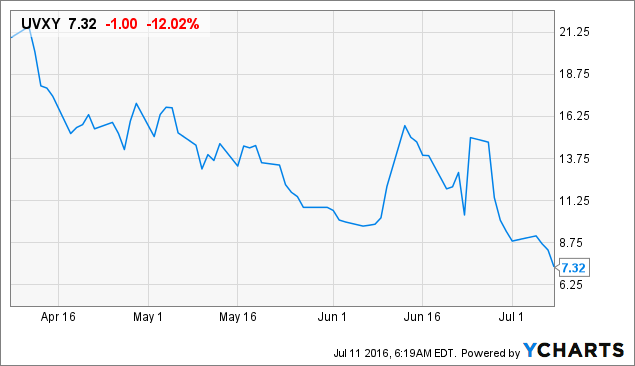 For a reversal in volatility, particularly with the VIX curve this steep, you'd need a major sell-off in the S&P 500. Given that we've just made new highs and the market blew off a major bearish catalyst with Brexit, the odds are extremely poor for long volatility positions over the next month.
Disclosure: I am/we are short UVXY.
I wrote this article myself, and it expresses my own opinions. I am not receiving compensation for it (other than from Seeking Alpha). I have no business relationship with any company whose stock is mentioned in this article.