On Thursday, Chuck Carnevale posted an interesting article, naming Aflac Inc. (NYSE:AFL) as one of just seven Dividend Aristocrats that he would consider buying today. On Friday, I disregarded his advice, selling out of AFL and using the proceeds to fund a full position in the 3M Company (NYSE:MMM).
To put this trade into context, we typically hold around twenty positions in US equities, another five international equities, and another 5 REITs. (Our individual equities represent just 50% of our household financial assets, so this is not an undue concentration.) Thus, I generally cannot add a new position without selling another. I don't insist that both sides of the trade be optimized, or even that either side be optimized. I merely ask that the overall trade advance our goals, and I trade with sufficient frequency that I am content with incremental advances on any given trade. That said, this particular trade highlights a significant philosophical shift in my approach.
What I Sold
We have owned Aflac for two different stints, first from 12/21/2012 to 6/3/2013 and again from 4/24/2014 through 7/8/2016. I tend to trade around positions, complicating the picture; however, Quicken calculates a 10.2% IRR on those investments. Aflac has consistently met my expectations, and I see no reason why it would not continue to do so going forward. It is a strong company with a stable customer base, a low P/E, and a superior history of paying growing dividends. It is not a holding that I worry about. That said, there are four reasons that I do not consider AFL a true All-Star Equity, and have never considered it a core holding in my portfolio.
Aflac is not growing
Aflac has a solid position in a niche insurance market, selling life insurance and supplemental accident/health insurance in both the US and Japan. It has traditionally sold through banks and post offices in Japan, with excellent customer retention rates, as well as through employer group plans and independent agents in the United States. Unfortunately, they seem to have taken these distribution channels as far as they can go. Premium income fell 20% from 2012 to 2015, at least in dollar terms, and even optimistic forward estimates suggest a mere 5% CAGR. I do not expect further revenue declines, as the yen appears to be strengthening, but neither do I expect much growth.
Aflac's operations are opaque
Two aspects of Aflac's operations make it difficult to forecast. First is the impact of foreign exchange rates. More than 70% of corporate revenues and 82% of assets derive from their Japanese subsidiary. These policies are written in yen and thus their premium income is sensitive to the exchange rate with the dollar. This was a significant headwind for AFL in the second half of 2014, as the yen was falling sharply, though it has been a tailwind for AFL over the past year. While I hesitate to forecast whether the yen will rise or fall against the dollar in the coming years, the sharp fluctuations in the exchange rate add substantial uncertainty to any projection.
In addition to the above concern, Aflac (like any insurance company), relies heavily on earnings from its investment book. When bond yields fall, there is a temptation to support earnings by reaching for lower-quality issues. This unfortunately has the potential to blow up on a company in a financial crisis, with small-time investors not even hearing about the issue until after large losses are already baked into the share price. Aflac itself had problems with this a few years back, finding itself overexposed to European periphery debt. They have supposedly resolved this concern, after taking some time and expense to reduce these positions, but it was an embarrassing episode for a company that is customarily conservatively managed. My hope and belief is that Aflac risk managers have learned their lesson, but I will be the first to concede that "hope" finishes a distant second to "verifiable" when justifying an investment.
Aflac lacks a wide moat
A truly great company enjoys an enduring competitive advantage that allows it pricing power in competition with peers. While Aflac has leveraged its partnerships in traditional distribution channels to enjoy solid margins in the past, this is not an advantage that translates well to growth. Moreover, there is some concern that these channels might erode. If competing products are added to the slate, or if sales channels shift away from banks and post offices in Japan, then Aflac may need to compete on price. There is little to differentiate one insurance company from another to the consumer, as the choice is a relatively straightforward comparison of benefits and price. For this reason, I would consider Aflac a "narrow moat" company, one that may be forced to defend its current niche in coming years.
Aflac is economically sensitive
This is not specifically a knock against Aflac. Financial companies are inevitably more vulnerable to economic turmoil than most. Yet, if you consider this chart spanning the last crisis, we see that AFL fell more sharply than the overall market (albeit recovering nicely afterwards). You have to accept this sensitivity when investing in Financials, but for that reason I tread lightly in the sector. Some investors refuse to consider them at all. I will invest in the sector, but limit my exposure to no more than 10% of the portfolio.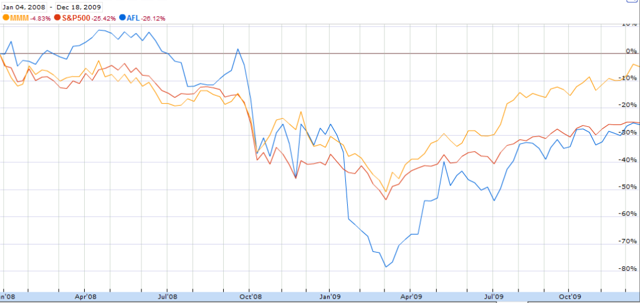 Click to enlarge
Aflac is fully valued
For the reasons elaborated above, I do not consider Aflac a "core holding" in my portfolio. I am willing to trade out of the position, either based on valuation or for other strategic reasons. In his article, Chuck offers the following chart: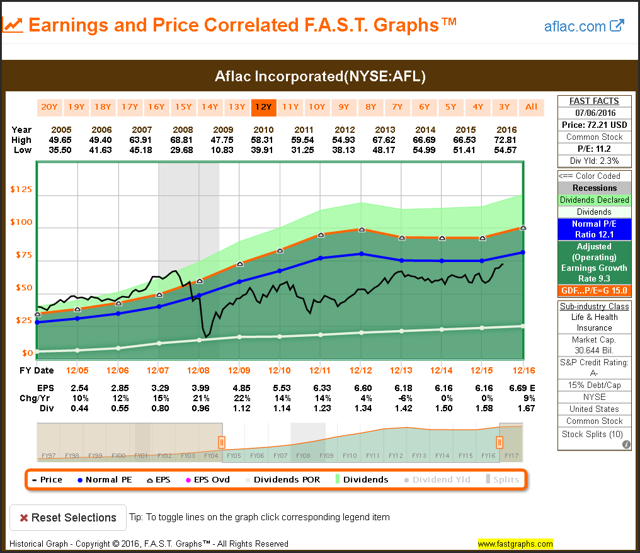 Click to enlarge
Notice the sharp revaluation in 2008! While AFL remains significantly undervalued based on the ratios from 2005-2007, it is approaching a level that appears to have been a ceiling for the company since then. Acknowledging that Chuck might have a different read of the chart, in my opinion, it appears to be fully valued at this time. That alone would not be sufficient reason for me to sell, but it leaves open the possibility for a trade that is motivated by other considerations.
3M is acclaimed as an All-Star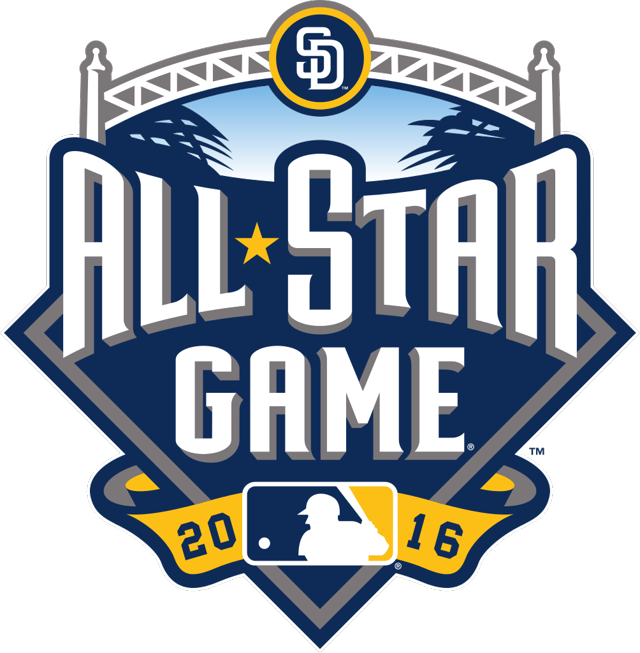 In contrast to Aflac, I believe that 3M is one of the truly great companies around, detailing my thoughts in this article from January (linked here). Its culture of innovation and quality supports net margins averaging over 15%, as well as an ROE that is well over 30%! Though revenues have been flat, improving margins and a greater (but still moderate) use of leverage continue to drive per-share earnings growth. Nor am I alone in this opinion. Sell-side analysts broadly consider 3M a top-quality investment. It is rated A+ by S&P Capital IQ and carries a near-perfect score from Jefferson Research. (Only the valuation misses their highest rating, and that by just one notch.) Morningstar rates it as "low uncertainty" with a "wide economic moat," words that are music to my ears. In light of this strength, I am promoting 3M to my All-Star squad, a position that I am strongly inclined to hold regardless of valuation.
What about valuation?
I have owned MMM more often than not over the last five years, never having any real concerns about its operations, but I have struggled to hold it in recent years due to excessive valuation. From 2006 through 2012, 3M topped out around 17x current-year earnings. (The exception coming in 2009, as earnings were depressed.) From 2013 through 2015, the price dipped to 18x earnings or lower each year, and never exceeded 22x earnings. In fact, we saw the price dip below $140 earlier this year, less than 17x the current-year estimates of $8.37. Each time the price bumps up against that ceiling, I have been inclined to sell.
In fact, my purchase price of $176.55 comes to 21x current-year earnings, at the upper end of even the elevated range that we've seen the past few years. We can look ahead to 2017 estimates of $8.95, but even based on that figure, an 18x multiplier suggests a $160 entry point lies in our future. (We could of course see much lower prices if the market melts down. The $160 estimate could be seen even if the current ambivalence continues.) For a value investor, this is not a good entry point! Rather, in past years, I would have been inclined to exchange a company with the 23x P/E for a company with the 12x P/E, the reverse of the trade I just executed.
Quality and Defense, the Alpha and Omega
Clearly, value isn't driving this trade! Our investments are well ahead of plan at this point, so we don't need to "beat the market" to achieve our goals. Moreover, despite not being especially fearful of the bear market that Eric Parnell has been trumpeting, he makes some excellent points. This is none too soon for a conservative investor to shift to a "defensive" portfolio, minimizing lower-quality holdings and cyclical sectors while emphasizing those companies that will continue to perform throughout a recession. Core industrial companies like 3M are certainly not recession proof, but they are less vulnerable than financials like AFL.
As part of this strategic shift, we have reduced or eliminated positions in Emerson (NYSE:EMR), Exxon Mobil (NYSE:XOM), and now AFL while initiating or adding to positions in Abbott Laboratories (NYSE:ABT), CVS (NYSE:CVS), and MMM. We have also increased our position in WFC, which I consider a best-in-class financial company, and built out our cash position to 15% of financial assets. The positions trimmed may offer better value than those we are adding, but they are being replaced by companies that I believe are better positioned to weather a global recession.
My guess is that I am a year or two early with this trade. Should the economy continue to strengthen, we might expect AFL to outpace MMM. I can live with that, as that would also support continuing growth from MMM that should be more than sufficient to meet our goals. But if the global economy should hit a rough patch, perhaps with the dollar strengthening against the yen, then I would expect MMM to be the better haven from the storm.
Note that despite the striking difference in P/E, with MMM trading at earnings multiples almost twice that of AFL, the industrial giant is projected for stronger per-share growth. Aflac is struggling to expand its operations, leaving share buybacks as the major source of per-share improvement. In contrast, 3M has been steadily working to improve productivity, margins, and now volume growth across segments. My new shares in MMM pay a higher dividend yield (2.5% vs. 2.3%) and promise faster dividend growth (perhaps 8% vs. 5%). The valuation argument for AFL depends on financials rebounding to the P/E multiples they enjoyed before the last crash, and that will not happen until people forget their past losses.
Conclusion
Please remember that the above rationale is written from the perspective of our personal financial situation. We are ahead of our financial plan, after seven years of exceptional returns, and thus we are focused on wealth preservation as much as we are on growth. It is likely that we are paying 10% too much for MMM, even in the current frothy market, but we are funding the purchase with another stock that I feel is also trading at the top of its valuation range. We have room within our allocation guidelines to double the size of this position, if the valuation merits at some point in the future, and we have cash on the side available for that purpose.
Each investor must decide their own goals, and their own approach to achieving those goals. We aim for a long-term real return of 5% on our equity holdings, a figure that I believe Aflac will meet and 3M will exceed. We are comfortable with a large decline in a bear market, as long as we have confidence in the stability of the companies we own, and thus are reshaping our portfolio to emphasize that. Chuck Carnevale is likely correct that Aflac is the better value at this time; however, I still believe that this trade advances our strategic goals.
Disclosure: I am/we are long MMM, EMR, XOM, ABT, CVS, WFC.
I wrote this article myself, and it expresses my own opinions. I am not receiving compensation for it (other than from Seeking Alpha). I have no business relationship with any company whose stock is mentioned in this article.