Back in the middle of June, Pioneer Natural Resources (NYSE:PXD) spent $435 million to purchase 28,000 net acres and ~1,000 BOE/d (70% oil cut) in production in the Midland Basin from Devon Energy Corporation (NYSE:DVN). Almost all of that acreage is in the core part of the play, with the 15,000 net acres in the Sale Ranch area being the main focus moving forward.
Pioneer Natural Resources is currently running 12 rigs in the northern part of its Wolfcamp/Spraberry position with plans to add an additional five rigs this year on the back of higher crude prices and this purchase. Three of those rigs will head towards the Sale Ranch region to help bulk up Pioneer's solid drilling operations in the area. The additional rigs will enable Pioneer to grow its production base by 12%+ this year and another 13% - 17% in 2017, aided by its impressive hedging program.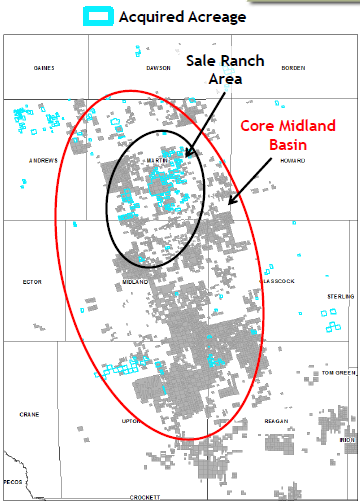 Source: Pioneer Natural Resources June 2016 Presentation
In the core of the core of this position, Pioneer Natural Resources gained 70 new Wolfcamp B drilling locations that can support wells with 9,000-foot laterals. Those wells have a before-tax net present value of $10 million and are guided to generate a before-tax IRR of 50% at strip prices, which is why management is excited about the purchase. This covers 7,000 net acres of Pioneer's 15,000 net acre purchase in the Sale Ranch area, and the company has an average working interest of 95% in those wells.
Pioneer acquired an additional 80 Wolfcamp B drilling locations on the remaining 8,000 net acres in the Sale Ranch region, which can support well lateral lengths of 7,500 feet or less. The company wants to increase its working interest (which is 68%) on that part of its acreage through additional purchases and/or acreage swaps in part so it can drill longer laterals. By extending the horizontal reach of unconventional wells, upstream operators like Pioneer are generally able to bring more economical wells online.
Below is a look at the production curves from Pioneer Natural Resources' wells in the Sale Ranch region.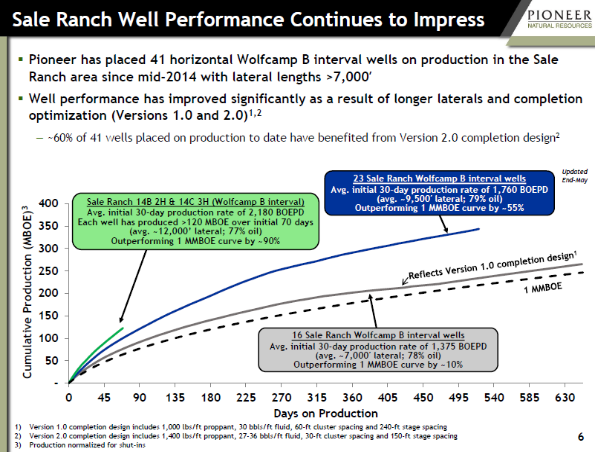 Source: Pioneer Natural Resources June 2016 Presentation
Pioneer has transitioned from its 2013-2014 completion program, dubbed Version 1.0, to its Version 2.0 completion design which was implemented as part of its full field development in Q3 2015. Version 2.0 uses tighter cluster and frac stage spacing, and more pounds of proppant and barrels of fluid per foot than Version 1.0, effectively creating a more intensive frack.
The grey line up above showcases the production curve of 16 Wolfcamp B wells with 7,000-foot laterals over a year and a half of production that were completed with Pioneer's Version 1.0 design. Those wells are on track to sport an estimated ultimate recovery rate north of 1 million BOE based on their current production curve, exceeding expectations by ~10%.
Above that the blue line shows the production curve of another 23 Wolfcamp B wells in the Sale Ranch area that have longer laterals at 9,500 feet, with that production curve on par with wells that would generate a 1.55 million BOE EUR. Some of those wells also benefited from its Version 2.0 completion program, which costs on average an additional $500,000 per well to complete versus its Version 1.0 design. Those wells help prove that longer laterals yield higher EUR rates and translate into stronger drilling economics.
While enhanced completion designs and longer laterals cost more to utilize, the higher estimated ultimate recovery rate indicated by the solid production curves more than covers the extra expenditures required. Pioneer plans to continue utilizing longer laterals and its Version 2.0 completion design going forward.
Keeping the momentum alive, Pioneer brought two Wolfcamp B wells online with 12,000-foot laterals in the Sale Ranch region that are materially outperforming its other production curves as you can see in the graph via the green line. After almost three months of production, those wells are sporting type-curves that would yield an EUR of 1.9 million BOE.
Pioneer Natural Resources is primarily focused on wells with laterals that are at least 9,000 feet long as it experiments with 12,000-foot laterals. It is unlikely it will bring wells online with 7,000-foot laterals going forward unless the company wants to use those wells for acreage retention or completion optimization purposes. As most of its acreage in the area is already held by production, Pioneer's smaller wells will most likely be used to test out its Version 3.0 completion design.
The Version 3.0 design is Pioneer's way of doubling down on its more intensive frack program. Pioneer is boosting the proppant per foot up to 1,700 pounds from 1,400 pounds, the amount of fluid per foot up to 50 barrels from 36 barrels, cutting down its cluster spacing to 15 feet from 30 feet, and transitioning to 100-foot frac spacing versus 150 feet that its Version 2.0 program utilizes. Those wells will cost an additional $500,000 - $1,000,000 per well to complete compared to its Version 2.0 design, with testing underway on 80 wells across Pioneer's Midland Basin operations. This optimization program is guided to run from Q2 2016 to Q4 2016, and Pioneer will assess its results to see if the likely productivity increases justifies the extra costs.
Another secondary offering
In conjunction with the acquisition, Pioneer Natural Resources launched another second offering that raised a gross $827 million. That leaves the company with an extra ~$400 million after the deal closes, which will be used to help fund its ramp up in drilling activity. As Pioneer is adding rigs at the end of the year, drilling and completion capex is only going up by $100 million in 2016, so the cash will be directed to next year's capex budget. Pioneer Natural Resources is guiding for ~$1.5 billion in operating cash flow this year as it forecasts it will spend $2.1 billion on capex.
At the end of Q1 2016, Pioneer Natural Resources had $4.1 billion in current assets (including $2.5 billion in cash/short term investments), slightly under $1.8 billion in current liabilities (including $936 million in fair value of its long term debt) and $2.7 billion in additional long term debt. Add in $500 million in expected proceeds from its midstream Eagle Ford sale and the $400 million from its most recent equity offering, and Pioneer Natural Resources' balance sheet is rock solid.
Final thoughts
Pioneer Natural Resources has a very strong balance sheet and a top tier asset base to develop. An upstream player primarily focused on developing its Midland Basin acreage position, Pioneer Natural Resources offers investors an asymmetrical way to play a rebound in crude prices. Its hedging program isn't as strong next year as it is this year, which makes a pricing recovery that more important to its future cash flow streams. As there are signs the global crude glut is retreating at a steady pace before including supply disruptions, it is a great time to start looking at upstream E&P players as long term investments. Investors looking to read more about Pioneer Natural Resources should check out this article.
Disclosure: I/we have no positions in any stocks mentioned, and no plans to initiate any positions within the next 72 hours.
I wrote this article myself, and it expresses my own opinions. I am not receiving compensation for it (other than from Seeking Alpha). I have no business relationship with any company whose stock is mentioned in this article.