Most of Gilead Sciences (NASDAQ:GILD) sales come from drugs for hepatitis-C, one of which was approved two weeks ago. This market will continue to be increasingly crucial to the company's business although prices have become a major factor of competition. Accounting for 60% of firm's revenues in 2015, its HCV segment has the potential to develop further in the near future.
GILD has a very strong activity in R&D and a long list of pipeline candidates. Nevertheless, the majority are in Phase 1/2, not in Phase 3.
Gilead has a strong need to invest in R&D and M&A. For that reason, it is questionable that it has spent $14.7 billion on share buybacks over the last twelve months ($8 billion in this year's first quarter). Although Gilead is a company that generates a large amount of cash flow ($ 18.5 billion in the last four quarters), a large part of that money should be invested in the company's business. If the company believes that share repurchases are - in addition to other aspects - a good way to support the stock price, then the first quarter of this year is a good evidence to the contrary.
Of course, all the available information is already discounted in the company's share price. Moreover, multiple reports based on fundamental analysis have already been done and one thing is true: GILD's value is unclear given that there are many factors whose development is uncertain. For this reason, we will carry out a technical analysis approach to try to understand the real trend of the company's share prices and the logic of its evolution over time.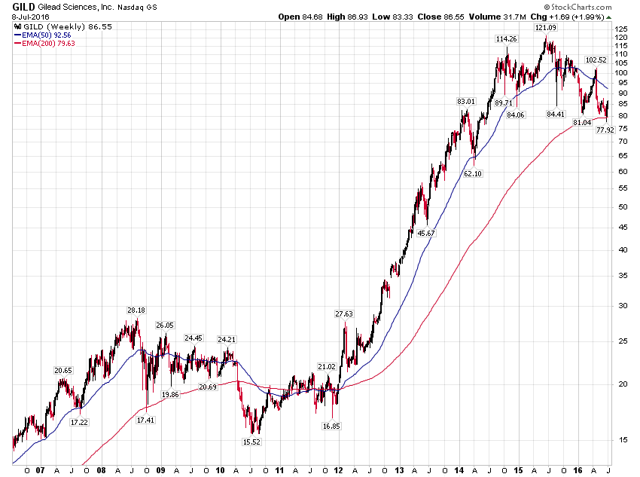 Charts courtesy of StockCharts.com
Looking at the 10-year weekly chart above one has to conclude that the uptrend that lasted from early 2012 to June 2105 gave rise to a downward trend that has continued until today. In fact, after the top at $121.09 GILD share prices have shown an evident sequence of lower highs and lower lows. Furthermore, the EMA(50) is pointing down for months and the EMA(200) is already in a horizontal position which is an additional indication of the new direction of the market in relation to GILD. On the other hand, prices are struggling between those two moving averages, and are only finding support at the EMA(200).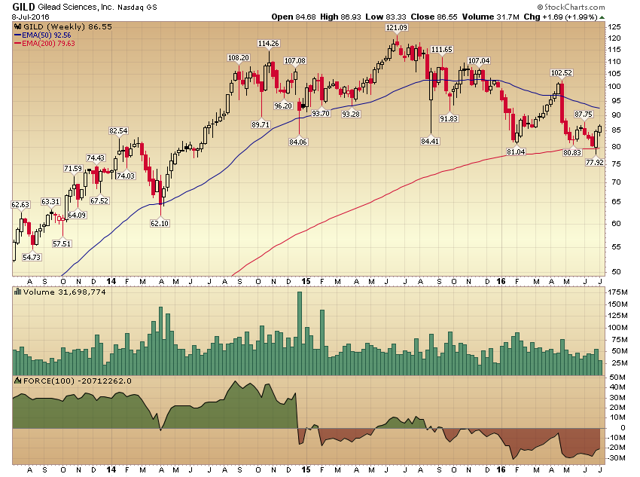 In order to have confirmation of the strength of this trend reversal let us analyze the 3-year weekly chart above. The long-term indicator Force Index(100) combines the three crucial elements of the price action - direction, extent and volume. The significant negative value of this indicator tells us the intensity of the downtrend and its selling pressure.
While there are clear indications that the price movement of GILD shares reflects a downtrend, we will see which signals would allow us to believe in the return to the previous situation.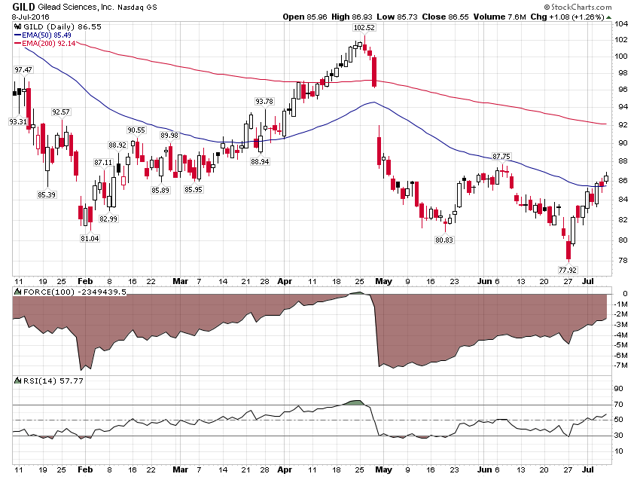 Looking at the 6-month daily chart above, we may see a congestion zone between $86 and $88 where prices are trying to pass through. Moreover, the EMA (50) is below the EMA (200) and both moving averages are inclined downwards. I must also mention a possible bullish divergence: GILD made a lower low at $77.92 and RSI hasn't confirmed it entirely. Anyway, on a short term basis the situation reflects what was said above.
Let's list the key points that stock prices have to fulfill so that the situation can reverse again:
1. Escaping, on the way up, from $86-$88 area would be a first sign of strength.
2. Surpassing the EMA (200) in the short term would be another vital sign for a further reversal.
3.The gap has absolutely to be closed and then the intermediate top at $102.52 has to be broken in the rise.
4.The stock price must exceed the top at $121.09 in a sustainable way.
Conclusion
The company has experienced problems with regard to competition for its key products. This situation is well reflected in the prices of their shares which currently show a downtrend. No doubt the company denotes long-term problems which is serious for investors who want to keep their shares for a long period. With this, the share repurchase program does not seem to be the best solution. Spending much of the cash flow of the company out of its core business may result in loss of opportunity in other more appropriate investments. In the context of the marketing policies of this sensitive sector, GILD has important options to be considered that may favor or not its market position. The situation is complex and leaves some concern to investors. In technical terms, GILD is clearly in a problematic situation since June 2015 when it began to show a long-term downtrend. Although the company has the potential to become again an investment target my position is not positive and I will evaluate new developments.
Disclosure: I/we have no positions in any stocks mentioned, and no plans to initiate any positions within the next 72 hours.
I wrote this article myself, and it expresses my own opinions. I am not receiving compensation for it (other than from Seeking Alpha). I have no business relationship with any company whose stock is mentioned in this article.
Additional disclosure: The author of this article gives only his personal view and opinion, never making any investment advice to buy or sell specific securities. Investors in financial assets must do so at their own responsibility and with due caution as they involve a significant degree of risk. Before investing in financial assets, investors should do their own research and consult a professional investment adviser.