With interest rates at or near all-time lows around the world investors are putting their money to work in the US stock markets. The German ten year bund is trading near -0.2% while other yields are perilously close to trading next to nothing. Even worse than German bunds is the Swiss ten year with a yield of -0.7%! Just check out the chart below from Bloomberg to get an idea of what ten year yields are trading at around the world.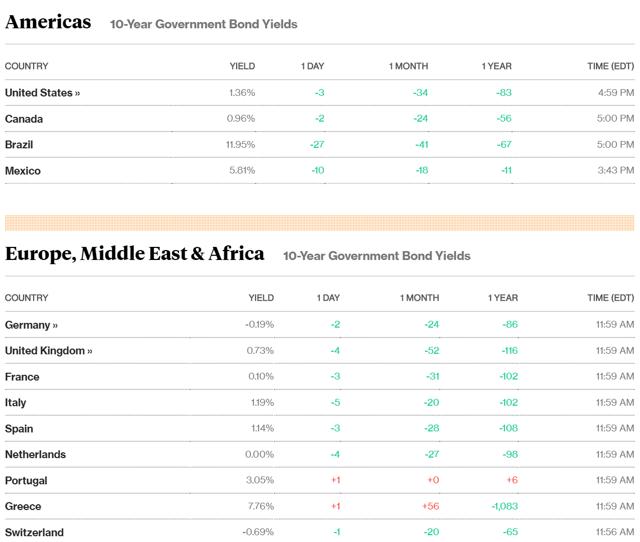 Click to enlarge
As I eluded to earlier, with investors on the hunt for yields they have been putting their money to work in safe haven American stocks such as Procter & Gamble (NYSE:PG). But most importantly I would have to take a look at the American banks as they have been pretty weak lately and they are actually reporting earnings this coming week.
If you don't remember, Brexit was just a couple of weeks ago and investors thought the whole world was going to turn upside down. A lot of damage was done to the banks because of Brexit and specifically I'm looking at Bank of America (NYSE:BAC). As you can see from the chart below, the Brexit vote came in on the morning of June 24th and the stock was decimated, then Monday the 27th rolled around and Bank of America was punished even more. The stock later found a foothold around the $13 level.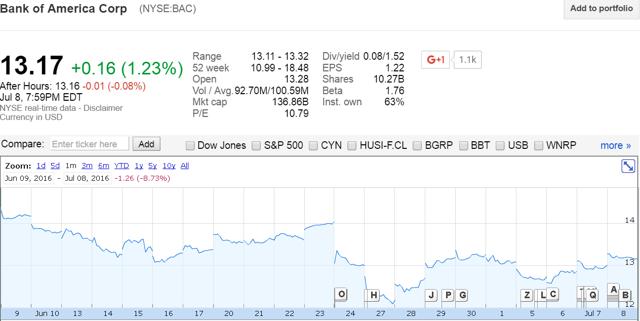 Click to enlarge
Bank of America earns its money with higher interest rates and with our ten year treasuries now trading at 1.36% and the two year treasury trading near 0.6% they can't make any money. From the chart I provided below through the St. Louis Fed we see that the 2-10 spread has been much higher in previous years and Bank of America wasn't making money then, what makes an investor think that Bank of America can make money now at the lowest spread it has ever been?
Click to enlarge
I believe Bank of America's stock price rose to $13 the week after the Brexit vote because they had somewhat of a successful CCAR result announced the week after. The bank was able to increase the quarterly dividend from a nickel to a paltry $0.075 per share, or a move up of 50%. The bank also received approval for up to a $5B share buyback over the coming year. But I believe that is all priced into the stock right now, and so do the analysts at Raymond James as Bank of America was downgraded from Outperform to Market Perform recently.
Bank of America specifically has a lot of exposure to the UK and with the British pound dropping like a rock it doesn't bode well for Bank of America. Bank of America has nearly$70.2B of exposure to our friends across the pond. For comparison purposes, JP Morgan has nearly $72.1B. Keep in mind that JP Morgan is a $230B market cap company while Bank of America is a $137B market cap company. So on a relative basis, Bank of America has a lot of exposure to its peers.
With this article I've painted some dire facts about the banks in general and provided some detailed examples to Bank of America's exposure to the UK. Given that information I noticed that stock broached the $12 market post-Brexit fears and I'm going to take a bearish stance on it through options. I specifically took a look at August expiration to capture the volatility off of the second quarter earnings call this coming week. I could have looked at the July dated options but it would have missed the earnings announcement by a weekend. By targeting the August options another event I get to capture is the July Federal Reserve meeting where I believe the Fed is going to say that they are going to say they won't raise rates again. I simply bought the August $13 put and funded a portion of it by writing the August $12 put.
If indeed the stock does go lower and not hit the $12 strike price I can make money off the $13 put and keep the proceeds from writing the $12 put. If it does go below the $12 strike price I'll be forced to buy it at $12 but I can sell it at $13. The worst case scenario would be that the stock actually goes up from here. Then I would have lost out on the difference between what I bought the $13 put and the proceeds from writing the $12 put. I'm inclined to think that the move after the CCAR results is to move lower, otherwise we should have seen the stock price move up after those results, but instead they have remained flat at the $13 level. I will listen carefully to the conference call and if the word "Brexit" is ever mentioned coupled with some rhetoric for a weak outlook I would watch for the stock to move down.
Bank of America is down 21.8% on the year and 22.7% over the past year. This is all happening while the S&P is near all-time highs. The banks in general have not partaken in any part of this stock market over the past and they will not be able to unless there is a rise in interest rates, and I just don't see that happening any time soon. The puts were a bit expensive at the time of the purchase and still remain expensive but they are expensive for a reason, because I believe the move is downwards. Thank you very much for reading and I look forward to your comments.
Disclaimer: This article is in no way a recommendation to buy or sell any stock mentioned. This article is meant to serve as a journal for myself as to the rationale of why I bought/sold this stock when I look back on it in the future. These are only my personal opinions and you should do your own homework. Only you are responsible for what you trade and happy investing!
Disclosure: I/we have no positions in any stocks mentioned, and no plans to initiate any positions within the next 72 hours.
I wrote this article myself, and it expresses my own opinions. I am not receiving compensation for it (other than from Seeking Alpha). I have no business relationship with any company whose stock is mentioned in this article.