Two of Oklahoma's biggest landmarks have had dramatic stay-or-go news in the last couple weeks--Kevin Durant is departing Oklahoma City, but Williams Companies (NYSE:WMB) is remaining in Tulsa.
The acrimonious end to the Williams merger deal with Energy Transfer (NYSE:ETE) and subsequent boardroom shakeup has spurred speculation over WMB's possible next move--roll up its majority-owned master limited partnership, Williams Partners (NYSE:WPZ).
With Kinder Morgan leading the way, midstream operators have been moving to consolidate, eliminating the two-tier structure in which a tax-advantaged MLP pays incentive distribution rights to a C-corp general partner.
Williams announced such a deal 14 months ago, only to cancel it, paying a $428 million breakup fee, when the Energy Transfer deal was reached. The aborted 2015 transaction was described by global advisory firm SRR in an excellent article explaining why such roll-ups are becoming popular (italics added):
On the heels of the Kinder Morgan transaction, Williams Companies, Inc. ("Williams"), announced on May 13, 2015, its plans to acquire all outstanding units of Williams Partners, L.P. ("WPZ") for a total purchase price of $13.8 billion. Similar to KMI transaction, the elimination of the general partner and IDRs is expected to lower WMB's cost of capital and unlock more available capital to fund attractive projects and potential acquisitions. Williams management expects the combined company to grow its annual dividend by 10% to 15% from 2015 to 2020. As a taxable transaction to WPZ's unit holders, Williams would receive a step-up in basis and projects to realize approximately $2 billion in tax savings over the next 15 years."
With ETE CEO Kelcy Warren waving bye-bye in the rear-view mirror, it seems logical Williams CEO Alan S. Armstrong, backed by the remaining board members, would again seek the benefits of a roll-up. Unfortunately for WMB shareholders, the terms of the trade wouldn't be as favorable this year.
Last year's proposed transaction would have given WPZ unitholders WMB stock at a ratio of 1.115 shares for each unit, a 12.6% premium to the 20-day average closing price. That would have given them 27% of the total shares outstanding.
Just before that announcement, WPZ was selling for $47.40 and WMB at $50.10, a ratio of 0.946 to 1. Not surprisingly, WPZ soared when the transaction was announced and the ratio moved to the other side of par. Tellingly, WMB also rose as the advantages to the general partner were appreciated.
Today, WMB is at 20.99; WPZ is 35.70; a ratio of only 0.59 to 1. Assuming a buyout at a 10% premium, valuing WPZ at 39.27, WPZ shareholders would get 1.87 shares of WMB for each share they own. That's 67% more than the 1.115 ratio last year.
With 588.6 million WPZ units outstanding as of last quarter, 60% of which are owned by WMB, there are a net of 235 million WPZ units that would be need to be paid off. At the 1.87 to 1 ratio, WMB would have to issue something around 439 million shares. By my calculation, that could give WPZ unitholders 37% of the combined company's shares, compared with just 27% if last year's deal had gone through.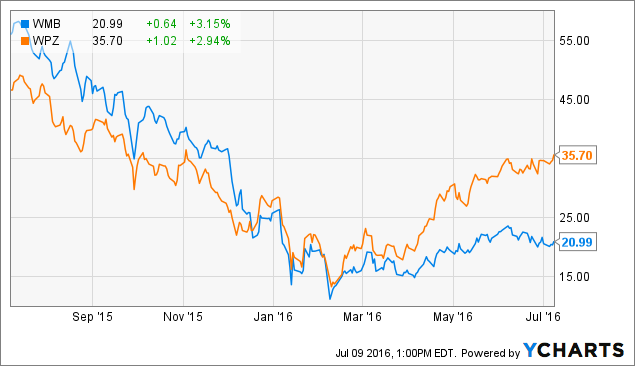 A one-year chart shows both issues moved down in tandem with declining energy prices and the threat of bankruptcy by Chesapeake Energy (NYSE:CHK), the enterprise's leading customer. They both recovered starting in February as energy prices recovered and the CHK risk receded.
Starting in April, though, when it became likely the Energy Transfer merger would fail, their paths diverged--WPZ went on a tear, WMB didn't.
One big reason is WMB's telegraphed dividend cut, which has been estimated by Evercore ISI analyst Timm Schneider at 60% to 75%. Cutting the dividend at WMB is good news for WPZ unitholders--it frees up cash to pay its distribution, by allowing a waiver of WMB's incentive distribution rights.
Skip Aylesworth, who manages $1.5 billion in holdings at Hennessy Funds in Boston, said he thinks Williams should pick up where it started and finish the roll-up, adding that it'd be a similar move to what pipeline giant Kinder Morgan Inc. did.

That may require Williams to slash its dividend to free up cash, which could in turn drive its stock price down by almost half, at least temporarily, Aylesworth said. "The company will resume growing and ultimately be better off than it was before," he said.
If management is worried a cut would reduce the stock price, it has an incentive to do the roll-up before next quarter's dividend payment, which would normally be in September. Otherwise, the terms of trade could get still worse.
Still, the dividend cut may already be priced in. Indeed, Kinder Morgan stock rose after it announced its 74% cut last December and the decision now looks vindicated.
Currently, WMB yields 12.6%, reflecting the likelihood of a cut, WPZ's yield is 9.9%.
Another reason for WPZ's recent climb may be that investors are anticipating the roll-up. The higher WPZ rises relative to WMB, the better the likely terms of a stock-for-units trade.
Could WMB decree no further takeover premium necessary, since it's already priced in, and simply exchange shares based on current values? Since WMB owns approximately 60% of WPZ, can't it just do what it wants?
Possibly and no. As general partner, Williams owes a fiduciary duty to Williams Partners unitholders. As in the 2015 deal, unitholders would be represented in negotiations by Williams' conflicts committee, who are independent members of the general partner's board of directors. Minority unitholders could challenge an exchange they believed violated a fairness standard. Delaware case law supports such a challenge. (As shareholders know, Williams hasn't had great luck lately in Delaware court.)
With the exchange a taxable event to WPZ unitholders, chances are some will challenge the deal unless they get something in return.
Conclusion: A roll-up makes sense to reduce WMB's cost of capital, help finance acquisitions, and provide tax benefits. Both issues will benefit, but WPZ's continuing rise will dilute the percentage of the merged enterprise held by existing WMB shareholders. WPZ is attractive in anticipation of a deal.
Disclosure: I am/we are long WMB, WPZ.
I wrote this article myself, and it expresses my own opinions. I am not receiving compensation for it (other than from Seeking Alpha). I have no business relationship with any company whose stock is mentioned in this article.