The Vanguard Value ETF (NYSEARCA:VTV) looks great. This is an ETF with a long history, since 2004 this fund has been heavy on dividend champions and low on weaknesses.
Expenses
The expense ratio is a .08%. When it comes to investing, who wants to throw away their capital on high expenses ratios or trading costs? Vanguard regularly sets the bar for creating low fee investment vehicles for investors to gain solid diversification with low costs.
Holdings
I grabbed the following chart to demonstrate the weight of the top 10 holdings: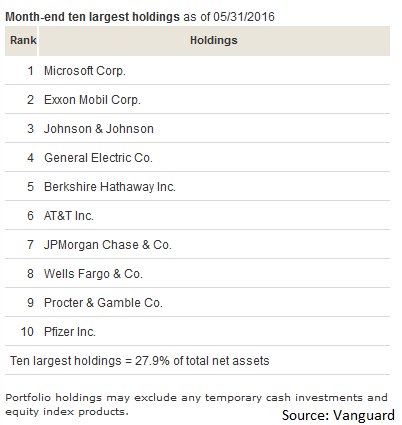 I love seeing Exxon Mobil (NYSE:XOM) as a top holding. Investors may be concerned about cheap gas being here to stay, but I think money in politics will be around decades (centuries?) longer than cheap gas. Bet against big oil at your own peril. I can say the same about liking Chevron (NYSE:CVX) as a top holding. It isn't in the top 10, but it is in the top 20. These companies offer investors a good way to benefit from high as prices which would generally be a drag on the rest of the economy and on their personal expenditures.
Johnson & Johnson (NYSE:JNJ) is another great dividend company to hold. They have an effective R&D team and a global market presence. As one of the premier healthcare companies in the world they offer investors access to receiving dividends paid from the profits on the healthcare items that most investors are going to buy at some point.
Microsoft Corp (NASDAQ:MSFT) is the single top holding which is slightly concerning to me, but that is because I'm worried about their ability to keep developing strong demand for their products after producing back to back operating systems that I thought were fairly bad. All of my machines are still running windows 7 (and there are quite a few) with the exception of a Surface 3 that requires windows 8 for the touch screen functionality. If I were in the market for another tablet, I'd be contemplating other options.
The other side of that argument would be that I'm still using Windows 7 on my machines rather than a competing operating system. I'm still preparing this article in MS Word. Therefore, I've voted for Microsoft as a customer quite a few times even if I don't like the latest releases. It could be argued that if there are other customers like me, the demand for their next operating system could be building as potential customers delay upgrading. While a loss or delay of sales is not positive, it would be a positive factor for growth when they release a better operating system.
To be fair, last time I bought a computer I restricted my search criteria to machines running Windows 7. I suppose the fact that competitors still couldn't convert me says a great deal about the switching costs Microsoft has been able to create.
Sectors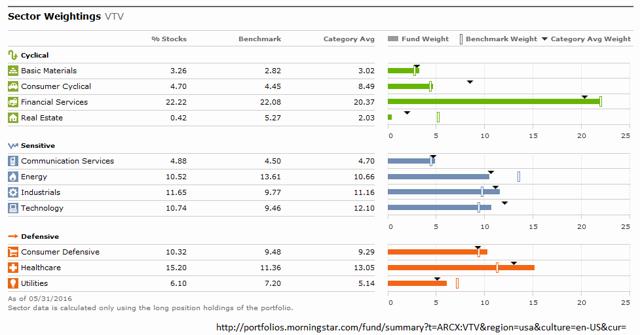 Click to enlarge
We've got a fairly reasonable allocation across the sectors with over 30% in each category. Cyclical is only slightly over 30%, but it still represents what would appear to be a fairly balanced allocation system. Going a little deeper, into the individual sectors, that balance quickly breaks down. The biggest challenge here could be the very heavy exposure to the financial services sector in a period where interest on excess reserves is unlikely to come back in a meaningful way. The Federal Reserve raised rates once, but the yield curve has flattened substantially since then and there are serious questions about the merits of paying interest on the excess reserves.
The biggest potential weakness here would be the lack of an allocation to real estate stocks. For investors seeking a more complete portfolio, it would make sense to complicate a position in VTV with some REITs. That could be using individual REITs like Realty Income Corporation (NYSE:O) or a diversified position like the Vanguard REIT Index ETF (NYSEARCA:VNQ).
The portfolio also runs fairly light on utilities which are sensitive to interest rates. In a nutshell, VTV excluded the two sectors that are prone to benefit from declining bond yields. Investors will either need to make those allocations on their own (buying REITs and utilities) or putting a large allocation of bonds into the portfolio.
Conclusion
The Vanguard Value ETF is an excellent choice for investors that are looking for a respectable (but not extreme) dividend yield to go with a low expense ratio and a value weighting for their portfolio. The only challenge I see with using VTV as a core holding in the portfolio is that the investor will need to find another source of allocations for utilities and REITs if they want to keep a balanced portfolio. Since my view on interest rates is that the low rates will continue for a long time, I am concerned that the lack of interest rate sensitivity equity investments could cause the fund to underperform. On the other hand, if the investor is comfortable picking several allocations in those sectors to adjust their total portfolio weight, then having VTV emphasizing other parts of the economy makes a great deal of sense.
Disclosure: I am/we are long VNQ.
I wrote this article myself, and it expresses my own opinions. I am not receiving compensation for it (other than from Seeking Alpha). I have no business relationship with any company whose stock is mentioned in this article.
Additional disclosure: Information in this article represents the opinion of the analyst. All statements are represented as opinions, rather than facts, and should not be construed as advice to buy or sell a security. This article is prepared solely for publication on Seeking Alpha and any reproduction of it on other sites is unauthorized. Ratings of "outperform" and "underperform" reflect the analyst's estimation of a divergence between the market value for a security and the price that would be appropriate given the potential for risks and returns relative to other securities. The analyst does not know your particular objectives for returns or constraints upon investing. All investors are encouraged to do their own research before making any investment decision. Information is regularly obtained from Yahoo Finance, Google Finance, and SEC Database. If Yahoo, Google, or the SEC database contained faulty or old information it could be incorporated into my analysis.