India's very own Paul Volcker, Dr Raghuram Rajan has announced he will not be continuing as head of the RBI after his three-year tenure ends in early September. The federal government should announce his successor soon, with the talk being that the government wants interest rates to be cut more aggressively than what Rajan has done (-100bps over past 2 years), to build growth momentum in the run-up to the May 2019 elections.
While disappointing, Rajan's exit is certainly not the end of the world, even if Rexit coincides with a certain Brexit. India for one, is certainly in no short supply of qualified candidates to head the RBI. No matter what the naysayers may claim, economic fundamentals remain strong in India. India's booming economy is unlikely to lose steam anytime soon. But the government, in the interest of politics, has unnecessarily lost some credibility with Rexit. Rajan, a central banker with the right mix of expertise and credibility, has elected to pre-empt his selectors by walking away. That Rajan was lost to politicking will only hurt Modi, a man who has sought to rebuild an Indian political system bereft with corruption.
The news of Rexit has also raised questions about the future path of some Rajan -led reforms. Although many of these reforms are on auto-pilot, it is always worth bearing in mind that leadership matters most for the early days of institution building. After which, there is risk that the efficacy of these reforms become diluted.
Rajan's Legacy
Throughout his tenure as RBI governor, Rajan focused on currency stability and inflation, even though it triggered backlash from the low interest-rate lobbyists. Rajan's viewpoint being that inflation and growth targets were not mutually exclusive. His focus on CPI (consumer prices) vs WPI (wholesale prices) showed his practical side to a nation that was initially skeptical of his academic credentials.
At a time when India was suffering inflationary problems, robust capital flows in FY14 and FY15 (see graph below) weren't squandered away by releasing them in the market, thereby, preventing inflation. These flows were used to build a war chest to repair the anemic health of India's external account. Forex reserves increased from US$280bn to US$360bn, thereby, shielding the economy from the tyranny of volatility and the impending FCNR (B) outflows of ~US$ 25bn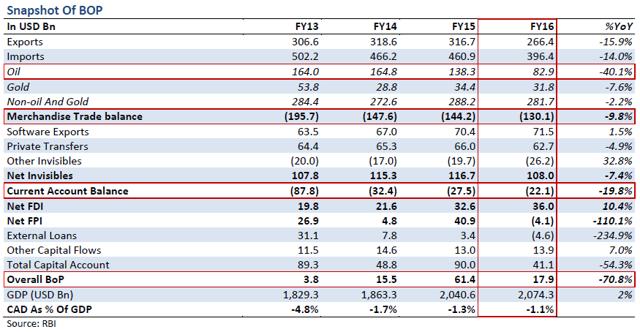 Click to enlarge
Take a look at chart below. Since Rajan took over, he has steadily reined in inflationary pressures. While the fall in WPI was primarily a consequence of a collapse in commodity prices, suppressing demand through tight money supply also played a key role in reining in CPI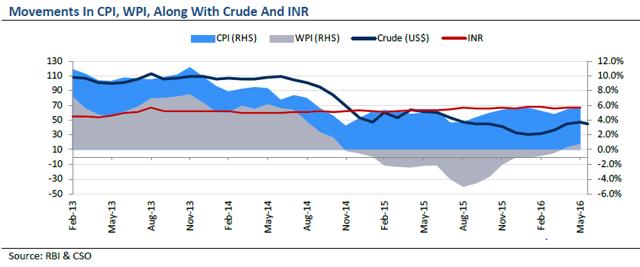 Click to enlarge
Despite heavy external pressure, Rajan persisted in maintaining the repo rate at 8% across 2014. For his persistence, he was lauded as a market savvy central banker driving sweeping change across India's banking system and inflationary landscape. Over the course of 2015, Rajan led a 125bps rate cut cycle in line with the fall in commodity prices and the recovery of India's macroeconomic prospects. The last 25bp repo cut in April brought rates down to 6.5%, narrowing the repo-reverse-repo corridor to 50bps in an effort to effect transmission.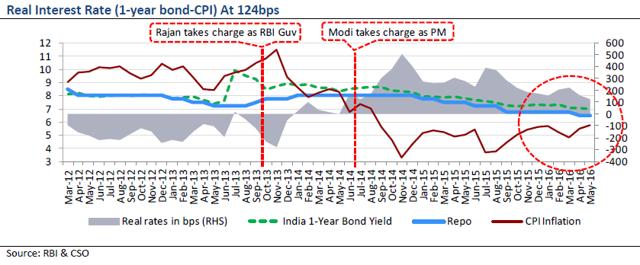 Click to enlarge
While Rajan has certainly done much in driving rate movements in India, he also pushed reform, creating new structures and institutions in Indian banking. IDFC and Bandhan for instance, were allowed to become full- fledged banks. Financial inclusion and penetration has been front and center throughout his tenure as the award of 11 payment bank licenses and 10 small bank licenses were made. The NPCI, another one of Rajan's creations, promises to revolutionize the electronic payment infrastructure and framework in India.
Unfinished business
Rajan's abrupt decision to vacate the RBI post is certainly reform negative. An agenda that Rajan leaves significantly unfinished is the matter of asset quality stress in the banking system. Resisting the urge to look the other way, Rajan has held his ground and pushed through the Asset Quality Review across 3Q and 4QFY16. Better to be safe than sorry, one could say. In addition to the AQR and SDR (which empowers the conversion of stressed debt to equity), much more still remains. Sadly, the pace and efficacy for reforms may not be the same now that Rajan is gone.
Some may interpret Rajan's announced exit as a reform negative, as a potential sign that the Government has prioritize short-term growth over reforms that boost savings, lower inflation, and a clean-up of bank balance sheets. Some, however, may interpret positively that Rajan is sufficiently satisfied with the new MPC structure and with the groundwork he laid at RBI. The nomination of the successor will help confirm the reform implications.
Now that the dust has settled, the questions remain:
Will Rajan's reforms continue?
Who will be his successor?
Will the RBI remain a de facto inflation targeter?
While the RBI has already been functioning as a de facto inflation targeter, the monetary policy committee (MPC) is yet to be formed. Reform wise, the bank balance sheet clean-up is underway but far from complete. In the near term, repayment of the maturing Foreign Currency Non-Resident deposits between September and November could increase volatility. If India does not stray off track though, it should tide over these hurdles successfully. Formalizing inflation targeting through the MPC is on track given the MoU (Memorandum of Understanding) with the government has already been signed. Besides, the roadmap is already in place for ongoing bank reforms. All that remains is implementation.
This Time It's Different
But take a step back from all that we have discussed so far. What really matters during these uncertain times for India is macro stability and international reputation. On both these fronts, India has improved leaps and bounds from the dreadful 2013 taper tantrum months when the country was inducted into the "Fragile Five". Since then, growth has improved, inflation has halved, the twin deficits have narrowed and reserves are back to all-time highs.
But India should not rest on its laurels. Rexit has increased uncertainty and Brexit will not be painless, hence there is no time to sit back and watch. An early announcement on the next RBI governor should help quell uncertainty; and commitment to reforms to strengthen India's domestic foundation, will be important.
The Rupee could prove a key source of weakness in the face of uncertain external conditions. Any prolonged weakness could stoke inflationary pressures and limit the extent of the easing cycle. Rajan's departure/ perceived loss of central bank independence should not cause the rupee to crash (-30%) as it did in 2011-2013, which had unique global and political circumstances (rising inflation due to rising oil prices, fiscal stimulus and restrictive supply-side policies post-2009 elections. With US rate hikes expected, the rupee should continue to depreciate at its current pace of 3-5% per annum but this is no worse than other EM currencies. Bear in mind that India's macro fundamentals are one of the strongest in EM: current account deficit of just 1%, and economic growth of 5% on stable debt-to-GDP. Worst-case, from this starting point of falling/ flat-line inflation, the BJP does not need to be too reckless with fiscal/ monetary policy to win 2019 elections.
Reforms will, like in many other emerging countries, have to be at the forefront of growth. Upcoming events such as the passing of the GST bill and the status of banking sector reforms will be watched keenly along with the Brexit fallout.
Disclosure: I/we have no positions in any stocks mentioned, and no plans to initiate any positions within the next 72 hours.
I wrote this article myself, and it expresses my own opinions. I am not receiving compensation for it (other than from Seeking Alpha). I have no business relationship with any company whose stock is mentioned in this article.