Tonight earnings season kicks off today with Alcoa (NYSE:AA) reporting after the closing bell and the stock is up 1.32% today even though the company is expected to earn only 9 cents this quarter compared to 24 cents this time last year, according to Bloomberg. When you see a company that is expected to report earnings that are 63% lower than last year and traders still buy the stock, then one can only conclude that valuations on Main Street mean absolutely nothing anymore and investors are just buying on twitter feeds with blinders on, if not blindfolds.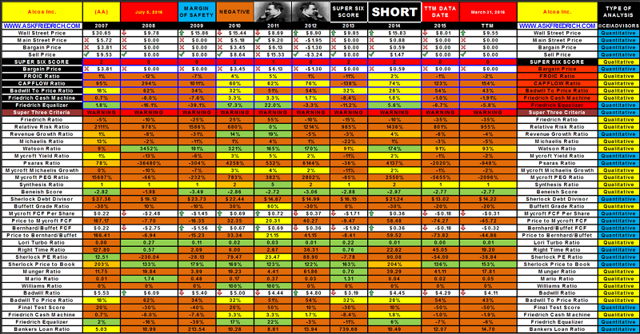 Click to enlarge
The S&P 500 Index (NYSEARCA:SPY) is ready to break out of its 2 year stall period today and hit a new high, while at the same time the 10 year is at a all time low yield. This is the first time in market history that this has happened. So people are panicking trying to find the illusion of safety and any kind of yield anywhere they can find it. With Europe and Asia going negative interest rates and with central banks ready to increase their buying of negative yielding debt (with new planned quantitative easing programs in Asia and Europe) the only place left is the USA where yields are still positive, unless you go to emerging markets.
"In fact, it is increasingly a problem (a problem in my mind, at least) that investors are relying more and more heavily on central banks to continually stoke the market, rather than valuing and investing in the market in an old-fashioned Graham-Dodd way. And as long as enough of us believe in that narrative, it becomes a self-fulfilling prophecy." ~ John Mauldin
Because the political parties in the UK are panicking over the Brexit, it was announced today that Theresa May will be the next UK Prime Minister as everyone else competing for the job backed out in order to remove uncertainty. This helped the stock markets in Europe rally. which will help the markets here in the US. But because of Brexit investors are forgetting that CEO's of Multi-Nationals will have a free pass this time around and each will probably lower forward guidance due to Brexit. But if the markets are willing to ignore the possible sharp 63% drop in earnings in stocks like Alcoa, can only mean that everyone now believes that the Federal Reserve will never raise rates. Thus as an investor I will no longer will be looking exclusively for bargains to buy (as there simply are none) but will turn more aggressive and try to buy stocks that our Friedrich Algorithm considers a HOLD. I am doing so as I believe that interest rates in the US will continue to plummet and thus companies will borrow more and more and buy back shares. Thus I have no choice but to buy more if I can find strong companies like Home Depot (NYSE:HD) , Sherwin Williams (NYSE:SHW) and TJX (NYSE:TJX) after they report earnings. These firms are by no means bargains, but are not sells either.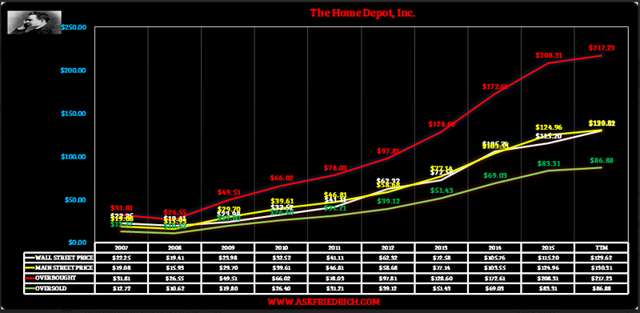 Click to enlarge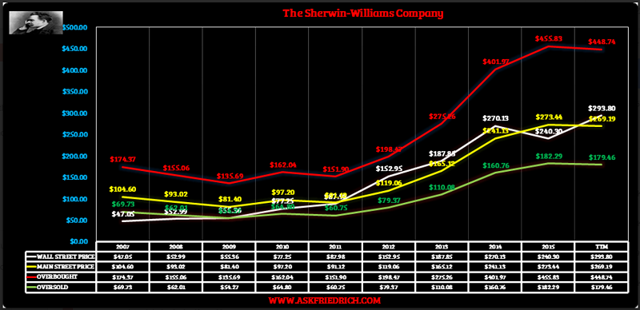 Click to enlarge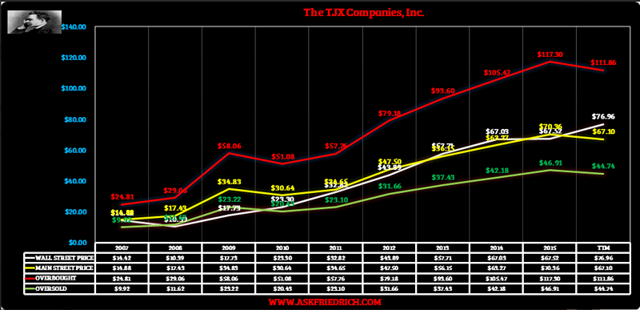 Click to enlarge
As you can see from the chart above that TJX has a Wall Street price of $76.96 and a bargain price of $44.76. A Main Street Price of $67.60 and a Sell Price of $111.96. Thus even though it is not a bargain it is still an amazing company that actually did very well in 2008 and 2009 during the last crash. So when the company reports on August 16th, I may double down on it as I already have a 1% position in it as well as a strong profit since purchase.
Thus going forward we will be moving from just buying bargains to also buying holds and I will attempt to add more stocks this quarter as the central bankers of the world are determined to bring interest rates lower and stocks like Sherwin Williams and Home Depot will benefit from such moves. At some point the central banks will actually run out of bullets, but by going negative interest rates each is making matters worse were someday we will have one of the worst market crashes in history as a result. But until the central bankers of the world play out this negative interest rate scenario, the markets should either go sideways or slightly up. Whatever I buy in the future though will only be elite stocks with elite management at the helm. The purchases will probably be Holds or Oversold but they will probably not be bargains as I went through 2500 stocks in the last 7 days and only found a handful of bargains and those I already bought. I am also looking for brilliant managers like the one's running Ryman Hospitality Properties (NYSE:RHP) and Accenture (NYSE:ACN)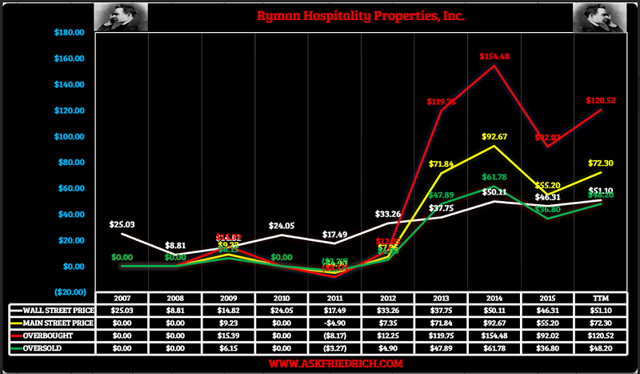 Click to enlarge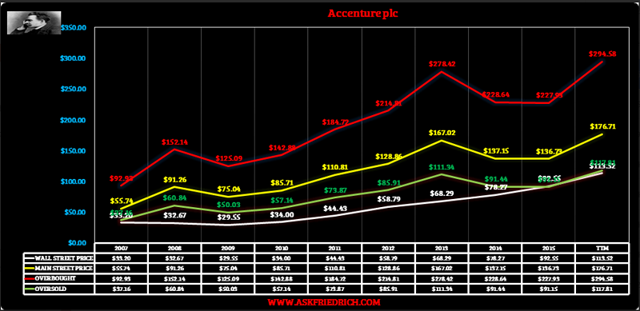 Click to enlarge
which are two of my largest holdings. Accenture last year hired 75,000 workers, so the company must be doing something right and the CEO of RHP converted all the company's long term debt to adjustable short term debt as he saw that interest rates were going down. So every time interest rates fall, RHP makes more money as its short term debt adjusts lower.
When markets are overvalued like they are now, elite management is what you want to own, as you never know what will show up and crash the markets. This has been the hardest three years of practicing "capital appreciation through capital preservation" in my 42 years of investing, as I am a bargain hunter and there are simply no bargains to be found, thus we are forced to take on more risk just in case the markets continue this overvalued path. I am not happy about having to do this, but the markets are painting us in a corner and I need to get more aggressive, but I will only do so with elite companies with elite management at the helm, while others make big bets on dogs with fleas, where even the fleas have fleas, such as oil stocks, commodity plays and consumer goods producers. It's going to be a wild quarter, so put your seat belts on.
Disclosure: I am/we are long ACN, RHP, SHW, TJX.
I wrote this article myself, and it expresses my own opinions. I am not receiving compensation for it (other than from Seeking Alpha). I have no business relationship with any company whose stock is mentioned in this article.