Company overview
Burberry Group PLC (OTCPK:BURBY) (OTCPK:BBRYF) is a British luxury clothes and complements brand founded in 1856. The company is divided into 5 segments: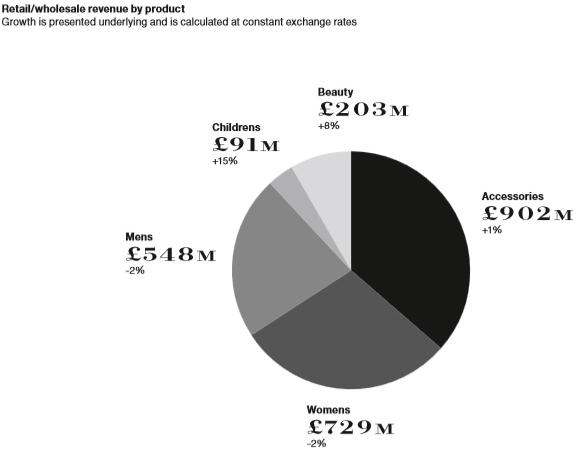 Source: Burberry Group 2015-2016 Annual Report
As we can see, the Top 3 by weight are Accessories, Womens and Mens, representing a 36%, 30% and 22% from total revenue respectively. But we can also notice that these three segments are the most mature ones and the ones facing more difficulties to generate organic growth. On the other hand, we can see how the Childrens and Beauty segments are the ones experimenting a higher organic growth, with a 15% and 8% yoy respectively.
The company has a strong brand and iconic products such as their trench coats, what provides Burberry with a strong pricing power, that, in theory, will allow them to deal better with forex head winds.
Burberry, as many other luxury brands, has been hit by the Chinese economy burst and as consequence, a lower expense in luxury items in Asia. As we can see in the picture below, Asia represents a 38% of its total revenue. So, Burberry's income is heavily linked with the Chinese economic cycle.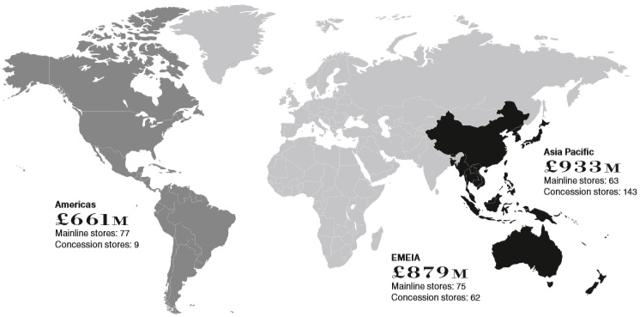 Source: Burberry Group 2015-2016 Annual Report
Right now, Burberry Group is operating with 215 stores, 214 concessions and 58 outlets. During this past year, the licensing agreement that they had in Japan has expired, and, due to the growth of the luxury market in that country (and also in South Korea) mainly due to the weak JPY they're opening flagship stores in Tokyo and Seoul in order to maximize profits and increase the brand presence in those countries.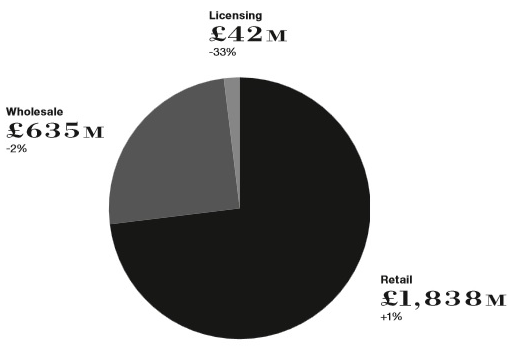 Source: Burberry Group 2015-2016 Annual Report
Due to their dependence on some areas economy, Burberry has set a cost reducing plan in order to cut their expenses in £100M. In order to do that, they're going to simplify their products line as, comparing it with their competitors ones, we can see that is too wide. So they're going to reduce it to just one line.
They also plan to improve their efficiency. To achieve that, they have set an improvement plan of their supply chain, what will also help to reduce their expenses. The company is also going to improve its IT systems in order to obtain better data that will allow them to analyze the company and its environment better than now. They also plan to boost their online distribution. They have also invested in their trench coats factory in order to make it more efficient and reduce production costs, as is one of their best and iconic products and this makes me think that stock rotation in that item is higher than in the other products.
On the other hand, the chief operating officer has announced that he'll leave the company next summer after 6 years in charge as he wants new challenges. This adds pressure on the CEO, that, according to one of the top 20 shareholders 'has a lack of experience in his team'. In my opinion, this departure is key for the company and we'll see if the CEO has the ability to replace John Smith with an experienced COO.
Some rumors have appeared this year saying that Burberry would be a takeover objective, as an unknown shareholder has bought shares until has reached a 5% stake in the company. But I think that it was all a confusion as I think that the 5% is just the sum of all the shares hold by HSBC to their clients and not a single investor.
Sector and macro overview
The luxury goods industry has suffered the consequences of a slowing down China and a general reduction in luxury spending around the world. The world economy is stagnating and this is affecting some key geographic areas for this industry such as Hong Kong or Macau.
On the other hand, we have the forex effect, that has drag revenues for many companies as the major currencies are being heavily devalued. That has affected Burberry until now as the pound has not been as weak as its peers.
Prospects are not good for the Chinese economy in the short run, but the company is going to have tail winds from a weakened Yen, that's boosting the luxury market in Japan.
But right now, with the Brexit, a lower pound can boost revenue for British based companies, as the country will need a weak pound in order to boost exports, that has suffered after the poll results. It will also be beneficial if the UK government can't arrange a free commerce deal with the EU if they finally decide to leave it.
On the other hand, in the long term, as the world population is projected to grow from 7.3 billion to 9.8 in 2050 (as set by the Population Reference Bureau), so we can expect high class to increase, what will make luxury market grow. (We must assume that some of those 2.5 billion of people are going to be rich or at least middle-high class).
Financial Analysis
As we can see in the picture below, Burberry is financially healthy, as it has been increasing its net cash and at the same time reducing its debt. Right now, their current ratio and quick ratio are 2.77 and 1.83 respectively, so the company would have no problem to cover its debt using its net cash.
As their cash is projected to grow substantially in the following 2-3 years, the company has issued a share buyback program of £150M in order to use that cash.
The company has no problems to generate FCF, as it has been able to generate an average of £299.5M during the last 10 years [including 2008, where the FCF was negative (-£16M)].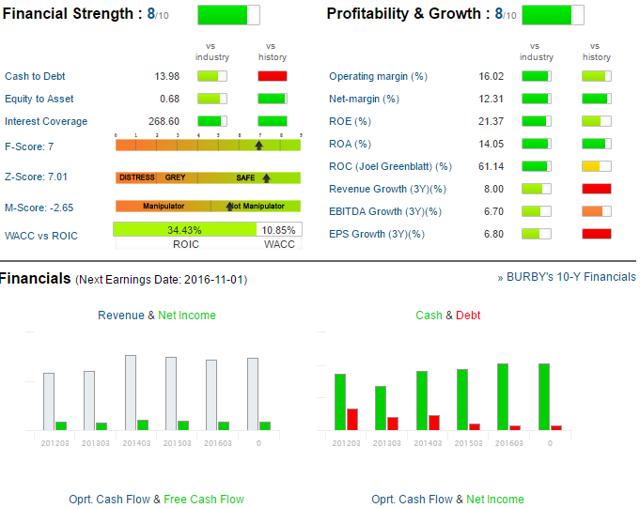 Source: Gurufocus
Taking a look at the company efficiency, we can see that margins are quite good compared to the company history and even compared to its industry peers. ROE and ROA are also better than its industry peers. So, we can conclude that, despite the problems that the company is facing, is able to maintain its profitability at really good levels. So the business it's really good.
We can also see that de difference between WACC and ROIC is quite large, so the company has no problems in order to generate value and it obtains a really high return from its invested capital.
Taking a look to the annual report, we can see that CAPEX has also been reduced, and jointly with the measures adopted to reduce costs we can expect higher margins in a near future.
On the other hand, some headwinds can drag Burberry revenue growth in the short term. But in the long run the company seems solid and, if the luxury market grows is in my opinion one of the best options to benefit from that growth.
Analyzing its revenue structure I've seen that revenue is stronger in America and EMEIA, but not in Asia. We can also see that excluding Macau and Hong Kong sales have been a 3% higher (but including it are a -1% lower).
That reduction of sales in Asia has provoked an increase in inventories. That's, in my opinion, one of the reasons why Burberry will benefit from a reduction in its product lines, as it will reduce logistics and storage costs.
Risks
The company is facing the following risks:
The company is dependent on the Asian emerging markets.
Brexit is a real risk as it can provoke the imposition of export taxes from the EU.
Forex rates can hit their revenue if the pound strengths.
The luxury sector is uncertain right now.
The global economy is stagnating.
We don't know if the CEO is going to be able to deal with the COO leave.
Valuation
As can be seen in the following table, I've been really conservative in the DCF model, that has set a really close to today price.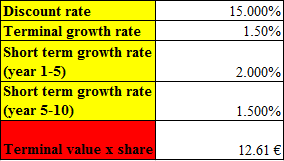 Taking a look to some ratios, we can conclude that the company is at a good price if we compare it with the company past but, comparing it against its industry peers, we can see that the company is not as cheap as we can imagine by taking only the first option.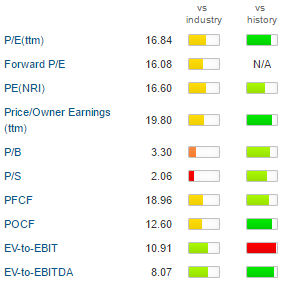 Source: Gurufocus
But, looking at some of its industry peers, we can see that the majority of them are not as financially healthy as Burberry.
Conclusion
Despite being at a fair price, I think that Burberry is one of the best options in order to benefit from a future growth of the luxury industry.
So, I would buy some shares of the company and, if you're afraid of a stock market crash, I would use some put options in order to hedge that risk.
Disclosure: I/we have no positions in any stocks mentioned, and no plans to initiate any positions within the next 72 hours.
I wrote this article myself, and it expresses my own opinions. I am not receiving compensation for it (other than from Seeking Alpha). I have no business relationship with any company whose stock is mentioned in this article.
Editor's Note: This article discusses one or more securities that do not trade on a major U.S. exchange. Please be aware of the risks associated with these stocks.