As the wireless communications market continues to stabilize, we expect to see Rogers Communications to continue its strong performance in the sector as it continues to strengthen revenues. As the largest wireless communication company in Canada, Rogers provides services that are indispensable to national activity and business.
Market Growth Over the last decade we have witnessed a fluctuation on the wireless communication industry for Canada. More recently we have seen some stabilization as the industry enters more consistent growth. Several firms, including Rogers Communications have started a shifted focus to wireless services which has started to payoff through revenue company growth.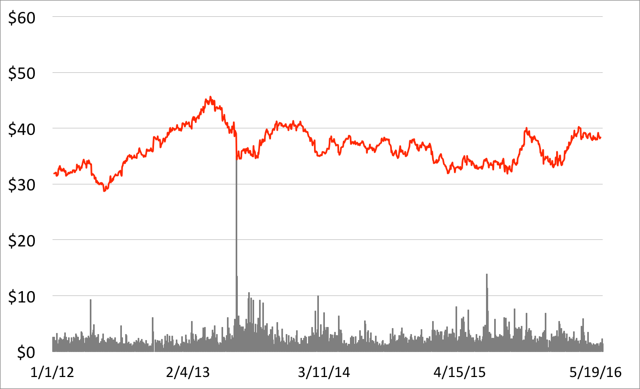 Business Overview Rogers Communications, Inc (NYSE:RCI) is a diversified public communications and media company with the vast majority of revenues coming from operations in Canada. As Canada's largest wireless carrier, the company operates in four primary business segments: Wireless, Cable, Business Solutions, and Media. The wireless segment provides telecommunication services and accounts for the majority of the company's annual revenues. The segment has a number of brands including Rogers, Fido, chatr, and Mobilicity and provides wireless networking solutions for mobile devices as well as high-speed internet access, text messaging, global voice and roaming as well as wireless business solutions. The cable segment provides services such as internet, TV, and home or office phones. In recent years, this segment has also expanded to offer advanced wifi solutions as well as internet security. The company has also announced its plan to provide 1 gigabit per second (GBPS) to its entire cable network by the end of the 2016. The company also has expanded its television programming to offer 4K HD resolution programs which include all 2016 Toronto Blue Jays home games and select NHL games.
The Business Solutions segment provides many of the services of other operating segments specifically for business and on an enterprise level. These services include data networking, internet protocol (IP), Ethernet services, cloud solutions, and private network and system management. The segment also provides managed IT services as well as wholesale networking and data backup connectivity. The final operating segment is Media. The media segment includes a portfolio of assets and properties. This extensive portfolio ranges from television and radio broadcasting to sport and digital media and spans coast-to-coast for Canada. For radio the company operates more than 50 AM and FM radio stations. This segment also hosts the company's NHL contract which began with the 2014-2015 season and allows the company to provide coverage of more than 1,200 season games as well as national rights across all platforms for regular and playoff games. The final major component of this segment is Rogers Smart Home Monitoring which is a service which is a home security service for both businesses and homes.
Investment Thesis
Strong Economic Growth In Canada, the Liberals won the election and have announced a new plan to double government investment on infrastructure over the next 10 years. The $120 billion plan over the next ten years is intended to re-energize the nation and focus on fixing the nation's aging infrastructure. Canada's new infrastructure plan is expected to boost the Canadian economy .2-.4% per year. The immediate impact is offset by the massive wildfires that negatively affected the nation's oil production will result in an estimated 1.2% annualized rate decrease in GDP for the 2Q. However, consumer spending and business investments continue strongly which has fueled the recent economic growth and the gradual move to break the slow growth trend.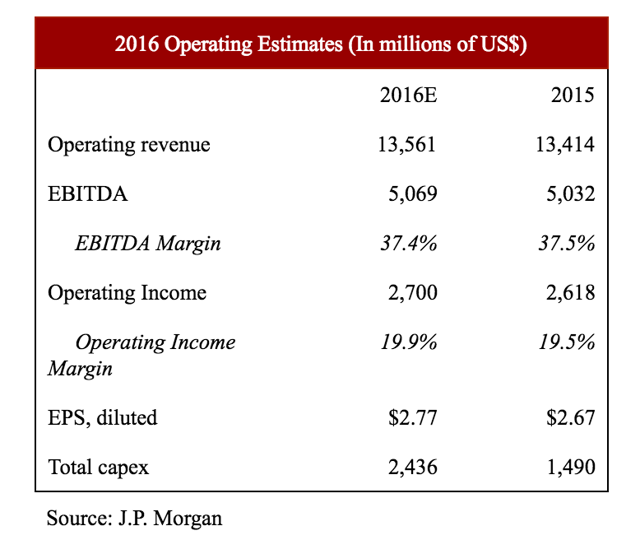 Operating Growth Outlook Recently, Rogers Communication has made a shift towards refining its wireless customer base. It has done so by retaining valued client accounts and allowing those accounts with a history of delinquencies expire. This strategy has allowed Rogers to report strong 1Q16 operating results. Though accompanied with a weaker than expected EBITDA, Rogers revenue estimates have been upgraded for FY16. In addition, Rogers has begun utilizing its cable and media operating segments as content distributed to its wireless customers in order to increase average revenue per account (ARPA). As low-quality clients have been let go by the company, Rogers has experienced revenue, ARPA, and subscriber growth over the last 2 years that will no doubt continue throughout 2016 and into 2017.
Increased Smartphone Penetration Though new smartphones boost quarterly sales, they also increase costs as they are heavily subsidized. In 1Q16 for Rogers Communication, a larger than expected subsidy expense reduced adjusted operating profits in order to promote sustained subscriber growth. Due to this, adjusted operating margins fell 1.5 percentage points to 33.9%. This margin may reduce further if Rogers experiences strong competition in the near future for the smartphone market. As smartphone penetration increases for Rogers, the gains in revenue from upgrading subscribers to smartphones is diminishing. In order to offset this, Rogers will need to shift and increase tablet subscribers to make up for the lack of smartphone upgrading. Currently, tablets make up a small part of Rogers' subscriber base but it does provide some opportunity for ARPA growth.
Internet Subscriptions and Revenue Build Rogers Communication has announced and started to implement a new plan to boost internet subscriptions and revenues. This is inline with the company's long-term investment and expected industry shifts. This service is called IGNITE and will bring 1 Gbps connection to all of its regions of operations by the end of 2016. This plan will bring its service to 100,000 homes a week and is expected to bring additional revenue build as households switch to Rogers from competitors. So far, the plan has generated 16,000 new subscribers in 1Q16 where consensus estimates set the expected subscriber adds as flat.
Increased Long-term Investment Across the board, Rogers has increased investment for its businesses. One of the main segments to receive large investment is mobile video. In addition, increased partnerships and investment is expected to increase mobile video traffic to 55% by 2021. This heavy investment also might benefit the Cable and wireless segments as synergies begin to occur. The company expects its mobile investiture to benefit its cable segment as well. Rogers has been investing heavily in mobile content including a $5 billion deal with the NHL for national broadcasting. This exclusive NHL deal is a major investment for Rogers as advertising market is quite weak in Canada and the rights to such popular content gives Rogers a competitive edge.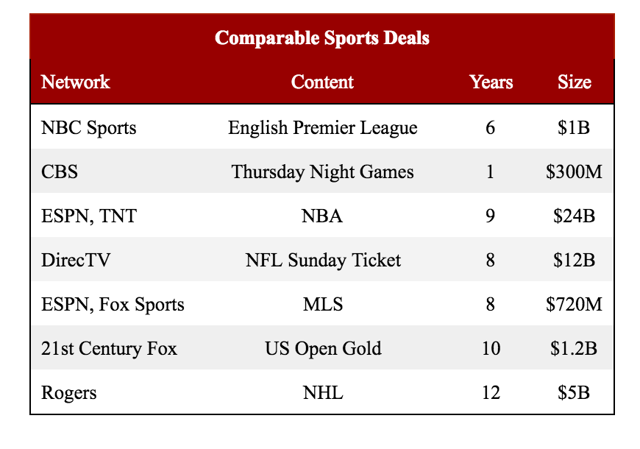 Comparable Analysis As Rogers Communications major operations are in Canada, the main comparables that we chose were Canadian as well. Rogers Communications has several competitors in the industry and region but three publicly traded main competitors. For the industry, there is a large barrier to entry compared to other firms. These barriers to entry do help insulate firms in the industry somewhat from new firms taking up market share. Looking at the market capitalizations, we see that Rogers Communications is in the middle of the pack with a large range. Using the EV/EBITDA metric, we can see that all firms have very similar multiples, with Rogers Communications' multiple slightly above the comparable average. Looking at Return on Equity (ROE), Rogers leads industry and comes several percentage points higher than any comparables or the industry average. With the comparable average EV/EBITDA and applying that to Rogers' actual EBITDA, I calculated the implied share price of $39.95. This is almost exactly where the price has traded at over the last several weeks, which to us signifies that the firm is not dramatically over or undervalued.

Valuation For the valuation of Rogers Communications, I used a discounted cash flow model and used three year historical financial data to project five years of financial statements. Our projections were based on our future company outlook as well as on information gathered from the company's annual reports. Some of the highlighted data can be seen on the table below. Using this model, I found a share price of $44.96. Below this, you will see a sensitivity table done using our expected terminal growth rate for Rogers Communications and our Weighted Average Cost of Capital Calculation.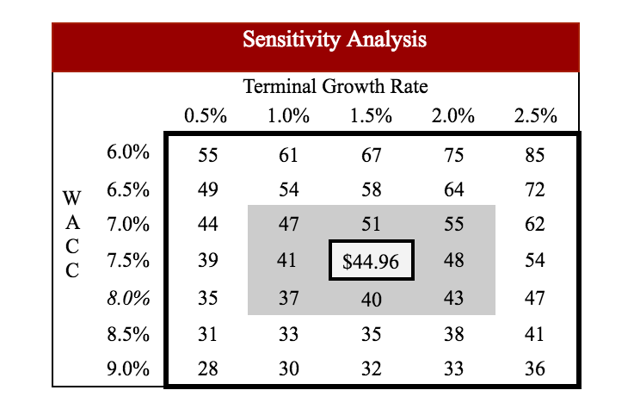 Investment Risks For Rogers Communications, there are several investment risks. On a macro level, a decrease in the Canadian economy would negatively impact the company's growth. The Canadian Central Bank has noted that part of this immediate risk for national economic growth would be a British exit from the European Union. In addition, another risk would be if federal Liberals should pass any form of additional antitrust regulation against the telecommunication giant. Though the risk of this is apparently low on the new government party's agenda, the company did note this is a future risk as they look at continued growth and acquisitions. Another investment risk for Rogers Communication would be large US based firms entering Canada such as Verizon (NYSE:VZ). However, the immediate risk of this is quite low as the CEO of Verizon has announced multiple times that at present Verizon has no plans to enter the Canadian market. If they did enter, they also would face pressures as they would directly compete with Rogers for market share.

Recommendation After updating the valuation models as well as looking at Rogers Communications' place in its industry as well as it sector, I have moved back towards a more cautiously optimistic outlook for the company. Though in the near-term, Rogers Communications is expecting some growing pains and margin decreases, we think that the company's long-term investment in its cable and internet infrastructure and services will increase margins, revenues, and profits in the long-term. It is important to note that Rogers should be monitored carefully in order to assess whether this outlook remains accurate. Should Rogers not be able to operate competitively as it grows its cable and internet market penetration, the gap could allow a large competitor such as Verizon to enter the market and begin taking massive market share from Rogers.
Disclosure: I/we have no positions in any stocks mentioned, and no plans to initiate any positions within the next 72 hours.
I wrote this article myself, and it expresses my own opinions. I am not receiving compensation for it (other than from Seeking Alpha). I have no business relationship with any company whose stock is mentioned in this article.
Additional disclosure: I am not a registered investment advisor or broker/dealer. Readers should conduct their own research and due diligence and obtain professional advice before making investment decisions. I will not be liable for any loss or damage caused by information obtained herein. Readers are solely responsible for their own investment decisions.