Mobileye (NYSE:MBLY) has recently rallied some 60% off the February lows prompting Goldman Sachs to downgrade the stock. The company has locked in contracts and partnerships for driver assisted systems guaranteeing fast growth for years, but one has one wonder how the recent Tesla Motors (NASDAQ:TSLA) crash impacts the growth rate.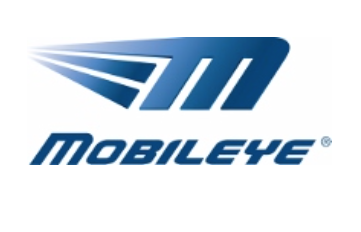 The stock trades in the middle of the post IPO range over the last two years at roughly $45. Even trading far off the highs, Mobileye still has a market valuation of over $10 billion. Can the stock surge further in spite of the deadly Tesla crash?
Self-Driving Car Rush
The recent deadly crash of a Tesla Model S driver engaged in the autopilot has garnered lots of media attention and limited impact to the stock. In the after math, Tesla has reiterated that the autopilot technology is only in test mode and evidently clarified that "laterally crossing vehicles" are not set to trigger the emergency braking system.
An article in the Scientific American cautioned that self-driving cars are really more focused on driver assisted tasks like driver alertness and emergency breaking features. The fully autonomous vehicles are still far off requiring leaps forward in technology.
The stats from the National Highway Traffic Safety Administration question whether added features are even helping with the motor vehicle related deaths. According to NHTSA, an estimated 35,200 fatalities occurred in 2015, an astonishing 7.7% increase over 2014.
Somehow despite technology by Mobileye and other vendors creeping into vehicles from Tesla to other high-end cars, driving actually became more dangerous. Mobileye sold 1.31 million EyeQ processors during Q4 as an example of the volumes of the technology on the market. Of course, the bullish case for the stock is that over 35,000 fatalities could in theory be avoided by the promises of automated driving technologies.
Despite advanced technology in new cars whether the driver assistance of Mobileye, the news related to the Tesla crash and NHTSA stats suggest maybe the market is rushing too fast into this new technology.
Valuation Concerns
By all accounts, motor vehicles are headed towards ever greater technology long term. The Department of Transportation has an agreement with automakers for emergency braking systems in cars by 2022. In addition, almost all automakers are working on adding some form of driver assisted technology to new vehicles, but the question is whether the Tesla crash halts the aggressive push towards fully autonomous driving cars.
Part of the recent surge in Mobileye was related to the deal announced with Intel (NASDAQ:INTC) and BMW. The goal is for the group to produce self-driving BMW cars by 2021. The consortium wants to reach the "eyes off" (level 3) and ultimately "mind off" (level 4) categories to fully transform the driver experience.
Intel CEO Brian Krzanich made the following statement:
Highly autonomous cars and everything they connect to will require powerful and reliable electronic brains to make them smart enough to navigate traffic and avoid accidents.
Anybody working on a PC that freezes or losses connection on a wireless network has to wonder how an autonomous car can guarantee powerful and reliable service. It only takes one bad connection or failed camera for a bad outcome.
In those regards, the problems abound with Mobileye worth over $10 billion and revenues expected to not even reach $340 million. The company is highly profitable making the stock valuation not as far fetched, but one has to wonder if the margins hold as competition ramps up.
The revenues are set to continue ramping all the way to $1.1 billion in 2019 (via WSJ). The good news is that a lot of this revenue expectation is already locked into contracts.
In a lot of ways, Mobileye has similarities to the 3D printing companies that led fast adoption in the sector and limited research spending towards big profits and large market valuations.
As an example, Mobileye only spent $15 million on R&D during Q1. A similar Israel company, Stratasys (NASDAQ:SSYS) surged to a market value nearly $7 billion on the backs of quarterly R&D spend of around $15 million. The company nearly doubled spending over the next couple of years and the stock plunged.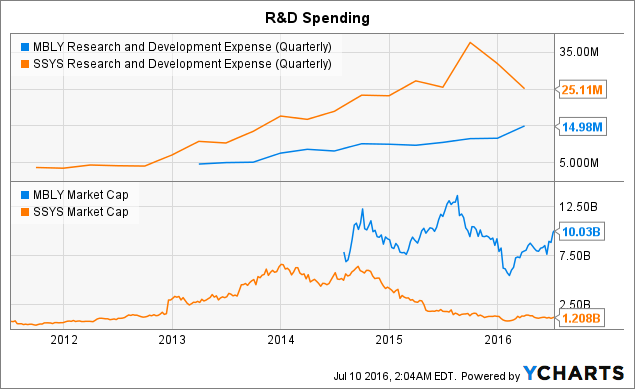 MBLY Research and Development Expense (Quarterly) data by YCharts
The question now is whether Mobileye will feel the same pressure. The company grew R&D spend by 50%, but a market valuation of $10 billion will drive competition. In total, Mobileye spent less than $20 million on research and sales during Q1. The absolutely low number doesn't appear very sustainable over the long run.
The stock trades at an incredible 30x 2016 sales estimates.
Takeaway
Any dips in sales expectations combined with higher expenses will trip up the stock. The Tesla crash could very much highlight the issues with rushing towards fully autonomous driving and even driver assisted systems. Any slowdown will hit Mobileye's stock rather hard. Business as usual doesn't appear to provide much upside as Mobileye eventually will need to increase spending to maintain market share.
The recommendation is to tread lightly in the stock and follow the recommendation of Goldman Sachs.
Disclosure: I/we have no positions in any stocks mentioned, and no plans to initiate any positions within the next 72 hours.
I wrote this article myself, and it expresses my own opinions. I am not receiving compensation for it (other than from Seeking Alpha). I have no business relationship with any company whose stock is mentioned in this article.
Additional disclosure: The information contained herein is for informational purposes only. Nothing in this article should be taken as a solicitation to purchase or sell securities. Before buying or selling any stock you should do your own research and reach your own conclusion or consult a financial advisor. Investing includes risks, including loss of principal.