Action: Accumulate
A Buy Alert was issued March 22nd regarding the intent of the Lean Long-Term Growth Portfolio, LLGP to initiate a position in Deutsche Post DHL Group (OTCPK:DPSGY). An initial position was added on March 24th at $27.57/share.
As of the writing, the potential identified return for DHL Group was expressed at 30 percent, potentially within 2016. This was based upon the company's potential to improve earnings before interest and taxes, EBIT, valuation in late March based upon 2016 estimates and comparative break-out performance by FedEx Corporation (NYSE:FDX) after the company's fiscal year third-quarter results during the first quarter.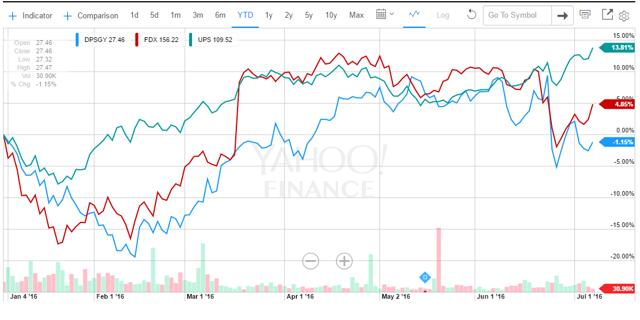 Click to enlarge
Yahoo! Finance
DHL Group witnessed a brief amount of time where the company had outperformed both FedEx and United Parcel Service (NYSE:UPS) prior to mid-May. At that time, the stock performance for this position in the LLGP was up double digits and had looked like a great call comparatively. But since mid-June and post Brexit, the stock price has dipped back below FedEx and UPS.
FedEx has underperformed UPS due to a higher exposure of revenue generated by the recent closing of the TNT Express acquisition. Ironically, this deal was not allowed to proceed when UPS had attempted to acquire the same business. Still, UPS does have exposure to Europe through its current operations. Obviously, DHL Group has the most exposure to Europe being a leader or top competitor for express, air and ocean forwarding and contract logistics services.
After Brexit, a statement was issued by DHL Group. There were two main points; first, the company stated that since the transition period would likely take two years before final execution, there was no anticipation of a short-term negative impact on any business; second, over the long term, the company expressed confidence that required contingency measures were covered in overall standard risk planning. The company also added that it has extensive experience in dealing with political, regulatory, social and economic changes around the world.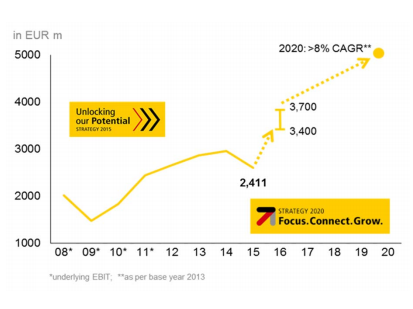 Deutsche Post DHL Group Q1 2016 Results May 11, 2016
Based on the company's trajectory of improved EBIT, a clear roadway to the step-up increase of nearly €1 billion to €3.4 billion in 2016 and further in 2017 should still be on track despite Brexit. This was the primary identified catalyst earlier in the year, with the company revisiting stock price levels at and even below earlier-year levels, the same opportunity remains moving forward.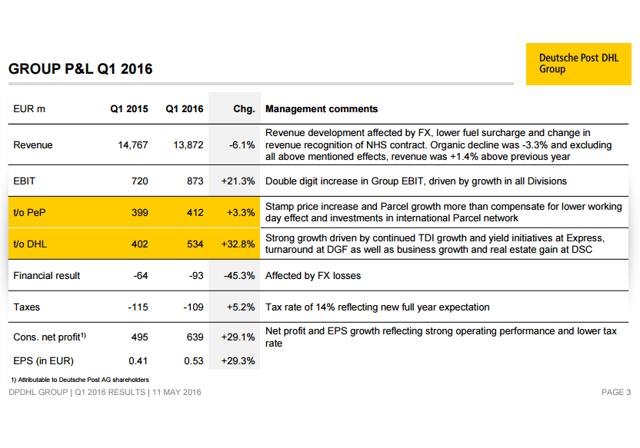 Click to enlarge
As seen in the company's high-level summary above, EBIT and earnings per share, EPS improved by 21 and 29 percent respectively. This type of performance is expected to accelerate throughout 2016 in order to meet the EBIT targets. Based on the first quarter results, management affirmed that the business is on track to meet 2016's step-up EBIT goals.
To this point, the company's current forward P/E multiple is at 14 times diluted earnings for 2016. For 2017, it is even lower at 12.5 times diluted earnings. On an adjusted basis, FedEx trades at multiples just slightly below DHL Group at the moment at 13 and 11.6 for fiscal years 2017 and 2018, similarly resulting from Brexit impacts. UPS, on the other hand, currently trades at 19 and 17.5 times 2016 and 2017 estimated adjusted earnings.
Today, the market has discounted both DHL Group and FedEx versus UPS. This is a reflection of DHL Group and FedEx being currently undervalued rather than UPS being highly overvalued. It is most egregious between FedEx and UPS as FedEx has outperformed UPS largely during 2016, even against UPS's strongest ground segment.
To be conservative, a P/E multiple of 16 times earnings is a reasonable valuation for either DHL Group of FedEx. For DHL Group and based upon 2016 diluted EPS estimates of around €1.75/share, a stock price of €28.15 would be the case. This equates to a U.S. stock price of $31.25/share, an increase of 14 percent from last Friday's close.
Assuming the same P/E multiple through 2017, and based upon 2017 diluted EPS estimates of around €2.00/share, a stock price of €32.00 would be the case. This equates to a U.S. stock price of $35.50/share, a further increase of 14 percent versus the 2016 price. Combined, this reflects potential upside of 29 percent from last Friday's close.
Recent market volatility has led to some strong down days, but more recently, the broader U.S. markets have once again tested new levels. This upcoming week could experience selling pressure as profit taking could occur based on recent gains from Friday. Based upon the market's current valuing of DHL Group's business, it would not be a surprise for the U.S. stock price to decline within the $26-27/share range.
Based upon DHL Group's first-quarter performance which has affirmed management's objectives of improving EBIT, any weakness below $27/share represents a buying opportunity. Investors should note that management hit 2015's EBIT and other targets, so positive momentum for the company is afoot. Brexit fears are not to be discounted, but currently there is no tangible cause for concern.
Investors should continue to focus on major macroeconomic indicators including global gross domestic product, GDP, inventory levels, freight rates, employment, ISM manufacturing, consumer sentiment, among others. The LLGP will consider near-term opportunities to accumulate shares of DHL Group if selling intensifies, including this upcoming week.
Disclosure: I am/we are long DPSGY.
I wrote this article myself, and it expresses my own opinions. I am not receiving compensation for it (other than from Seeking Alpha). I have no business relationship with any company whose stock is mentioned in this article.
Editor's Note: This article discusses one or more securities that do not trade on a major U.S. exchange. Please be aware of the risks associated with these stocks.