NOTE: This article is being written to clarify my own approach to investments. I do not claim to be the final authority on such matters, and expect that there will be disagreement with the points I make here in the comments section. I am not seeking to disparage how others approach investing, but am merely outlining my own process.
In several of my articles, I have made the case not to buy a particular dividend stock because it was too highly valued on the market, even if it was the stock of an excellent company. In particular, my article on Johnson & Johnson (NYSE:JNJ) saw quite a few comments which followed this train of thought, though it also came up in my article on Realty Income (NYSE:O).
The thought process here is that, if you are intending to buy a dividend stock and hold it for the long-term, the overvaluation will eventually burn off and value for money will be realized in the long-run. This is a valid point, and is true in cases were a stock is trading either slightly higher than fair value or at the high end of fair value, but not at a valuation that is higher than is typically true for the stock in question.
The problem with buying an overvalued stock is that no company, no matter how excellent, should be bought at any price. Take Realty Income for instance. When I wrote about it being overvalued back in February, it was trading around $60 per share. Currently, it is trading around $70 per share. Yet fair value for Realty Income (in my opinion, for reasons I made in my Realty Income article which are still valid now) is around $45 per share.
If a stock is bought at an overvalued price, you lock in a lower dividend yield which, in turn, leads to a lower total return over the long-term on your initial investment, making it riskier than it would otherwise be. If you buy Realty Income today, you lock in a yield of 3.42%. But the five-year average dividend yield for Realty Income is 4.83%. The disparity between these yields shows the gap in total return that an investor is likely to receive. Total return is a combination of capital appreciation and dividends, and putting yourself in a position where total return is lower does not equal sound investing.
Furthermore, while the intention to 'buy-and-hold for life' may well be a justification for buying even at an insane valuation, that does not mean that the ability to 'buy-and-hold for life' will always be present. Events in life can occur which necessitate the sale of shares in order to obtain liquidity, even shares of stocks that are in the 'buy-and-hold for life' category. Ensuring that your initial investment was made in a stock that is either fairly valued or undervalued will ensure that, if you do have to divest, any losses you incur will be minimal - if you incur any at all as a result of selling.
The most frequent argument brought forward in favor of purchasing overvalued stocks is dollar cost averaging - investing a fixed dollar amount into a stock or other investment type on a regular basis. The thinking is that you buy more shares when prices are lower, fewer when prices are higher, and overall the cost averages out over time as a consequence.
However, the evidence suggests that you are much better off storing up a large amount of cash and making a lump-sum investment than you are engaging in a dollar cost averaging strategy. The principal reason for this is because the stock market tends to rise over time, so making a lump-sum investment will beat dollar cost averaging in most cases. If you dollar cost average, you still have cash sitting aside that will not be working as well for you over the long-term. After all, time in the market beats timing the market.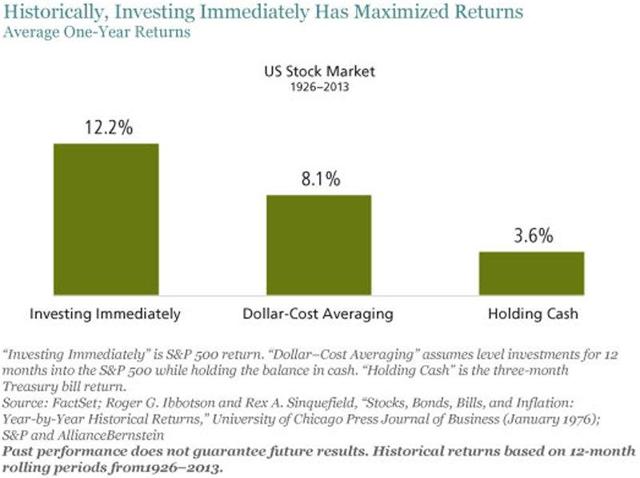 It is for these reasons primarily that I prefer a more disciplined approach to investments and stress the importance of valuation. I think that Johnson & Johnson and Realty Income are wonderful companies that should be part of anyone's long-term portfolio, and I would never advocate that anyone who currently is invested in them should divest them because of the capital gains they could get from their overvaluation. But the overvaluation is enough to deter me from making investments in either stock at this time. I am content to wait until both stocks come down to what I consider fair value before adding them to my portfolio.
To me, the whole point of investing is to generate a return greater than your initial outlay. And no matter how great a company is, no company is so great that an investor should pay more for it than it is worth. At the very least, I hope that this article makes clear where I am coming from in regards to valuation.
DISCLAIMER: I am not a financial professional and accept no responsibility for any investment decisions a reader makes. This article is presented for information purposes only. Furthermore, the figures cited here are the product of the author's own research, and may differ from those of other analysts. Always do your own due diligence when researching potential investments.
Disclosure: I/we have no positions in any stocks mentioned, and no plans to initiate any positions within the next 72 hours.
I wrote this article myself, and it expresses my own opinions. I am not receiving compensation for it (other than from Seeking Alpha). I have no business relationship with any company whose stock is mentioned in this article.