Top News
Although this is not top news, I thought this was worth sharing this morning. I saw this over the weekend and thought to myself that this is amazing. There has been a lot of talk about all these low interest rates around the world. The question; have we just returned to the normal?

Click to enlarge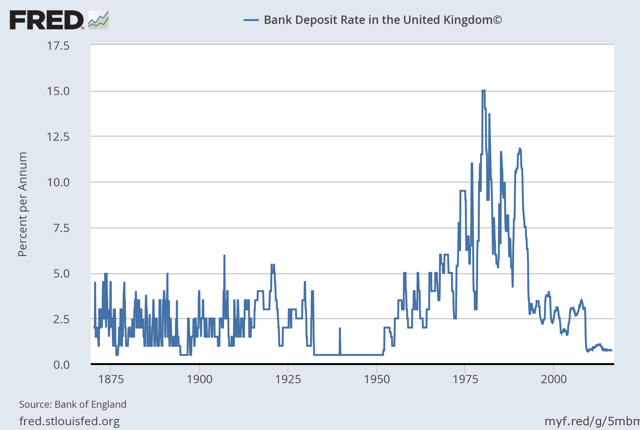 Click to enlarge
The charts above show UK long-term bond and bank rates going all the back to mid-1700s! From 1750 to 1950, nearly 200 years, long-term rates hovered between 2.5% and 5%. It wasn't until modern times that rates soared. So that makes me ask, are we just returning to normal? I'd say from looking at this chart, probably YES! I'm most likely oversimplifying this, but for the purpose of this, I think it is worthy of at least noting. The world has changed tremendously over the last 250 years. Not to mention the creation of easy credit and the break from the gold standard in many countries. However, this is certainly something to ponder.
Equity Market
The S&P 500 broke to a new high this morning. As of 11 a.m., the S&P 500 is trading around 2138 and doesn't seem to be in the mood of slowing down either. It apparently seems to have 2150 now in its crosshairs. With earnings season starting today, it will be interesting to see how they roll out. At this point, the success of the market moving higher will be with the help of earnings.
Sector Spotlight
The XLE is leading the market higher this morning, up nearly 1%. The sector looks as though it is ready to break out and start moving higher, with $75 likely the target.

Click to enlarge
Currencies
Well, it doesn't take a genius to figure out something must have happened overnight in Japan. The yen is weakening against the dollar in a big way today. The yen is currently trading up over two handles to 102 vs. the dollar. Last night, it was announced Abe's coalition won a majority of seats in Japan's Upper House. This will allow for Abe to push forward his economic ambitions. The markets are telling you the expectation for a new round of fiscal stimulus or more monetary policies are in the cards. Don't forget Ben Bernanke is visiting.

Click to enlarge
The GBP continues to hover around the 1.30 level vs. the dollar. It was announced this morning that Theresa May's top competitor Andrea Leadsom would drop out in the race to be Britain's next PM. With the news that May would be the only one running, David Cameron announced a few hours later that he would resign by Wednesday of this week. I think overall this is likely a good move regarding regaining some stability within the British government. The possibility of Brexit grows stronger because May has stated that she is committed to the Brexit. However, it is still unclear when Article 50 is triggered.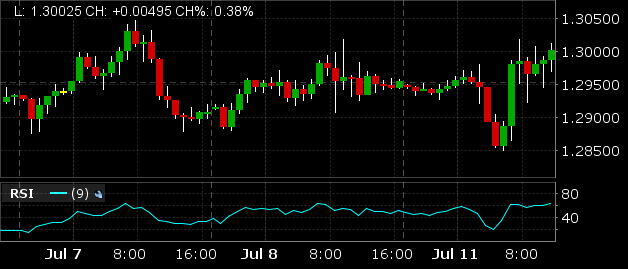 Commodities
Since we touched on the XLE above, we should check on the latest in WTI.

Click to enlarge
WTI continues to hold that 45-46 level we talked about last week.
Yield
The 10-year is quiet at this point in the day still hovering around the 1.41 level. It is unclear at this stage how much further the 10-year can fall. This will all depend on how aggressive the BOJ or ECB get in the wake of Japanese elections and Brexit. My hunch is they will continue to be aggressive, pushing our yields lower still.

Click to enlarge
Election 2016
With conventions set to start shortly, we should see more talk about potential VP picks. I think for Clinton, her pick is likely less important than who Trump picks. The latest poll according to the Real Clear Politics Average has Clinton in the lead at 45.4% vs. Trump at 40.9%.
Disclosure: I/we have no positions in any stocks mentioned, and no plans to initiate any positions within the next 72 hours.
I wrote this article myself, and it expresses my own opinions. I am not receiving compensation for it (other than from Seeking Alpha). I have no business relationship with any company whose stock is mentioned in this article.
Additional disclosure: Disclosure: Mott Capital Management, LLC is a registered investment adviser. Information presented is for educational purposes only and does not intend to make an offer or solicitation for the sale or purchase of any specific securities, investments, or investment strategies. Investments involve risk and unless otherwise stated, are not guaranteed. Be sure to first consult with a qualified financial adviser and/or tax professional before implementing any strategy discussed herein. Past performance is not indicative of future performance.