It's been a little over a year since I started dividend growth investing. I was an active trader (over 110 trades in 2013), but with three toddlers and a full-time job, I was starting to burn out. I couldn't stay on top of everything I needed to, and I was starting to slip. I was seeing myself downgrade from a pretty good swing trader to fair-to-middling. In an effort to give myself more time I put a full third of my cost basis into stocks yielding double digits. Three dividend cuts later (and the price declines that went with them) and it's safe to say that ended in disaster.
Probably far later than I should have, I ripped the Band-aid off of my portfolio and dived headlong into dividend growth investing. It's been a complete sea change.
By far the biggest change has been psychological. Overnight I went from someone who was trying to hit 4000 singles and doubles over the course of a career to someone who just sat and waited. From someone who chased the next hot tip to someone who is intent on choosing twenty-some great companies and leaving them alone. From someone who feared the next stock market correction to someone who devilishly looks forward to one.
Performance - Total Return
Of course, who gives a rip about all the feel-good stuff that a portfolio business plan and its execution provides, if there isn't solid data backing up whether or not it "works"? So, here we go:
S&P 500 2nd Quarter = 1.90%
My portfolio 2nd Quarter = 7.60%
S&P 500 YTD = 2.69%
My portfolio YTD = 16.09%
S&P 500 YOY = 2.18%
My portfolio YOY = 22.72%
However, it is important to stress that this doesn't mean much. There are scores of dividend growth portfolios that are telling quite the same story. In this current era of zero and even negative interest rates on fixed income assets, investors the world over who are looking for current income must do something with their money. Therefore, almost everything that pays a steady and/or growing dividend is being bid up into oblivion.
The true test of this strategy, then, is what happens during that inevitable correction that is constantly being ballyhooed. Though I've never been through one as a dividend growth investor, my guess is that the assets I've selected to date are largely protected from the most violent of upswings, as the income they generate for me will provide quite the buoy in turbulent waters. There is only one way to find out.
Performance - Income
Since this is intended to be a dividend growth portfolio, the truest performance metric is the amount of income that continues to be thrown off quarter after quarter and year after year.
Quarterly income came in at $381.29, a post-rehab record, a 5% increase over last quarter and a 23% gain from the first quarter as a fully DGI portfolio. However, I am truly looking forward to next quarter, as I will start to get year-over-year comparisons for the first time.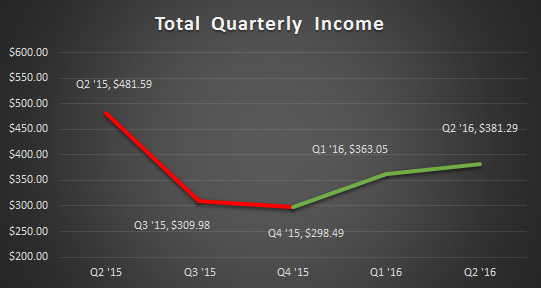 The second true performance metric that I am grading myself on is growth in the amount of income projected to happen over the next twelve months. This number has increased over 34% since I made the portfolio conversion: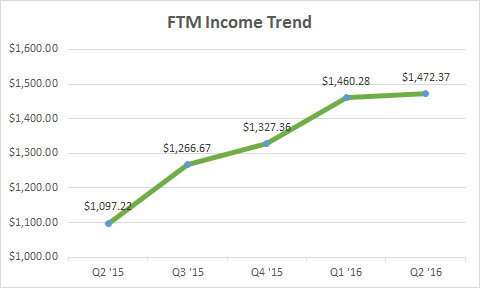 Future Hurdles
I have been toying with making some variant of this number my preeminent internal performance metric. It stands to reason that if the goal of this portfolio is to provide an income stream that will sustain me and mine in retirement, then I should grade myself on whether or not I am on track to do that, regardless of the percentage gains or losses I may have along the way.
I have a number of reservations with this, though. Foremost among them is that it is extremely difficult to prognosticate expense levels and spending patterns three decades into the future. So if I pick a number out of a hat - say, $50,000 - I am assigning myself to need an average of a 20.5% increase in income every year in order to make that number. However, I have no idea whether or not this is a reasonable number - both on the necessary income side, and the expected YOY income growth side. There are two decades worth of inflation and personal and family dynamics that I simply cannot account for. So currently, the strategy remains to increase my FTM income as much as possible YOY "without doing something stupid", until I can come up with a more reasonable number.
For now though, even though my FTM income has increased 34% over the past year, due to all my machinations in the second quarter, I must report two less than optimal metrics. First, my FTM increased by less than 1% in the second quarter. Second, my yield on cost has slumped thirty basis points, from 4.56% three months ago to 4.26% today. For reasons that will become clear in a moment, I am not worried in the slightest.
2nd Quarter Transactions
In short, I've been busy. In fact, I've been more active in this quarter than at any point since I became a dividend growth investor. My moves for the quarter were as follows:
1) I got tired of looking at the black hole California Resources Corporation (NYSEMKT:CRC) has been since the spinoff from Occidental Petroleum (NYSE:OXY), so I sold it. At under $2 a share (this was before the reverse split) net proceeds were under $25, but in my view $25 is better than zero. Provided oil returns to $100 some day soon, this company will be fine. Barring that, though the debt balance is going down, it is tough to see swell or even solvent long-term prospects for a company with liabilities 14x its market cap.
2) Due to the runup in Realty Income (NYSE:O), I sold off some to open a position in Ford (NYSE:F).
3) Due to my consternation with HCP's spinoff and the looming possible/probable dividend cut, I exited HCP, Inc. (NYSE:HCP) in favor of LTC, Inc (NYSE:LTC).
4) Growing leery of the dividend coverage, I exited my double position in Mattel to open positions in both Southern Company (NYSE:SO) and Hershey (NYSE:HSY).
5) I deposited more funds which were used to open a position in Chatham Lodging Trust (NYSE:CLDT).
6) Due to the recent runup in almost all things oil, I was able to right-size my positions in Chevron (NYSE:CVX) and Occidental, with the halving in Chevron occurring the day before British voters elected to leave the European Union.
7) I used a portion of the proceeds from #6 to open a position in Gilead (NASDAQ:GILD).
So what at the end of Q1 looked like this: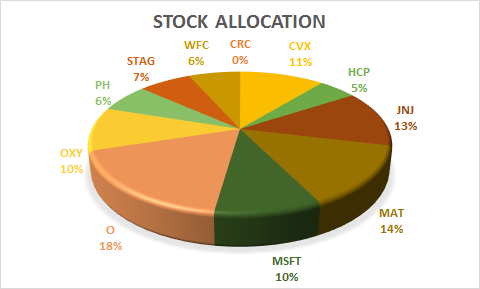 As of this moment looks like this: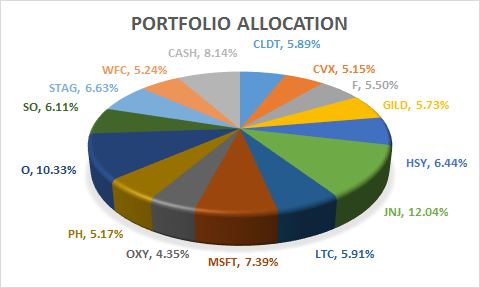 In my view it looks a good deal better, i.e. more diversified (for the record, I have no problem with Johnson & Johnson (NYSE:JNJ) and Realty Income having a disproportionate size). As a result, the percentage of income being derived from each position is looking a little less gaudy. What was the case at the end of Q1: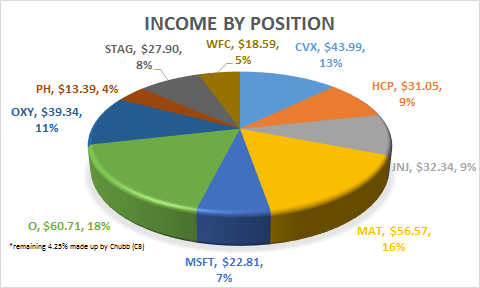 Now looks like this: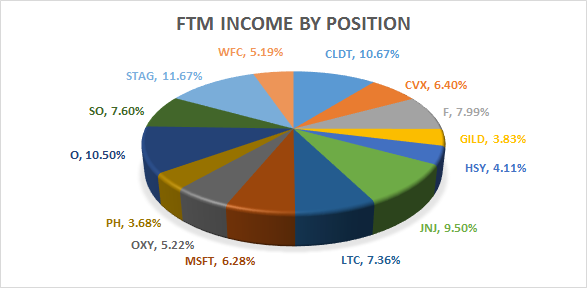 There's also a good deal of cash that I can use to make more purchases, which would immediately fix the declining YOC and stagnant FTM issue.
There's still a question or conundrum of allocation, though. If positions are traditionally right-sized by market value, positions like STAG Industrial (NYSE:STAG), LTC and CLDT will be relied on to carry more income weight than they probably should. If positions are right-sized by percentage of total income, then lower-yielding positions would need to dwarf the higher-yielding ones. But the former are trading at prodigious valuations that make additions to them quite foolhardy. Ah, decisions, decisions!
Next Steps
I'm looking at adding more positions currently, but as is the case that I mentioned earlier, dividend growth names are being bid up to higher than their fair values.
So which direction do you think I should go? I have a certain amount of pride in being quite possibly the only DG investor who doesn't have either AT&T (NYSE:T) or Verizon (NYSE:VZ). I'm interested in keeping the mantle, but am really willing to listen to an alternative. I (like everyone) would love a position in 3M (NYSE:MMM), but I can't see myself paying this much for it. I've been thinking about Lazard (NYSE:LAZ) to round out my financial services sector holdings. There's International Paper (NYSE:IP) to think about. And then there's Praxair (NYSE:PX). I could really go for a game of Eenie-Meanie-Miney-Moe.
What shall I choose? Better yet, why not follow me so that you can see for yourself?
Disclosure: I am not a professional investor, and as such, the companies and/or positions mentioned and any associated analyses are related to my own personal experience and expertise, and is not intended to be a recommendation to buy or sell. As everyone has their own risk tolerance, goals and needs, it is important that you perform your own due diligence.
Disclosure: I am/we are long CLDT, CVX, F, GILD, HSY, JNJ, LTC, MSFT, O, OXY, PH, SO, STAG, WFC.
I wrote this article myself, and it expresses my own opinions. I am not receiving compensation for it (other than from Seeking Alpha). I have no business relationship with any company whose stock is mentioned in this article.