Natural gas prices took a hit on Monday, July 11, closing down just over 3%.

Click to enlarge
Residential cooling demand came in lower than expected over the weekend, and less-than-bullish weather forecasts had analysts revise storage injection figures upward. As we noted in this article, storage injection forecasts were projecting some very low injections. Instead of back-to-back weeks of injections in the 20s, estimates have been revised up by 5 Bcf each week. Obviously, estimates are just estimates, but natural gas prices tend to move on these forecasts.
U.S. gas production also remains extremely stubborn, staying around the 71 Bcf/d mark and remains unchanged. We are seeing reports confirming that U.S. shale producers in the Northeast have started completing DUCs, and that's probably why we aren't seeing a big drop-off in supplies.
Canadian gas imports, however, took a major hit over the last several days as TransCanada had its usual maintenance. Canadian gas imports will likely be affected this week to the tune of over 1 Bcf/d, so that will help U.S. storage figures.
Temperature forecasts for the rest of July remain hot, but we are seeing some utilities use coal once again, thus reducing power burn demand. Over the last three days, power burn was lower by 3 Bcf/d. It will be interesting to see if the recent weakness in natural gas prices will result in lower coal usage. But so far the effects are starting to show up.
Eight- to 14-Day Outlook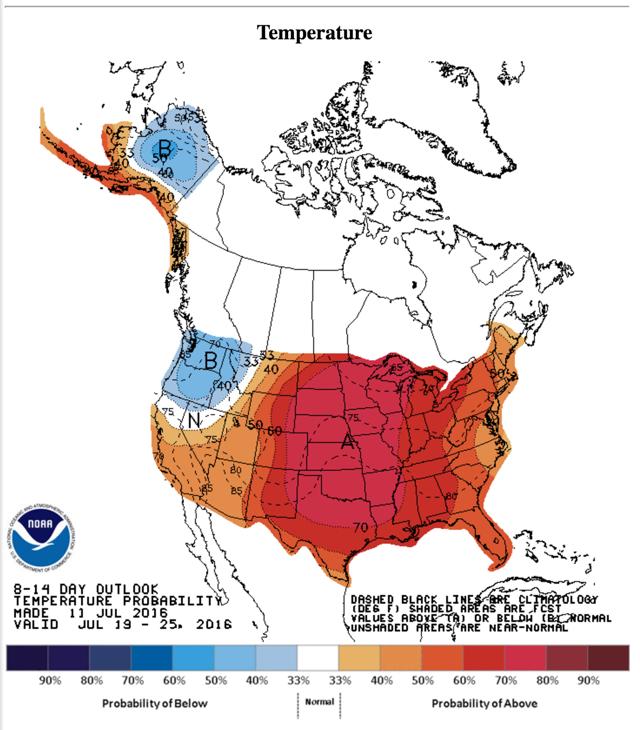 Click to enlarge
Natural Gas Prices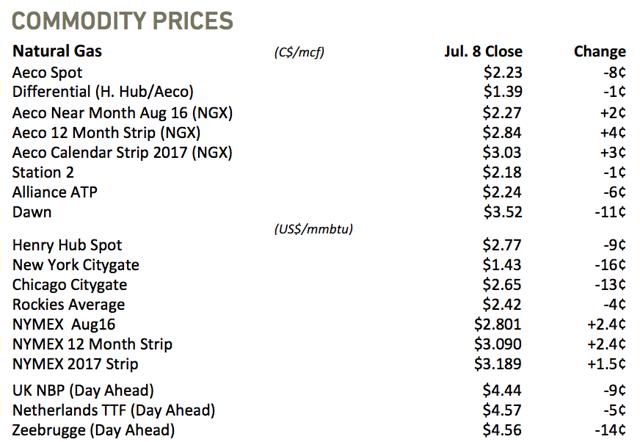 Click to enlarge
As always, if you enjoy our natural gas (NYSEARCA: UNG) daily, please click on the "Follow" button above and read our other energy write-ups. We also have a premium service tailored to investors looking to how we are thinking about positioning and real-time trade alerts. You can view our delayed one-month portfolio update here. We hope to see you join the HFI community .
Disclosure: I/we have no positions in any stocks mentioned, and no plans to initiate any positions within the next 72 hours.
I wrote this article myself, and it expresses my own opinions. I am not receiving compensation for it (other than from Seeking Alpha). I have no business relationship with any company whose stock is mentioned in this article.