On the heels of Barracuda Networks (NYSE:CUDA) announcing a strong quarter and share price surging more than 26% over the following few days, we have turned our eyes toward and are bullish on VMware (NYSE:VMW) into its Q2 print. Q2 results are due after the close on Monday, July 18, and we think the risk-reward profile is attractive entering those earnings.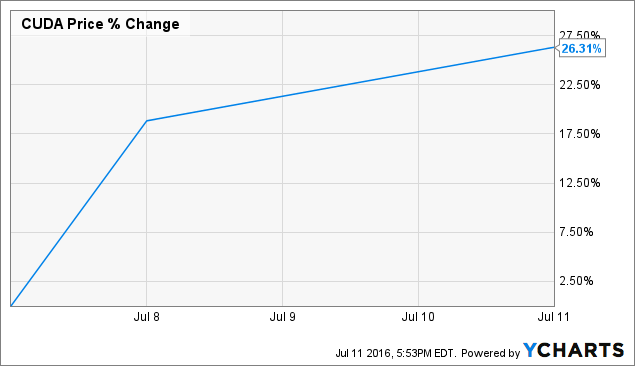 CUDA data by YCharts
CUDA works in providing security infrastructure for the cloud, while VMW provides solutions to help organizations virtualize their IT infrastructure. The two are not mutually exclusive, and good news for one often implies good news for the other. VMW allows companies to build their own private clouds, and as companies virtualize "network resources such as desktop environments, mail infrastructures, and web applications" they also "proactively strategize how to secure the components being virtualized, as well as the infrastructure itself." CUDA provides a "comprehensive portfolio of solutions to provide security and protect against all network threat vectors for VMware environments." In some aspects, then, CUDA and VMW's success are tied together.
Investors need to look no further than the stock prices of the two cloud companies over the past year to see an illustration of this correlation. Over the past year, the stock prices of VMW and CUDA have lined up almost perfectly, with VMW price changes normally lagging those of CUDA.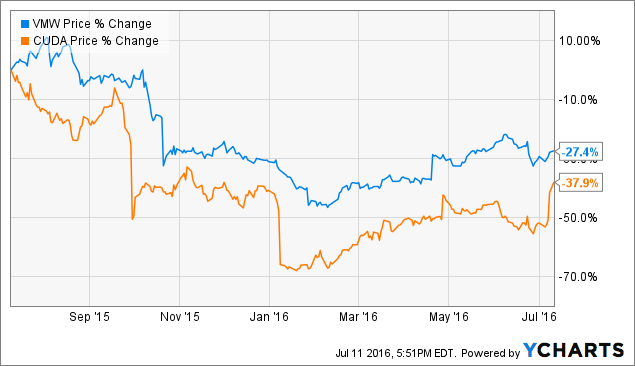 VMW data by YCharts
Most relevant to this analysis, the big price movements for both stocks in the chart above are prompted by ERs. Most recently, the price jump in VMW stock on April 19 was due to a strong Q1 ER. A few days later, on April 27, CUDA beat estimates.
We think the story for both these companies is very similar. Twelve months ago, we had two over-hyped, over-valued cloud growth stocks trading around 5.5x trailing sales. Since then, growth has slowed, investors have sold off in bunches, and the valuation has compressed dramatically. Going into earnings, CUDA was trading right around 2.5x trailing sales, more than 50% lower than where the PSR was 12 months earlier.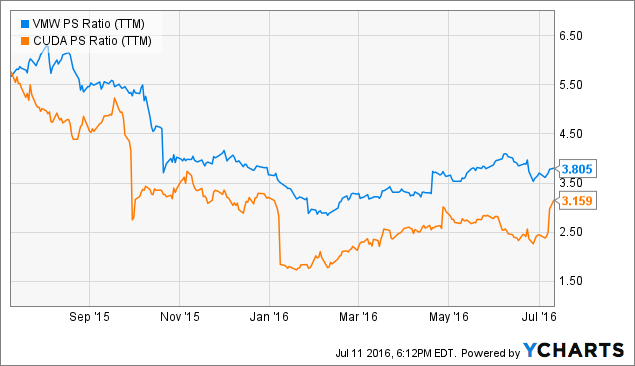 VMW PS Ratio (TTM) data by YCharts
For VMW, the depressed valuation extends beyond the topline multiple. Trailing P/E and forward P/E also have dramatically compressed over the past 12 months, and this gives us strong conviction that VMW will benefit from significant multiple expansions in the event of a strong ER, similar to what CUDA has seen over the past few days.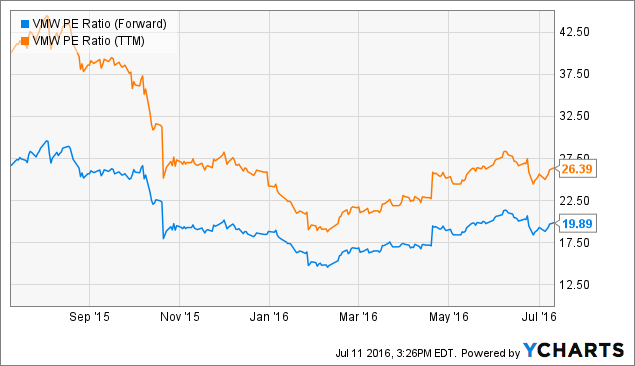 VMW PE Ratio (Forward) data by YCharts
We also have strong conviction that VMW will beat estimates. The company has beaten both topline and bottom-line estimates in each of the past five quarters. The stock didn't always rise, but that is because the valuation was often too rich entering the ER. Last quarter, the stock price jumped because the company beat estimates and the valuation was depressed enough to warrant multiple expansion. The valuation hasn't extended much since then, and so we think the stock is positioning itself for a similar post-ER jump next week.
Moreover, we are bullish on the company's recent press releases which indicate it had a very strong quarter. The company reported that several college universities implemented their product, announced advancements to VMware Workspace ONE, and announced a new endpoint security solution called VMware TrustPoint. There have also been some bullish reports on the company's hyper-growth AirWatch solution.
We think the stock is nicely positioned here for multiple expansions in the event of a strong ER. Given CUDA's strong results and VMW's ER topping history, we think VMW will follow suit and report better-than-expected results. The reaction in CUDA's stock price shows that investors are eager to pile into beaten-up cloud names on any good news. VMW could see share prices soar next week.
Disclosure: I/we have no positions in any stocks mentioned, but may initiate a long position in VMW over the next 72 hours.
I wrote this article myself, and it expresses my own opinions. I am not receiving compensation for it (other than from Seeking Alpha). I have no business relationship with any company whose stock is mentioned in this article.