Last night HCP Inc. (NYSE:HCP) announced that its CEO, Laurelee Martin, was retiring after just three years of coaching the stalwart healthcare REIT.
To be clear, Martin was not fired, she took over a troubled team that was beaten down in large part because of her predecessor, James "Jay" Flaherty III (See my previous article HERE).
During Martin's tenure she was able to guide the winning team through a number of successful victories while simultaneously being forced to bench a number of key characters, namely HCR ManorCare.
With HCP in foul trouble and a few quarters away from a likely dividend cut it was clearly time to throw in the towel. As reported, "SpinCo" (HCRMC assets plus other skilled nursing facilities) remains on track for a mid- to late-September close and HCP has a long list of issues to address, including its BKD concentration, the need to de-lever RemainCo (post-spin), and the related return of proceeds from the TBD SpinCo financing.
It's always good to go out a winner and by mutual agreement (Board and Martin) it seemed fitting for the interim coach (Mike McKee, executive chairman) to step in to allow the final seconds to click off the clock.
To be fair, we consider Martin a winner and although the dividend is already being reflected in the score card, we give much of the credit for the dividend cut to the previous CEO who recruited the toxic skilled nursing concentration that ultimately became the weakest part of the chain.
Since Martin was CEO at HCP: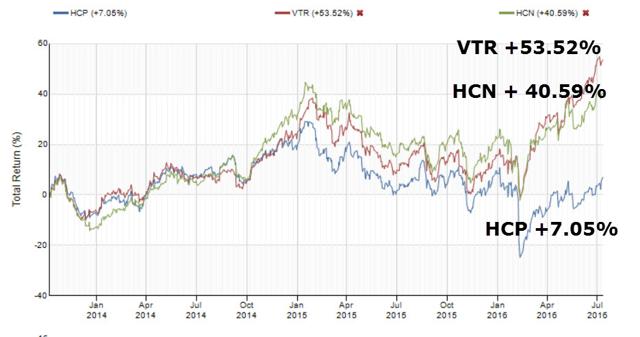 Click to enlarge
There are two assistant coaches that are likely to transition into the CEO position. Tom Herzog (CFO and EVP), former CFO of UDR, and Justin Hutchens (CIO and EVP), former CEO of National Health Investors. Both are well-regarded, experienced, and relatively young (53 and 42, respectively). Hertzog brings best practices from another S&P 500 REIT, while Hutchens has strong relationships with senior care operators
HCP will incur a $0.03 severance charge (approximately $14m) in relation to Ms. Martin's departure. McKee is not a candidate for full-time CEO and according to Richard Anderson with Mizuho Research,
…we do not believe investors should view this change as foreshadow of something else strategic (such as a sale of RemainCo), nor do we believe breaking up the company into even smaller pieces, is on the table. Management was clear that diversification in healthcare real estate is an important component to the story.
Whoever steps into the new shoes at HCP is likely to inherit a difficult situation, including outsized risks we have discussed previously: value of SpinCo, continued DOJ overhang, likely rent cut, and potential for HCP to be involved with SpinCo as a lender.
Ultimately, the most prominent risk will be the loss of the coveted Dividend Aristocrat status. That means, resetting the clock and starting all over again, with a smaller portfolio and without….the dramatic tenant (aka Dennis Rodman), HCR ManorCare.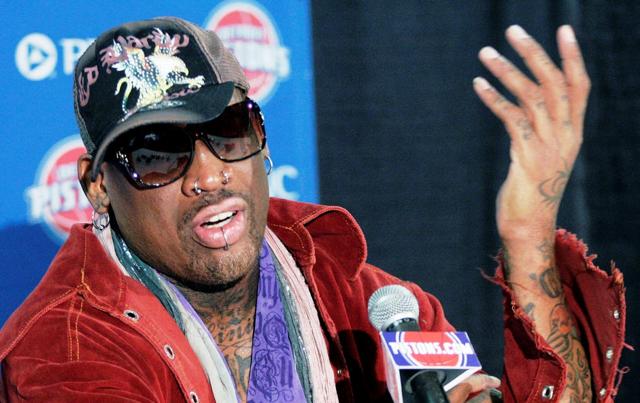 Click to enlarge
We are maintaining a HOLD pending the outcome of the SpinCo later this year.
Author's Note: Brad Thomas is a Wall Street writer and that means that he is not always right with his predictions or recommendations. That also applies to his grammar. Please excuse any typos, and I assure you that he will do his best to correct any errors if they are overlooked.
Disclaimer: This article is intended to provide information to interested parties. As I have no knowledge of individual investor circumstances, goals, and/or portfolio concentration or diversification, readers are expected to complete their own due diligence before purchasing any stocks mentioned or recommended.
Disclosure: I am/we are long O, DLR, VTR, HTA , STAG, GPT, ROIC, HCN, OHI, LXP, KIM, WPC, DOC, EXR, MYCC, TCO, SKT, UBA, STWD, CONE, BRX, CLDT, HST, APTS, FPI, CORR, NHI, CCP, CTRE, WPG, KRG, SNR, LADR, PEB, BXMT, IRM, CIO.
I wrote this article myself, and it expresses my own opinions. I am not receiving compensation for it (other than from Seeking Alpha). I have no business relationship with any company whose stock is mentioned in this article.