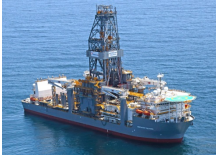 Deepwater Thalassa
I recently wrote about Transocean's (NYSE: RIG) decision to refinance 2020 - 2022 bonds. The company has announced the pricing for these notes, so we can now discuss the impact of the bond offering for both Transocean itself and the industry as a whole.
You did not need a crystal ball to predict that the interest rate on Transocean's 2023 bonds will be in high-single digits, but the actual interest rate of 9% is a bit disappointing.
What's more disappointing is that Transocean expects to receive $1.21 billion from the offering - below the initial $1.5 billion target. This is a sign that the demand for bonds was not strong enough . It looks like the bond market is not comfortable with current levels of oil prices, as they do not lead to any rebound in the contracting activity for offshore drillers.
Another potential explanation for weak demand is that potential buyers did not understand the necessity to buy 2020 - 2022 maturities when the company has earlier maturities to deal with. Longer-term play is not particularly encouraged in a market that is focused on nearer-term challenges.
Generally speaking, Transocean's offering showed that the bond market will be closed for many drillers. Transocean did not expect to capture major discount on its bonds (except for 3.8% notes due 2022) and still got a 9% interest rate on its offering.
This means that companies whose bonds trade at a serious discount will have to rely on the cash on hand to buy them at the open market and take advantage of the discount - the new offering is not an option for them.
In this light, drillers with existing credit lines have serious advantage over their less successful peers. The list of fiscally sound drillers contains usual suspects - Diamond Offshore Drilling (NYSE: DO), Rowan (NYSE: RDC), Ensco (NYSE: ESV), Noble Corp. (NYSE: NE). Most likely, these companies won't be offering their new bonds any time soon.
Ensco's scenario - equity offering - is much more likely. I'd argue that the stability of Diamond Offshore and Rowan stocks this year provides both companies with the opportunity to raise capital at decent price levels and secure more cash cushion in case there is no rebound in contract activity in 2017.
Investors who want exposure to offshore drilling favor both stocks this year, so such an offering could be done without damage to the stock price if the timing is right. As for Noble, the equity offering option is almost non-existent as the stock is under continuous pressure since March and current levels are unfavorable for such an offering.
Weaker companies - Seadrill (NYSE: SDRL), Atwood Oceanics (NYSE: ATW), Ocean Rig (NYSE: ORIG) and Pacific Drilling (NYSE: PACD) will have to rely on their own resources. In my view, an equity offering might make sense for Atwood Oceanics.
As for Seadrill, I expect that the company will dilute current shareholders in the restructuring which is currently expected to take place at the end of this year, but I don't expect any major moves on this front during the summer.
Ocean Rig's shares have enjoyed a good ride, so, theoretically, the company may sell the shares that were cheaply bought from DryShips (NYSE: DRYS) at a good profit and prove skeptics (including myself) wrong, but I don't think that this will happen in reality and I continue to believe that shares bought from DryShips will remain parked inside Ocean Rig Investments, the company's subsidiary.
As for Pacific Drilling, both bond offering and equity offering look impossible at this point. I remain convinced that the company needs a miracle to survive during this market downturn.
All in all, it looks like Transocean's bond offering will be a separate event and that offerings by other drillers will not follow. While the interest rate is high, Transocean's decision to push maturities to 2023 may prove a very good move if the market downturn lasts longer and day rates fail to recover with contracting activity.
The bond market was not ready to absorb $1.5 billion of bonds, so the company will likely have to wait for higher oil prices to proceed with the following offering (in case it wants to push all 2020 - 2022 maturities to 2023).
Disclosure: I/we have no positions in any stocks mentioned, and no plans to initiate any positions within the next 72 hours.
I wrote this article myself, and it expresses my own opinions. I am not receiving compensation for it (other than from Seeking Alpha). I have no business relationship with any company whose stock is mentioned in this article.
Additional disclosure: I may trade any of the abovementioned stocks.
Editor's Note: This article covers one or more stocks trading at less than $1 per share and/or with less than a $100 million market cap. Please be aware of the risks associated with these stocks.