Sentiment for rail stocks has improved over the last few months. Thanks to a general rise in commodity prices, analysts have changed their tune and become more optimistic that rail volumes may be nearing a bottom. Just last week, Union Pacific (NYSE:UNP) reported a decline in total railcar volumes of just 0.7% year-over-year, as continued weakness in coal and petroleum products offset a 2.9% volume increase in non-energy shipments. Shares of Union Pacific are up 17% YTD. But don't be fooled. Economic fundamentals have not improved and UNP's rising stock price is not justified. Basing optimism on increased commodity prices is problematic because the recent rally in commodities does not reflect improvements in end-market demand, which is ultimately what drives volumes and pricing for UNP.
Figure 1: YTD Price Graph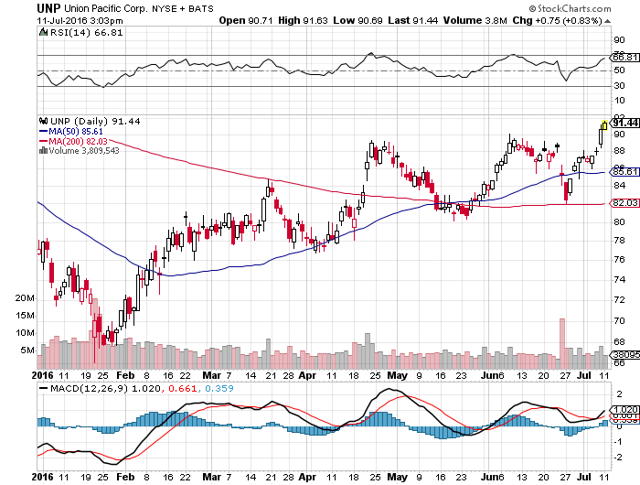 Click to enlarge
Source: stockcharts.com
Despite a dismal first quarter, shares of UNP have kept chugging along. In Q1 total revenues fell 14%, and total volumes fell 8%, with carloads down in four of the six commodity groups. Management maintained a bearish outlook for the rest of the year, and expects volumes for 2016 to be down mid-single-digits:
" 2016 has brought a continuation of many of the same trends that we experienced throughout most of last year. An energy market recession, low commodity prices, the strength of the U.S. dollar and soft global economy, and muted domestic retail demand have all contributed to overall market weakness across many of our business lines. And it's likely that many of these themes will be with us for some time."
The US and global economies are fundamentally weak, and showing no signs of improvement. Year to date, total US carloads are down 8%. US rail volumes have declined 14%, and intermodal is down 2%. Nevertheless, commodity prices have increased. When rising commodity prices reflect strong end market demand it is a good thing for UNP's business. Improved conditions in markets that use commodities as inputs drives demand for transportation services to get things where they need to go. But the increase in commodity prices over the last few months does not reflect improved demand.
Instead, commodities have advanced because of capacity cuts and dollar weakness. Production cuts in energy and mining sectors have pushed prices higher. As John Stepek of moneyweek.com explains, commodity analysts are "Getting the causality wrong. Market reporters make up reasons for these moves after the fact. The reality is that it's not about demand. It's about supply".
But supply cuts aren't the only reason for rising prices. A weaker dollar (Figure 2) has also helped boost prices. In general, because most commodities are priced in dollars, the value of the dollar and commodity prices have a negative correlation. The dollar has depreciated for reasons that should scare investors with exposure to the rail sector, a highly cyclical industry. Dollar strength in recent years has been based on the assumption that the US economy was strong and that the Fed was about to "lift-off" on a path to higher interest rates. This has proven not to be the case. After the Fed raised rates just 25 basis points last December, the S&P 500 got off to its worst ever start to the year. But not only is the stock market a bubble, so too is the US economy, and it is surviving mainly on credit. Stocks advanced after January when it became obvious that the Fed would not (but more importantly could not) raise interest rates to the extent that was implied in the dollar's valuation. Thus, capital started flowing out of the dollar into gold.
Figure 2: US Dollar Index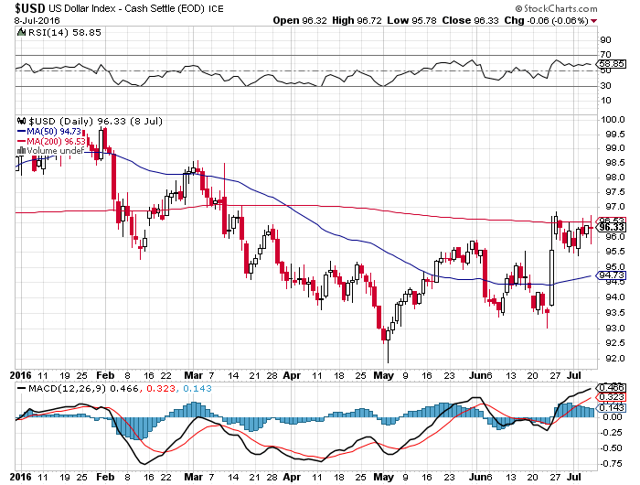 Click to enlarge
Source: stockcharts.com
Commodity prices may have increased, but it is for the wrong reasons if you are Union Pacific investor. The US and global economies are fundamentally weak, and this will limit the extent to which commodities can advance. UNP expects conditions to remain weak throughout the year, and the data supports it. Industrial production levels continue to decline, and this is a big problem for UNP since industrial producers, directly or indirectly, account for a significant portion of UNP's business. UNP's rising stock price is not justified, and until we see signs that end market fundamentals are improving, we would not recommend investing.
Disclosure: I/we have no positions in any stocks mentioned, and no plans to initiate any positions within the next 72 hours.
I wrote this article myself, and it expresses my own opinions. I am not receiving compensation for it (other than from Seeking Alpha). I have no business relationship with any company whose stock is mentioned in this article.