Some investors who have NextEra (NYSE:NEE) on their watch list of stocks to buy may be scared away temporarily because of the recent run-up in price. NextEra's stock gained an impressive 25% year-to-date. While this move has the stock at a temporary overbought level, the company is not overvalued.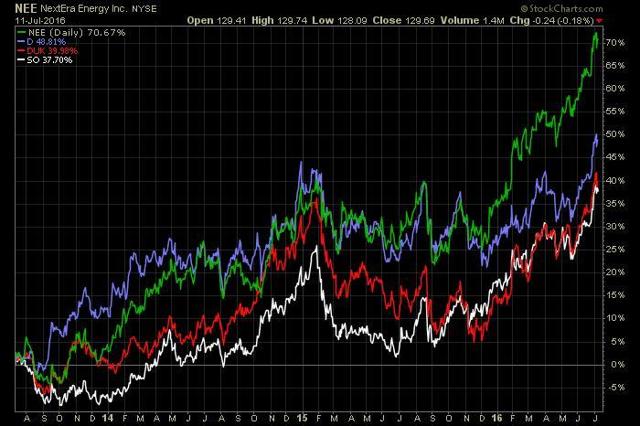 Click to enlarge
I compared NextEra to other utility companies with similar market caps. NextEra has outperformed all of them over the long-term. Although NextEra's stock is due for a pullback on profit taking, I think the stock will continue to perform well over the long-term because of the attractive valuation and continued growth in Florida where the company operates.
I've witnessed investors in comment threads stating how they don't like NextEra's high valuation. They are probably looking at the trailing and forward PE ratios of 21.7 and 19.8 respectively. That is higher than the Electric Utility industry's average of 15.7 TTM and forward PE of 15.5. However, I think the better metric to look at is the EV/EBITDA combined with Price/Cash Flow.
Here's how NextEra compares to its peers:
NextEra

Duke Energy (NYSE:DUK)

Dominion

Resources (NYSE:D)

Southern Co (NYSE:SO)

EV/EBITDA

11.3

11.2

15

11.6

Price to Cash Flow

9.2

8.6

10.3

8

ROE

12.3%

6.7%

14.9%

11.4%

ROI

6.5%

4.9%

6.3%

6.3%
Data Source: Author's Calculations, Morningstar, Finviz
The reason why I like comparing EV/EBITDA is because it takes the effect of taxes and depreciation out of the equation. EV/EBITDA also captures debt and cash when the standard PE ratio does not. Utility companies tend to have high debt levels, so I think it is important to capture that in the valuation. NextEra is undervalued by about 10% as compared to its peers' average EV/EBITDA of 12.6. I paired EV/EBITDA with Price to Cash Flow to show that these companies are all close in proximity to each other in terms of operating cash flow. You can see that NextEra is trading approximately at its peers average P/CF of 9.
However, NextEra is the only utility among these four that produced positive free cash flow over the past twelve months. Although NextEra's competitors produced positive operating cash flow, they have been running with CapEx that exceeds those levels, giving them negative free cash flow. NextEra produced over $2 billion in FCF in the past twelve months. Utility companies tend to have high CapEx, but NextEra is able to run its business, spend on CapEx and still have free cash flow left over. Therefore, NextEra is in a better position than its competitors to pay and increase its dividend going forward and to do share repurchases than its competitors.
NextEra's strong ROE and ROI will help drive its earnings growth going forward. This should be sufficient for the company to achieve the 6% to 7% EPS growth that analysts are expecting (consensus). NextEra's peers are expected to grow EPS at lower rates (an average of just over 3% according to Finviz). The positive free cash flow, strong ROE & ROI, and higher earnings growth make NextEra the better investment as compared to its peers in my opinion.
Catalysts
NextEra operates in Florida, which is experiencing an improving economy, rising consumer sentiment (at post-recession highs), and an increase in building permits. NextEra will benefit as conditions are favorable for customer growth in Florida. After the building permits transform into finished businesses and homes, NextEra will have new customers as new sources of revenue.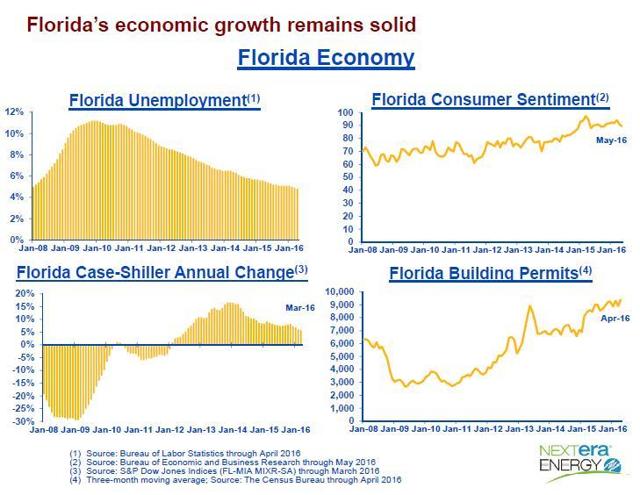 Click to enlarge
Image source: NextEra investor presentation
As stated in the recent investment presentation, NextEra is the largest developer of renewable energy in North America. The company's energy generation portfolio consists of 59% wind power. This is followed by 19% natural gas, 13% nuclear, 5% solar, and 4% oil. NextEra's large percentage of wind generation is important for the company's bottom line since U.S. Federal tax incentives for completed renewable projects has been extended into the next decade. NextEra is also benefitting from lower costs of generating wind. The costs of turbines decreased and product efficiencies have driven down the cost of the actual electrical generation from wind.
The cost of wind electricity generation is getting closer to the cost of natural gas. In the U.S., wind costs about $80 per MW hour of electricity as compared to $65 for natural gas. Since most of the cost of wind power generation is in the installation and construction costs, the cost of wind will continue to get cheaper for NextEra going forward. So, the company is positioned well for the future as the shift to renewables becomes more attractive due to decreased costs.
Risks to the Thesis
It is possible that the housing market in Florida will slow down after the recent strength. Therefore, NextEra's growth prospects could be lowered.
The gap between the cost of producing wind and natural gas could widen due to unexpected circumstances, thus making wind less desirable. For example, if the price of natural gas dropped or the cost of wind installations increased as a result of supply/demand issues, NextEra could face a margin squeeze because of its high exposure to wind power.
Conclusion
Although NextEra's stock may pullback about 5% to 10% on profit taking after this year's strong run-up in price, I think the company will be a great long-term investment. The current price is reasonable for a company that pays a dividend of 2.7% on a payout ratio of 53%. NextEra's peers have higher payout ratios of over 80%. Therefore, NextEra has more room to increase its dividend. Overall, I think that NextEra will be a great combination of dividends plus growth for the long-term.
I don't expect the stock to continue rising at the same pace it did earlier this year. However, I do think the stock can increase approximately in-line with earnings growth within a year. NextEra is expected to grow EPS at 6% to 7% in 2017. This would take the stock to $136 - $138.
Disclosure: I/we have no positions in any stocks mentioned, and no plans to initiate any positions within the next 72 hours.
I wrote this article myself, and it expresses my own opinions. I am not receiving compensation for it (other than from Seeking Alpha). I have no business relationship with any company whose stock is mentioned in this article.
Additional disclosure: If you like my analysis, click on FOLLOW at the top of the article. That will allow my articles to appear on my homepage. This article is for entertainment/informational purposes. Investors should do their own research to determine what investments are appropriate for them.