United Technologies (NYSE:UTX) announced that its Pratt & Whitney division was awarded a $1.5 billion contract from the Department of Defense to build more engines for its F-35 combat jet program. Defense spending in the US has steadily declined in recent years (Figure 1), but sentiment has changed and things are starting to look up. Since its 1-year low in February, the S&P Aerospace & Defense Industry index has advanced 21%, reflecting expectations for increased spending levels. The rise of ISIS and the increasing threat of terrorism have played no small role in shaping expectations, and the feeling among many analysts is that spending will increase next year regardless of who becomes president. As Bill Conerly of Forbes explains, "the political posturing indicates that we will elect a new president who supports a large and continuing US involvement in the Middle East. Nobody has proposed a plan whereby America disengages from the region."
Figure 1: Defense Spending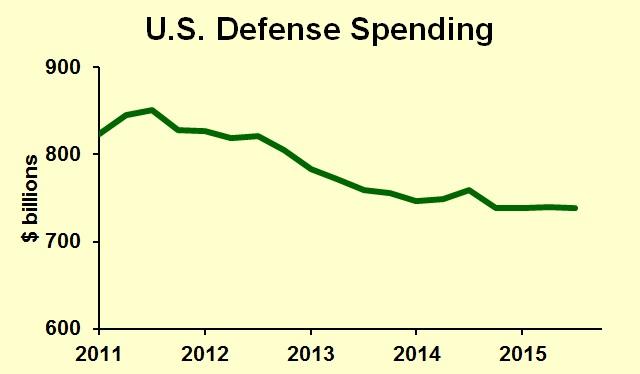 Source: Forbes
A survey conducted by McKinsey in 2014 reveals that defense industry executives have changed their tune relative to years past. Overall, executives are more optimistic about global defense spending than they were a few years ago. 39% of those surveyed believed total defense spending would increase between 2015 and 2018, compared to the 24% who projected a decrease. The outlook varies by region, but most believe that the Middle East, India, and the US are the most attractive markets for growth. On average, respondents expected spending in the Middle East and Asia Pacific regions to increase 6-10% during the next three years. The general consensus was that companies with greater international exposure who possessed the ability to navigate protectionist regulations would outperform.
Figure 2: Global Defense Spending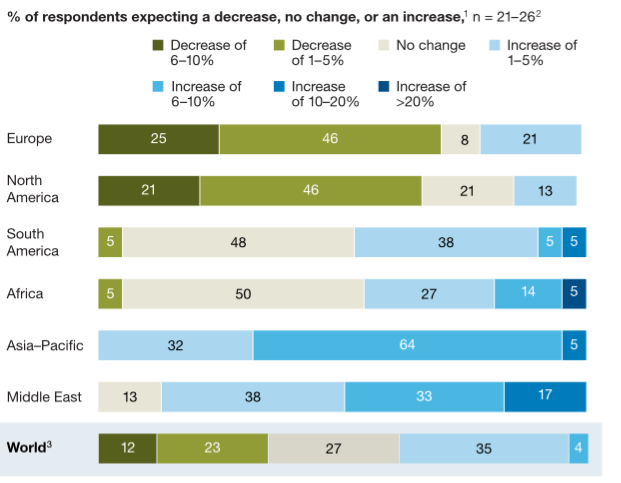 Source: McKinsey
There are two other key takeaways. Respondents agreed that budget pressures would force government customers to place a greater emphasis on affordability over performance, and that services would account for a growing portion of industry revenues.
So far it seems the forecasts have some merit. While total defense-related revenues at UTX (adjusted for the Sikorsky sale) declined 11% between 2013 and 2015, order backlog, an indicator of future demand, increased. Last year, backlog from the US government in the Pratt & Whitney segment increased 5% (from $4.2 billion to $4.4 billion) year over year, and grew 9% in the Aerospace Systems segment (from $2.3 billion to $2.5 billion).
UTX is poised to benefit from the new trends shaping the defense sector. First, the company has significant international exposure. Approximately 60% of UTX's aerospace-related revenues come from customers outside the US. In 2015, the Asia Pacific region accounted for 15% of UTX's sales. Second, thanks to its massive scale, which provides cost advantages in sourcing, manufacturing, and distribution, UTX can more easily lower prices than many of its peers. With customers becoming more sensitive to price, UTX has the potential to offer a combination of performance and value that many rivals can't match. Finally, the shift towards aftermarket services is a potential boon for UTX. Because of strong customer bargaining power (the US government accounts for 20% of sales in both the Pratt & Whitney and the UTC Aerospace Systems segments), UTX earns low margins on equipment sales. But we see room for margin upside as the portfolio tilts to services. According to Morningstar, service contracts "set up decades of recurring aftermarket revenue that translates into attractive returns on capital over time". Management expects its aftermarket business to account for 60% of aerospace related revenues by 2020, compared to 45% in 2015.
Defense budget cuts have weighed UTX's aerospace businesses in recent years but it appears that things are turning around. We think it is more likely that global defense spending will increase rather than decrease over the next few years, and UTX is better positioned than many of its rivals. As customers increasingly emphasize cost effectiveness and revenues shift toward aftermarket services, UTX can grow market share and raise margins in its defense-related businesses.
Disclosure: I/we have no positions in any stocks mentioned, and no plans to initiate any positions within the next 72 hours.
I wrote this article myself, and it expresses my own opinions. I am not receiving compensation for it (other than from Seeking Alpha). I have no business relationship with any company whose stock is mentioned in this article.