For a second consecutive year, Jason Zweig at The Wall Street Journal has referred to gold as a "pet rock." Without much surprise, gold bugs immediately came to the rescue of their beloved metal by rebuking Mr. Zweig's view from every conceivable angle known to mankind. In case you didn't get the memo, gold bugs are the de facto public relations department for precious metals.
Using the SPDR Gold Shares* (NYSEARCA:GLD), which was introduced in 2004, as a barometer for gold's performance, here's how gold has done over the past few years compared to major stock and bond benchmarks.
10 Years
GLD (NASDAQ:GOLD) +102.85%
SPY (S&P 500) +106.31%
BND (Total US Bond Market) +49.61%
5 Years
GLD -14.61%
SPY (S&P 500) +79.57%
BND (Total US Bond Market) +19.33%
3 Years
GLD +4.17%
SPY (S&P 500) +35.59%
BND (Total US Bond Market) +13.54%
1 Year
GLD +16.23%
SPY (S&P 500) +6.69%
BND (Total US Bond Market) +6.63%
While historical performance is often used as a tool to prove or disprove the validity of gold investing, it's a tool with limitations. Why? Because the argument for or against gold can be framed with whatever cherry-picked performance history that favors the argument.
For example, gold's one-year and 10-year performance record make a compelling case for investing in gold whereas the three-year and five-year track record don't. And if we analyze other time periods, we can draw similar conclusions both for and against investing in gold.
The below chart illustrates the performance of GLD from the start of 2007 to the 2009 bottom in stocks. As you can see, Zweig's "pet rock" gained +43.28% compared to a nearly 50% loss for the SPDR S&P 500 ETF (NYSEARCA:SPY). Meanwhile, the Vanguard Total U.S. Bond Market ETF (NYSEARCA:BND) gained just +8.14%. This chart obviously supports the pro-gold narrative.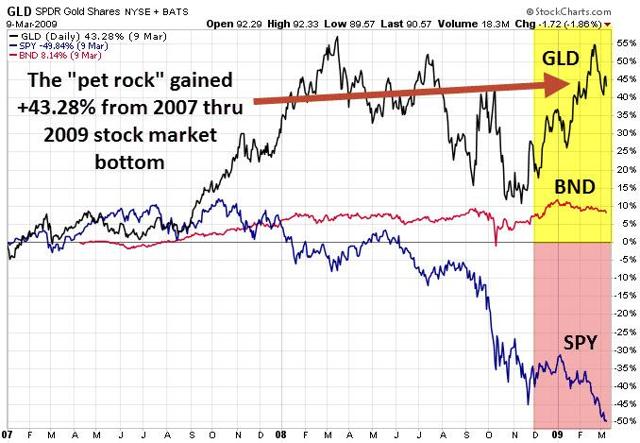 More importantly...
Rather than engage in hotly contested and never-ending debates for or against gold, investors are better served by understanding the proper place and role of gold inside their investments. My latest podcast "Mid-year portfolio checklist" emphasizes this crucial point.
At ETFguide, I've developed a method for portfolio construction that divides investment capital into three primary cornerstones or groups: 1) A core, 2) a non-core, and 3) a margin of safety. I refer to this method as the "DeLegge Framework."
Once a person understands the framework of an architecturally sound investment portfolio, pro-gold and anti-gold debates quickly dissipate.
The "DeLegge Framework"
Your core portfolio is always invested across the five major asset classes (stocks, bonds, real estate, commodities and cash) with maximum diversification, minimal investment cost and high tax-efficiency as the chief goal. The assets used for exposure to these core asset classes should be satisfactory proxies of the respective asset classes they track.
"Core" simply means the majority of a person's investable assets will always be parked inside this particular cornerstone. Another way to think about your core portfolio is the main dinner course.
In contrast, the non-core portfolio can be thought of as the appetizer. Why? Because it will always be complementary and smaller in size compared to a person's core portfolio. Also, its scope is strictly limited to non-core assets, which are un-diversified, more volatile in nature, and higher risk.
Finally, a person's "margin of safety" is the portion of your portfolio that is reserved for capital preservation, income guarantees, and zero volatility. The exact percentage of a person's portfolio reserved for "margin of safety" is not determined by current market conditions, but rather, an investor's age, goals, and risk tolerance.
Each of these three cornerstones (core, non-core, and margin of safety) achieve a different function by deliberately holding non-overlapping assets. In this way, each cornerstone adds another layer or buffer against market uncertainties.
Context
The "DeLegge Framework" leaves no place for debate about gold's place or role inside a person's portfolio.
1) Gold is not a core asset class. Why? Because it's not a proxy for the performance of commodities as an entire group. As a result, gold definitely doesn't go or belong inside your core investment portfolio.
2) Gold is not a "margin of safety" asset. Why? Because margin of safety assets must a) not lose value, b) guarantee income, and c) eliminate market volatility. As a result, gold definitely doesn't go or belong inside your "margin of safety" portfolio.
3) Gold is definitely a non-core asset. Why? Because gold concentrates risk and volatility in a narrow segment of the commodities group. As a result, the only proper place for gold -- if you decide to own it -- is within your non-core portfolio.
Conclusion
Is gold a "pet rock"? Ultimately, it doesn't really matter. Why? Because my framework for portfolio construction and management is not dogmatic.
In other words, the "DeLegge Framework" allows investors (and advisors) to express their financial views in any manner they'd like. However, when it comes to non-core assets like gold, those views are strictly limited to a person's non-core portfolio.
Rather than debating the merits of investing in gold or not, investors are better served by understanding the proper context of gold inside a portfolio of investments. That's far more important than "winning" unwinnable debates.
*Although GLD is a paper asset that most gold bugs fiercely detest, it still serves as decent proxy of gold's historical performance since 2004.
Disclosure: I/we have no positions in any stocks mentioned, and no plans to initiate any positions within the next 72 hours.
I wrote this article myself, and it expresses my own opinions. I am not receiving compensation for it (other than from Seeking Alpha). I have no business relationship with any company whose stock is mentioned in this article.