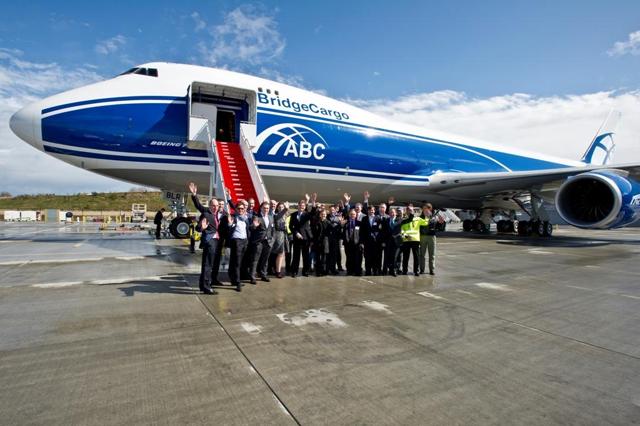 Click to enlarge
Img 1: An Air Bridge Cargo Boeing 747-8F
The announcement at the Farnborough Airshow that Volga Dnepr of Russia will order 20 Boeing (NYSE:BA) 747-8 Freighters is very welcome news for Boeing and the 747 program. The Boeing 737 along with the 787 has seen a flurry of orders and interest at the airshow, however with years of production for the Boeing 737 and 787 sold out, there is much less of a need for new orders for those aircraft compared to the ailing Boeing 747-8 program.
Production for the Boeing 747 was slowed to 6 per year in January, as Boeing took a $569 million charge on the program. The backlog now just stands at just 22 aircraft, which will take just under 4 years to fulfil, assuming no airline cancels their orders. With today's announcement however, the backlog has increased to 36 and the order backlog now stretches 6 years.
Boeing 747-8 Issues
The Boeing 747-8 has suffered from a number of issues, most notably the fact that it uses 4 engines, in a day and age where the capabilities of cheaper to operate twin engine aircraft have reached a point where they are able to rival aircraft like the Boeing 747 and Airbus A380.
The passenger version of the Boeing 747-8 is unlikely to see any further orders. Upcoming aircraft like the Boeing 777-9X and Boeing 777-10X offer superior economics and eliminate much of the business case for the passenger version of Boeing's latest 747.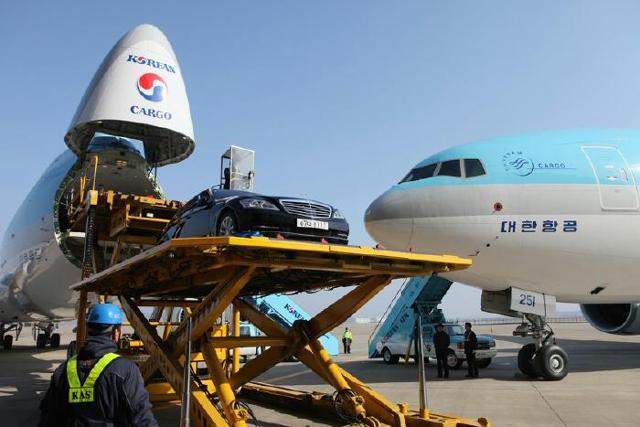 Click to enlarge
Img 2: A Mercedes being loaded through the nose door of a 747-8
The one area however where the Boeing 747-8 is very strong is in the cargo market. The Boeing 747-8F is a highly efficient freighter with a large interior volume for freight and a unique nose door that allows cargo of all shapes and sizes to easily be loaded for transport. There is currently no aircraft quite like it in production when it comes to its cargo abilities.
Unfortunately at the moment it is a double whammy for the Boeing 747, as the one area where it actually has a strong niche market, the cargo market, is also a market that is in a very tough position at the moment. The ability of long haul passenger aircraft to haul cargo has gotten better over the years. At the same time passenger travel demand and airline capacity has increased at a rate much faster than the growth of air cargo, leading to a saturation of cargo capacity. Lufthansa Cargo CEO recently described the situation as a "landslide", and has been forced to cut staff as yields have fallen 15-20% in one year. The result of all of this has been much less need for dedicated freighter aircraft as many airlines have eliminated dedicated freighter operations entirely to try and regain pricing control.
Boeing 747-8 Future
Today's order delivers a much needed lifeline for the Boeing 747-8 and will certainly keep it in production longer. The aircraft now has the following orders outstanding:
| | | |
| --- | --- | --- |
| Airline | Boeing 747-8I Orders Outstanding | Boeing 747-8F Orders Outstanding |
| Cargolux Airlines | | 1 |
| Nippon Cargo Airlines | | 2 |
| VIP | 1 | |
| Volga Dnepr Airlines | | 16 |
| Korean Air Cargo | | 1 |
| Cathay Pacific Cargo | | 1 |
| Korean Air | 4 | |
| Arik Air | 2 | |
| Silk Way Airlines | | 2 |
| Transaero Airlines | 4 | |
| Unidentified | | 4 |
| TOTAL | 11 | 27 |
Table 1: Boeing 747-8 Outstanding Orders
There is a total of 36 aircraft orders outstanding, however the orders from Arik Air (2) and Transaero (4) are unlikely to be delivered, leaving 30 orders. With a production rate of 6 per year, this leaves a healthy 5 year backlog for the aircraft.
In addition to these orders there will be several Boeing 747-8 aircraft produced for Air Force One to replace the President of the United States current Boeing 747 transport aircraft.
As a result of the larger backlog, any improvement to conditions in the air freight market could lead to a production rate increase for the Boeing 747 line.
The air freight market is likely to improve at some point over the next few years. A rise in the price of oil at some point in the future may curtail the growth in airline capacity, and lead to more demand for dedicated freighter aircraft. Stronger economic growth in all regions across the world leading to increased global trade would also increase demand for dedicated freighter aircraft.
While the Boeing 747-8 has a solid business case in the air cargo market it seems inevitable that at some point Boeing may launch a freighter version of the Boeing 777X. This freighter version may come with a nose door, and offer many of the features the Boeing 747F has at a much lower operating cost.
For now however, a major headache for Boeing and investors has been removed as the many unsold 747 production slots have now been sold for several years out. With the charge Boeing booked back in January the Boeing 747 program will likely continue to deliver a small but meaningful operating profit to Boeing's bottom line for the foreseeable future.
Disclosure: I/we have no positions in any stocks mentioned, and no plans to initiate any positions within the next 72 hours.
I wrote this article myself, and it expresses my own opinions. I am not receiving compensation for it (other than from Seeking Alpha). I have no business relationship with any company whose stock is mentioned in this article.