The iShares Nasdaq Biotechnology ETF (NASDAQ:IBB), which tracks the Nasdaq Biotechnology Index (NASDAQ:NBI), has been range-bound between $240 and $290 since January, on concerns about the supposed political dark cloud hanging over prescription drug prices. Presumptive nominees from both parties have laid out plans for lowering prescription drug costs and to take on the pharmaceutical and biotechnology industries, with Congress also jumping into the debate and holding a series of hearings on the issue of drug prices.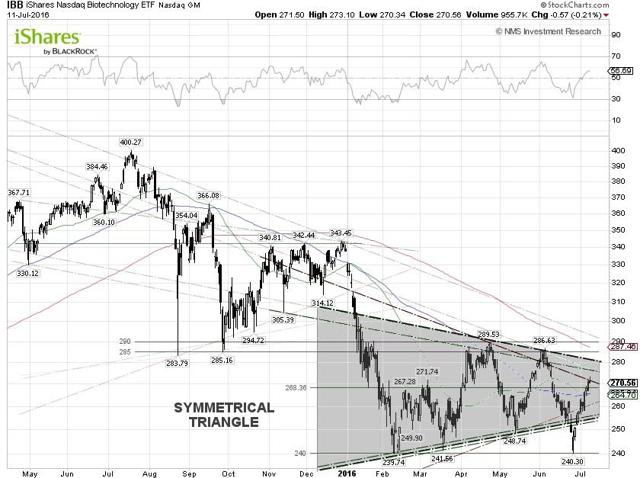 Click to enlarge
Both Hillary Clinton and Donald Trump are calling for Medicare to be able to negotiate with pharmaceutical companies to lower drug prices and for allowing drugs to be imported from abroad. The Clinton plan wouldn't allow Medicare to negotiate prices of all drugs, but is limited to biologics and high-cost drugs. The Trump plan, which is the same playbook backed by Democrats, calls for price negotiation of all drugs. Voters seem to like the idea, but may not realize that a drop in drug prices could result in a cutback in R&D investments and fewer pharmaceutical products in the pipeline. Price controls on prescription drugs could also limit current patient access to the latest therapies.
The latest political episode was the announcement by Democratic U.S. presidential hopeful Senator Bernie Sanders to endorse the California Drug Price Relief Act of 2016, or Proposition 61, which, if passed, would require the state to negotiate drug prices that are no more than is paid for the same drugs by the U.S. Department of Veterans Affairs, or VA. According to the Kaiser Family Foundation, a nonprofit organization based in Menlo Park, California, the bill might not save money at all, as the VA does not publish drug prices and no one can confirm that they even pay the lowest prices.
Some advocacy groups, including Project Inform, a group based in California for people with HIV and hepatitis C, have already voiced their concerns that the proposition doesn't appear to save the State of California any money and could have some negative effects.
Speculators have been using the political noise as a backdrop to take short positions against the biotechnology sector. According to the NASDAQ, on the settlement of September 30, 2015, IBB short interest surged 23.82% to 11.54 million shares, since Hillary Clinton sent out a tweet on September 21, 2015 saying, "Price gouging like this in the specialty drug market is outrageous. Tomorrow I'll lay out a plan to take it on. -H ". The tweet was in response to then CEO of Turing Pharmaceuticals Martin Shkreli, after Turing raised the cost of an older antibiotic drug, Daraprim, by more than 50-fold and said the drug was still a bargain at $750. Since then, IBB's short interest has dropped to 5.7 million shares, as of settlement on June 15, 2016, or about 22.89% of shares outstanding.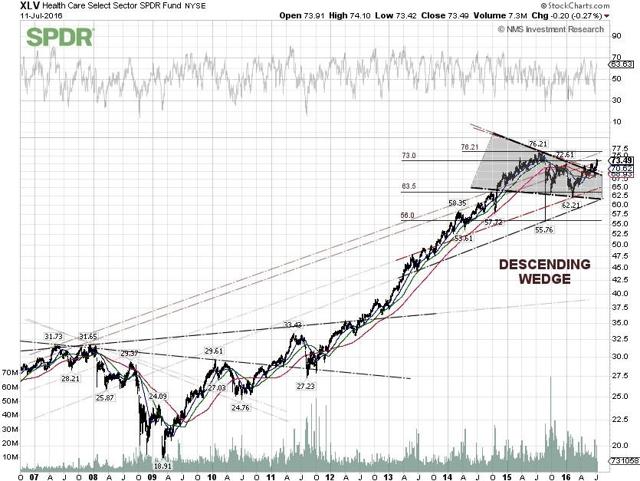 Click to enlarge
The Healthcare Select Sector SPDR ETF (NYSEARCA:XLV), which tracks S&P 500 Healthcare and top holdings are large-cap pharmaceutical companies like Pfizer Inc (NYSE:PFE), Merck & Co Inc (NYSE:MRK) and Bristol-Myers Squibb (NYSE:BMY), fares better than IBB as the ETF just broke out the key technical resistance at $73 and is about 3% away from its all-time high. XLV's short interest stands at 35.95 million shares, or about 19.7% of the float.
A comprehensive government reform plan for high drug prices isn't likely soon, as significant opposition mounts from lawmakers, industry, and some patient advocacy groups. It could be up to Congress to decide whether there is enough support for a bill to pass that lets Medicare negotiate prices or alters the way a drug is being priced. The political process for that could be two or more years away, assuming the next president makes high prescription drug costs a priority.
Take the Medicare Prescription Plan, for example, where Congress tried unsuccessfully for years to overcome partisanship to pass prescription drug coverage for seniors covered under Medicare. The Medicare Modernization Act, or MMA, was signed into law in 2003, but the policy did not take affect until 2006.
From a technical viewpoint, IBB bounced off the $240 support level, or the February low, and broke back into the symmetrical triangle chart pattern. There are three major resistances at $280, $285 and $290, respectively, as the IBB continues to move higher. Closing and staying above the 200-day moving average will trigger a short squeeze. In our opinion, the political dark cloud over the biotech sector may subside if the U.S. economy is heading into a recession. While no one can tell if the bottom is in until after the fact, it is going to be a hit-and-miss activity to find an entry point.
Fix the U.S. Economy or Prescription Drug Prices? What's the Priority?
There are warning signs that the U.S. economy may not be as strong as Federal Reserve and economists have painted it to be, as job growth is decelerating while the core PCE index used by the Fed to measure the inflation, continues to run below the Fed's 2% inflation target. If nothing changes, the next president could inherit the weak economy from the present administration.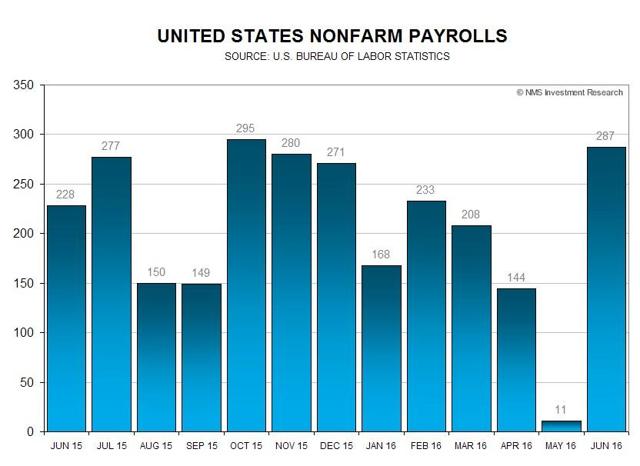 Click to enlarge
According to the Department of Labor, U.S. nonfarm payrolls has declined steadily from 295,000 jobs added in October 2015 to 11,000 added in May 2016, while hourly wages inched up a mere 1.18% from $25.21 per hour to $25.59 per hour during the same period, despite a rise in minimum wages in some states and cities. The June nonfarm payrolls report came in at 287,000, but the figure could be an outlier, as the standard error may be as high as plus and minus 85,000, based upon the three-month moving average.
Core PCE climbed from 109.860 in October 2015 to 111.022 in May 2016, an increase of just 1.06%. The core PCE price index for May came in at 1.62% on a year-on-year basis, compared to 1.58% from the previous month. In fact, the core PCE has been running below 2% since second-quarter 2012.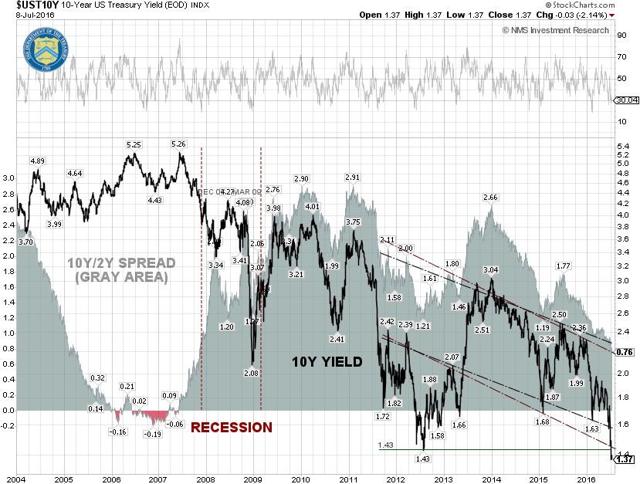 Click to enlarge
The yield of the 10-year U.S. Treasury Note has dropped below the July 2012 low of 1.43% and is now entering "no man's land", as bond investors sold short-term U.S. Treasury securities, which the yield is sensitive to the Fed's rate-policy, and moved to 10-year U.S. Treasury Notes. The yield spread between the 10-year and 2-year U.S. Treasury Notes, one of the economic indicators, has narrowed to 0.76 percentage points, the level not seen since late 2007, as concerns rise that a possible Fed rate hike could lead to a recession. Narrowing spreads may indicate worsening economic conditions in the future, resulting in a flattening yield curve, while a very low or negative spread could signal an upcoming recession.
Analysts at Deutsche Bank, led by Dominic Konstam, issued a warning last week that the recent flattening yield curve suggests a 60% chance of a U.S. recession occurring in the next 12 months, the highest probability of an economic contraction since the financial crisis of 2007-2008.
The yield spread between the 10-year and 2-year U.S. Treasury Notes has been on the decline since it peaked in December 2014 at 2.66 percentage points, two months after the FOMC decided to end the quantitative easing program. Soon after, Wall Street economists stepped up their speculations about the timing of the Fed's first rate hike and sent fear to the bond market, which had already driven the 10-year and 2-year U.S. Treasury Notes yield spread lower.
From a historical perspective of the Fed leading up to the last U.S. recession, from December 2007 through March 2009, the Fed began hiking the short-term rate from 1.0% to 1.25% in June 2004 as the yield spread between the 10-year and 2-year U.S. Treasury Notes stood at 1.9 percentage points. By the time the Fed raised the key rate by a quarter-percentage point to 5.25% for the last time in June 2006, the yield spread was already in negative territory.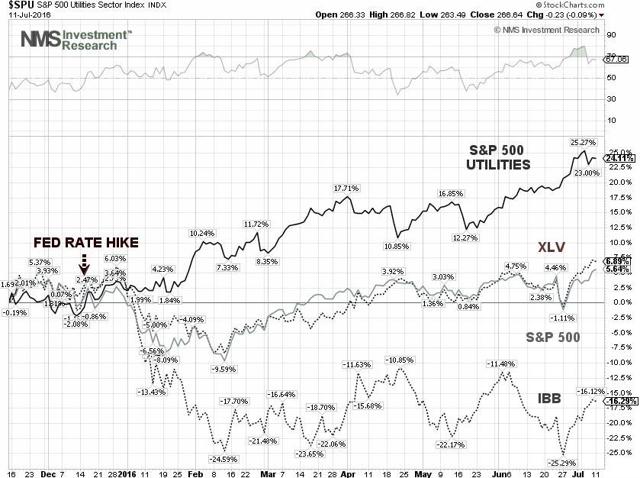 Click to enlarge
Many Wall Street economists may not be aware that the S&P 500 Utilities sector is now trading near its all-time high, as money has rotated into safe-havens. The last time Utilities outperformed the broader market, a U.S. recession followed.
Pharmaceutical and biotechnology companies, including Biogen (NASDAQ:BIIB), Bristol-Myers Squibb, and AbbVie (NYSE:ABBV), are already in the process of building state-of-the-art, large-scale biologics manufacturing facilities overseas to reduce manufacturing costs and find better incentives than are available in the United States. A prescription drug cost control bill, or any change to existing law, to be introduced by presumptive nominees from both parties would accelerate those processes, in light of the UK's proposed corporate tax cut to 15% to boost foreign investment.
IBB's Top Holdings are About to Breakout
Shares of Amgen (NASDAQ:AMGN), IBB's top holding with a weight of 8.47%, are bumping into the $164 head resistance and are about to break out after the company posted better-than-expected results for the first-quarter 2016, driven by strong sales of its flagship rheumatoid arthritis drug Enbrel (etanercept). Sales of Neulasta (pegfilgrastim), its second blockbuster drug, rose due to improved demand and higher pricing in the U.S., while Neupogen (filgrastim) sales declined 13% to $213 million amid increased competition.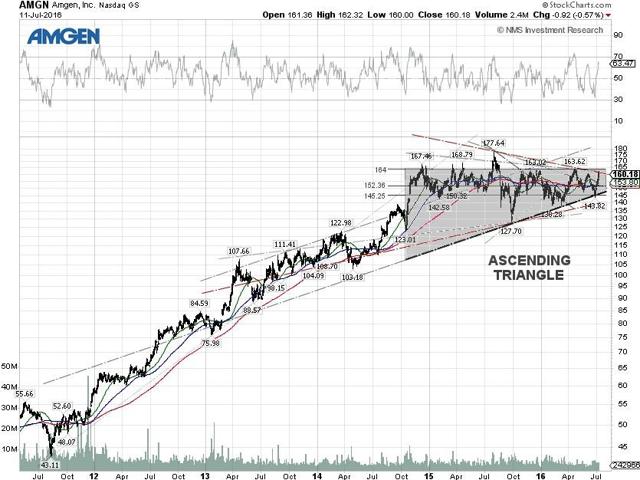 Click to enlarge
Both Enbrel and Neulasta are facing the threat of biosimilar competition from Sandoz, a Novartis (NYSE:NVS) subsidiary, Samsung Bioepis and Apotex, a Canadian pharmaceutical company, as well as from Baxalta (NYSE:BXLT), now Shire (NASDAQ:SHPG), and Coherus Biosciences (NASDAQ:CHRS). Sandoz's cancer treatment drug Zarxio, a biosimilar of Amgen's Neupogen, received approval from the U.S. Food and Drug Administration, or FDA, in March 2015, and launched in the U.S. in September 2015 at a discount of 15% to the brand-name.
Sales of cholesterol-lowering drug Rephatha (evolocumab), approved in August, came in at just $16 million and missed Wall Street's expectations, despite the fact that CVS Health (NYSE:CVS) will provide preferred access to Repatha through its CVS/caremark commercial formularies. The startlingly slow launch of Rephatha could be due to rigorous paperwork required for the patient to fill out and lack of clarity on the drug effectiveness on cardiovascular outcomes.
In June, Amgen said the top-line results from their FOURIER outcomes trial designed to evaluate Repatha, whether the addition of evolocumab to statin therapy reduces cardiovascular morbidity and mortality in patients with vascular disease, will be available in the first-quarter 2017.
In March, Regeneron (NASDAQ:REGN) and Sanofi (NYSE:SNY) were found to have infringed on two Amgen Repatha patents related to monoclonal antibodies, or mAbs, that bind PCSK9. In late May, Sanofi urged a Delaware federal judge to toss a jury's verdict finding rival Amgen's cholesterol drug patents valid and order a new trial or enter judgment against Amgen in its infringement row, saying the court erred in excluding evidence and throwing out Sanofi's obviousness defense, according to Law360. Most analysts expect Sanofi/Regeneron to settle and pay royalties to Amgen for U.S. sales of the Regeneron/Sanofi drug Praluent (alirocumab).
The FDA is reviewing Amgen's Biologics License Application, or BLA, for ABP 501, a biosimilar candidate to AbbVie's Humira (adalimumab) with a Biosimilar User Fee Act (BsUFA) target action date of September 25, 2016. Amgen needs to resolve the AbbVie intellectual property issue in court before launching its biosimilar version of Humira, if approved by the FDA, as the USPTO Patent Trial and Appeal Board, PTAB, in January denied institution of two Inter Partes Review challenges brought by Amgen, Inc. against two Humira patents covering stable formulations of anti-TNF-a antibodies.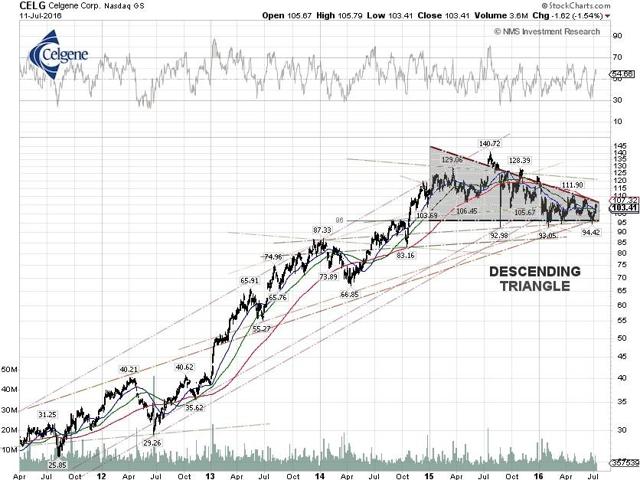 Click to enlarge
Shares of Celgene Corp. (NASDAQ:CELG), an IBB top holding with a weight of 8.27%, sold off after its first-quarter 2016 earnings report came in below expectations, but it raised its lower-end of ranges for 2016 net product sales and adjusted diluted EPS. For 2017, Celgene forecasts net product sales to be between $12.7 billion and $13 billion, and lowered EPS to between $6.75 and $7.00 from their previous target of $7.25. The company said it is on track to more than double its hematology and oncology sales in 2020, to $20 billion, with an EPS of $12.5 per share.
Since mid-2015, the stock has been trading in a bearish descending triangle chart pattern and is supported by the $96 technical level. CELG bounced off the $96 level late last month as investor sentiment improved. Barron's thinks the stock is cheap since it is traded at 17.6 times this year's earnings forecast and Celgene can grow much faster than Bristol-Myers Squibb, which trades at 28 times this year's earnings forecast.
From our viewpoint, significant revenue generation for Celgene could come from the new oral drug Ozanimod (RPC1063) for the treatment of ulcerative colitis, or UC, and multiple sclerosis, or MS, with estimated peak annual sales of $4-6 billion. The drug was developed by Receptos Inc., a company that Celgene acquired in July 2015 for $7.2 billion.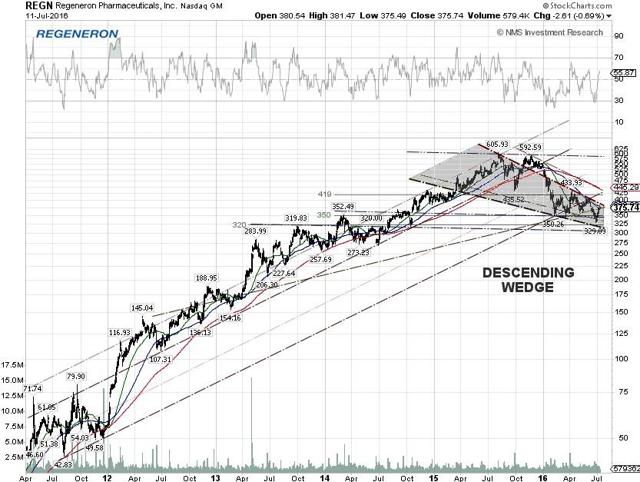 Click to enlarge
Shares of Regeneron Pharmaceuticals, another IBB top holding with a weight of 7.12%, have been under selling pressure on concerns about the growth prospects of eye drug Eylea (aflibercept) and increased competition in the wet age-related macular degeneration, or AMD, market, as well as the legal battle with Amgen over patent infringements of Repatha (evolocumab). The stock has been trading in a range between $350 and $419 since the beginning of the year and has now broken out above the 50-day moving average. A REGN short squeeze may be ahead if the stock can break out the $419 level.
Last month, analysts at Canaccord Genuity, John Newman and Andrew Lam, sent out a note and warned investors to tread cautiously regarding positive Phase 3 trial data from Ophthotech Corporation's (NASDAQ:OPHT) Fovista Anti-PDGF therapy. From our viewpoint, investors may want to remain skeptical about Fovista, as the therapy requires two-intravitreal injection visits to the ophthalmologist every month until maximum visual acuity is achieved, one injection of Novartis' Lucentis (ranibizumab) and one injection of Fovista. Dual injection therapy would most likely be more expensive than Eylea's single-injection treatment every four weeks for the first twelve weeks, followed by a single-injection every two months.
In early April, Regeneron received a big boost after announcing that its experimental drug dupilumab for the treatment of atopic dermatitis, a debilitating skin condition, met all of its major treatment targets in two late-stage Phase 3 studies. According to some Wall Street analysts, dupilumab, co-developed with Sanofi, could have peak annual sales of more than $3 billion for that disease alone. The drug, which is designated as a "breakthrough" therapy by the FDA, is also being studied for asthma and other allergy-related inflammatory diseases.
Sanofi owns a 22.40% stake in Regeneron, or about 23.55 million outstanding shares, and it could raise the stake as high as 30%. In a SEC Form 4 filing on June 16, 2016, Regeneron said Sanofi purchased 64,731 shares of their company on June 14, 2016 at $364.22 per share for a total value of $23,552,858. If Regeneron shares remain undervalued, Sanofi could either increase its stake in Regeneron or take over the company outright.
Conclusions
Shares of IBB have been range-bound since January on concerns about the supposed political dark cloud hanging over prescription drug prices. Weak economic data and the economic indicators, such as the flattening yield curve, are warning signs that the U.S. economy may be heading into a recession. Hence, fixing the U.S. economy should be a priority before trying to introduce a prescription drug cost control bill or make changes to existing laws.
Speculators have been using the political noise as a backdrop to take short positions against the biotechnology sector but if IBB closes and stays above the 200-day moving average, it could trigger a short squeeze now that IBB's top holdings, AMGN, CELG and REGN, are ready to breakout.
Disclosure: I am/we are long ABBV, REGN, CELG, BIIB, SHPG.
I wrote this article myself, and it expresses my own opinions. I am not receiving compensation for it (other than from Seeking Alpha). I have no business relationship with any company whose stock is mentioned in this article.