After initially rejecting investor calls to spin off PayPal (NASDAQ:PYPL) in early 2014, eBay (NASDAQ:EBAY) quickly bowed to investor pressure and agreed to the spin. Activist investor Carl Icahn led the charge to separate the low-growth marketplace business from the high-growth payments business. The tax-free spin-off was completed in early July of last year.
Since the separation, eBay's performance has been lackluster, to say the least. The marketplace has stagnated, with growth well below that of e-commerce overall.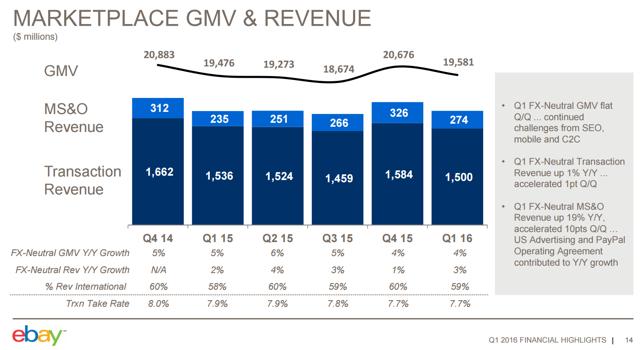 Click to enlarge
The take rate has declined as well, putting additional pressure on the top line. The company has a plan in place to revive growth — mainly its structured data initiative. The goal of this initiative is to improve discoverability (particularly in Google search), the user experience, and, ultimately, sales. eBay has made solid progress on this strategy, but so far most of the progress is not yet visible to the end-user (the back-end improvements need to be made first). It will take time for these efforts to show up in the company's financial results. The CEO won't pin down a rate of growth he is aiming for - just that he wants to grow faster than the business is currently. I am looking for a return to high-single-digit gross merchandise value ("GMV") growth in the next 3 to 6 quarters. That may prove too optimistic or too pessimistic - only time will tell.
StubHub!
So while eBay's largest business is stagnating and a return to meaningful growth remains elusive, its two smaller divisions (StubHub and Classifieds) are enjoying solid growth at the moment. Let's focus on StubHub. eBay bought StubHub in 2007 for $310M. The company is performing very well and has generated a lot of media buzz lately. Last year eBay hired a new executive to run the business: Scott Cutler, who had previously spent nine years at NYSE Euronext as co-head of listings and the cash execution business.
On the surface, that doesn't sound like a background that would be a good fit for StubHub. Like eBay's CEO, Devin Wenig, Cutler has a law degree and background not seemingly directly related to e-commerce. However, to date, the company has performed well under his tutelage.
He moved quickly to reverse the disastrous pricing policy that the previous StubHub president had implemented, unified the technology stack to allow for more frequent app updates, introduced innovative new features, signed exclusive deals with professional teams, and expanded overseas through acquisition. So far, so good for Cutler's tenure at StubHub. The business is lapping some easy comparable thanks to the previously mentioned pricing change, but the growth is still very impressive.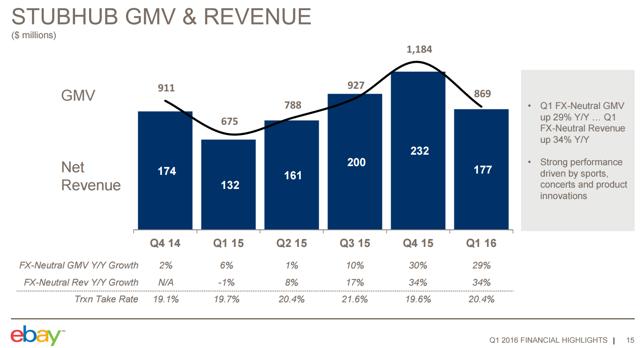 Click to enlarge
eBay has prioritized resources for this business, and it is moving aggressively to expand both in the US and abroad. Mr. Cutler seems to be the right person to lead StubHub in its next phase of growth. Analysts and the press have taken notice. Many are now talking about the possibility of eBay spinning off StubHub to shareholders, just like it did with PayPal. For now, StubHub is a small part of eBay's overall revenues - just 8 percent in Q1. But clearly it is growing faster than the core marketplace business and enjoys a significantly higher take rate of ~20%.
Time to Spin Off StubHub?
Might this impressive growth trapped inside the much larger eBay lead to a growing investor chorus calling for a spin-off? Maybe, but investors should not expect eBay to bow to the pressure anytime soon. There are several reasons for this. First, StubHub remains small relative to eBay's overall business. Even if StubHub can manage to grow 20-30 percent annually for the next 12-18 months, it will take several more years until it is even 20 percent of eBay's overall business. PayPal grew to near 50 percent of total revenues before it was spun off. Spinning off StubHub now will not meaningfully add to shareholder value, even in an optimistic scenario.
Second, eBay needs to keep its growth engines. Right now the marketplaces business is stagnating, with low-single-digit growth at best. While the company is putting forth a lot of effort to accelerate that growth, it will take time for its efforts to result in higher revenues and ultimately higher profits.
There are, of course, no guarantees that what eBay is doing to revive the marketplace will even work. If eBay spins off its growth engines, it could do a large disservice to shareholders. There are already many reasons to not own eBay stock (Amazon's dominance being the principal one). The company does not need to give investors any more reasons to avoid the stock.
It is just too early on in eBay's turnaround efforts to be spinning off its growth divisions. If eBay does spin-off StubHub and its efforts to revive the marketplace fall flat, the company will look very foolish for having consummated the spin. I suspect the value lost at eBay will likely exceed the value gained from the spin-off in this scenario given StubHub's small size. The company should continue to nurture and grow StubHub from within eBay for the foreseeable future. It can continue to use its significant financial, technological, and operational resources to cheaply fund StubHub's growth.
What About Classifieds?
The same can be said for eBay's Classifieds business. It, too, is growing nicely, though it is monetized entirely outside the US and has been hurt by the strong dollar of late.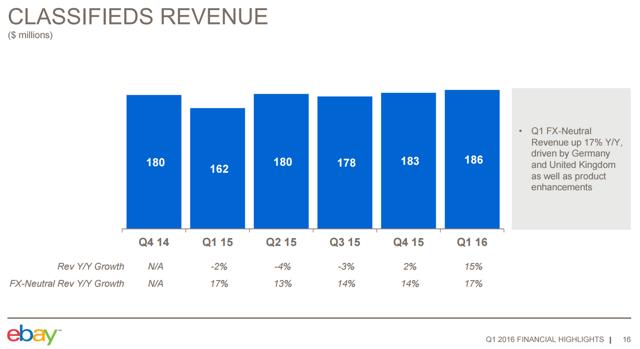 Click to enlarge
However, I believe that classifieds should stay with the marketplace business permanently as the two are more closely aligned and have the potential to accelerate growth for each in the future through more effective targeting of local buyers and sellers.
Activists
It is possible one or more activist investors once again take a meaningful stake in eBay and attempt to force change. The longer the stock underperforms the more likely an activist enters the fray. The company is still an asset light cash cow that is expected to generate $2.2B-$2.4B in free-cash-flow this year. It trades at a low 13.3x this year's earnings and has a net cash position of $1.3B on its balance sheet ($10.3B in cash offset by $9.0B in debt). Certainly an activist could call for the company to increase leverage and use the proceeds to buyback even more stock. Of note, the company is limited to repurchasing no more than 20% of its stock within the first two years post PayPal spin-off in order to protect the tax free nature of the spin-off. I believe the company is likely to repurchase approximately 15% of the shares outstanding by the second anniversary date of the spin-off under its current program, so there is room to do more and potentially significantly ramp up buybacks next July once the two-year anniversary lapses.
An activist could of course echo the chorus of analysts talking about monetizing StubHub and put more pressure on the company to spin it off. However, I think that is an easy battle for eBay to win at this point. It is only 8% of the company's revenues today. If StubHub could earn a 4x revenue equity valuation (similar to PayPal at separation), it will only be 10% of eBay's current market cap. Again, I think the company can pretty easily make the argument that StubHub is better incubated within eBay for the time being. StubHub is taking advantage of eBay's cash, infrastructure, and cheap funding to accelerate its growth, and we know eBay is committed to allocating growing resources toward the business as evidenced by recent investments. Operating within eBay is not holding back StubHub's growth prospects at this point.
Conclusion
StubHub is one of two growth engines at eBay and appears to have a bright future ahead of itself even as competition within the ticket space intensifies. This impressive growth has led to calls for eBay to spin-off the business. Now is not the time for StubHub to separate itself from eBay. It is better served growing inside of eBay for the foreseeable future - it is not yet large enough to stand on its own and still be able to self-fund its growth. I would urge patience for anyone pounding the table for a separation. If eBay is ever able to get the marketplace growth back up to the 8-12% range, I believe the calls for a StubHub separation will fade as that level of growth in the marketplace business will drive more value for shareholders than StubHub likely ever will. For now, eBay remains a cheap, cash cow megacap business with two small but fast growing subsidiaries that have the potential to add significant value in the next 2 to 4 years. Investors would be better served focusing on ways to return the marketplace to growth and increasing buybacks rather than a near-term spin-off of StubHub.
Disclosure: I am/we are long EBAY, PYPL.
I wrote this article myself, and it expresses my own opinions. I am not receiving compensation for it (other than from Seeking Alpha). I have no business relationship with any company whose stock is mentioned in this article.