The Company
The brand needs no introduction. Still, let's start with a quick snapshot of the company.
Founded in 1856 by Thomas Burberry who invented the gabardine in 1879, Burberry (OTCPK:BBRYF) (OTCPK:BURBY) has a centenary history: it equipped the first expedition to the south pole in 1911, supplied the British Army during the first and second world wars and dressed the UK Olympics team in the 60's. Lately, the brand is mostly known for its long-standing relationship with Kate Moss since 1998 and for Christopher Bailey's creations (appointed creative designer in 2001 and CEO in 2009, Burberry owes much of its recent success to the Man currently in charge of the company).
Burberry designs, produces/outsources and sells fashion wear, accessories, fragrances, sunglasses and cosmetics for Women, Men and Children with a clear and distinctive pattern and style. The brand is worth $4.6 billion and is the 7th most valuable luxury brand worldwide (that's 2/3 of the company's market cap of $6.7 billion).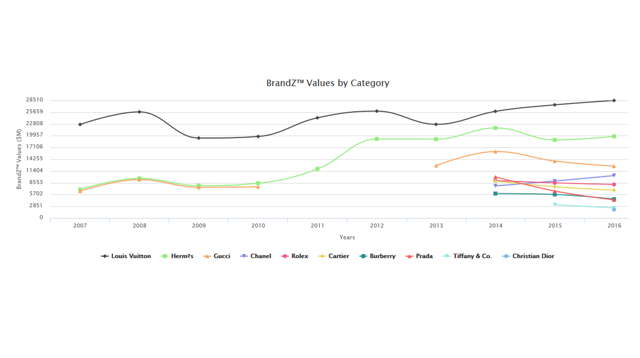 Click to enlarge
Source: BrandZ
First Discount: Historical
The stock endured a tough 2015 when it fell 45% from the peak of 1900 pence to the bottom of 1050 pence. It rebounded nicely to 1450 pence during the first quarter of 2016 but came back to retest 2015 lows during the second quarter.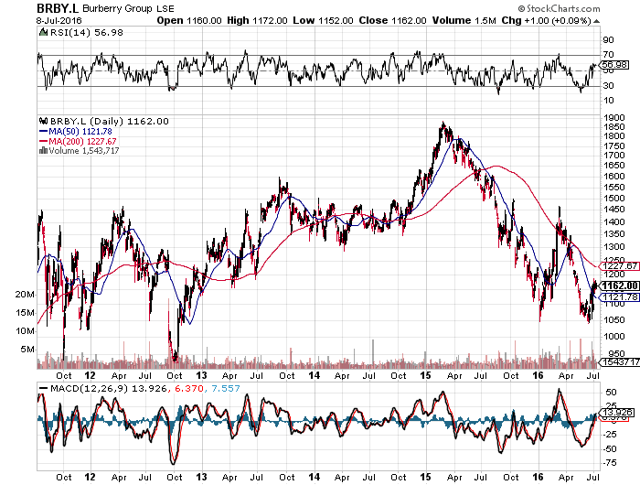 Click to enlarge
Source: Stock Charts
Technically, the stock is showing some positive signals: it made a double bottom at the 1050 support, it crossed the 50 day moving average higher, the MACD is again in positive territory and pointing north and despite the price recovery the RSI is not yet overbought. Some of these signals occurred after Brexit and after the stock entered in ex-dividend last week, which is even more reassuring.
But before bottom-fishing this stock price discount, let's have a closer look at the fundamentals and see if it's worth being a contrarian on this one.
Second Discount: Fundamentals
In contrary to most of its Peers who explore a diversified portfolio of brands, Burberry is a single brand company. One could say that this is a bigger risk for Burberry as it is not possible to compensate one brand's bad season with another brand's better performance.
I won't argue against the benefits of diversification, but I prefer to think that being a single brand company makes it an easier acquisition target. In fact, with a market cap of "only" $6.7 billion, Burberry would be a great addition to the portfolio's of LVMH (OTCPK:LVMHF) (OTCPK:LVMUY) ($75 billion), Richemont (OTCPK:CFRHF) (OTCPK:CFRUY) ($32 billion), Kering (OTC:PPRUF) (OTCPK:PPRUY) ($20 billion), other competitor or even private equity.
Add to it the recent fall in the stock price and in the British Pound, the slower expected growth in the luxury goods market (with small organic growth, companies will look at acquisitions to reach their growth objectives) and the historically low interest rates and the timing couldn't be more perfect. In fact, Burberry has great margins, good sales, an healthy balance sheet and a powerful centenary and global brand.
The table below summarizes how Burberry trades in comparison to its main Peers.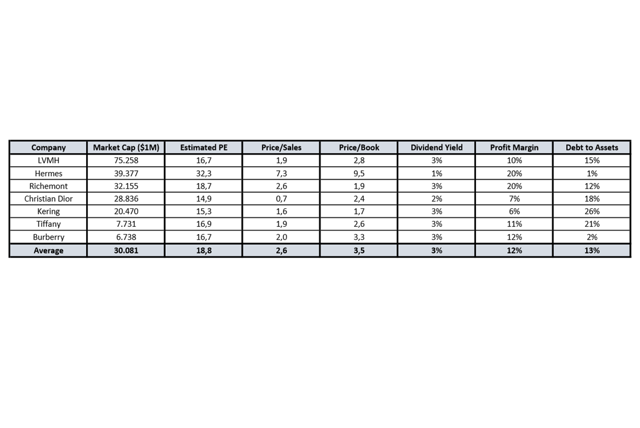 Click to enlarge
Source: Bloomberg
At first glance, Burberry seems fairly priced in terms of PE, Price to Sales, Price to Book and Dividend Yield.
In fact, only Hermes (OTCPK:HESAF) (OTCPK:HESAY) trades at a significantly richer PE, Price to Sales and Price to Book and lower dividend yield than the average. The company's higher profit margin and lower leverage play their role in explaining that premium.
A closer look at Burberry shows that the company has significantly lower debt to assets than its peers. This translates in a considerably higher ROIC (return on invested capital) than the peer group which is for many investors the best single performance indicator. That is why Burberry should be trading at a premium to the group (maybe not as high as Hermes, but certainly not as low as Kering).
Third Discount: The Pound
If the stock was both historically and fundamentally attractive before Brexit, it now seems even more appealing for foreign investors due to the Pound devaluation.
But not only a lower GBP makes the stock cheaper than before as it is likely to give a boost to the company sales and earnings. As you know, even though it is a UK company, Burberry sells its products worldwide: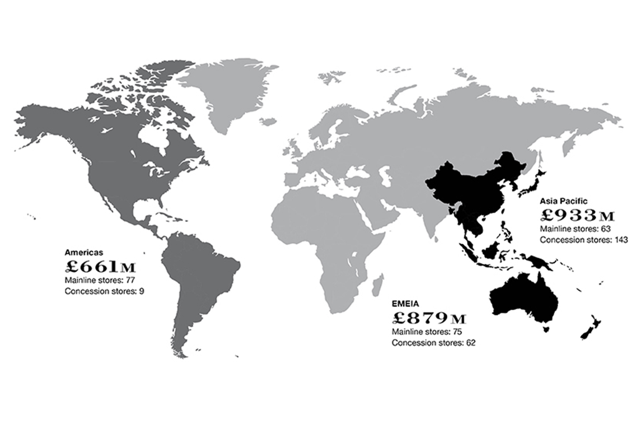 Click to enlargeSource: Burberry Investor Presentation
The same revenue in local currency in the Americas, in Asia and even in Europe (outside the UK) will be considerably higher after being translated to GBP. It will also increase the profit margin and net earnings. In fact, Burberry is likely to be one of the few winners from the Brexit vote.
In summary
I've been following Burberry for quite some time. It is a centenary company with a global brand, trading at historical lows despite the strong fundamentals. The pound devaluation was the last trigger I needed to take a position in the stock which I did last week.
Disclosure: I am/we are long BBRYF.
I wrote this article myself, and it expresses my own opinions. I am not receiving compensation for it (other than from Seeking Alpha). I have no business relationship with any company whose stock is mentioned in this article.
Editor's Note: This article discusses one or more securities that do not trade on a major U.S. exchange. Please be aware of the risks associated with these stocks.