Chegg (NYSE:CHGG) was up 6% on Friday crossing the $5 mark with no new material news. The company offers investors the ability to own a growth stock trading at a multiple in line with a larger less high growth equities. Chegg trades for only 1.5 times revenue when companies offering competing services such as Amazon (NASDAQ:AMZN), trade for three times revenue and LinkedIn was acquired at roughly seven times revenue. Chegg is a small growth stock which the market does not fully appreciate and has a built in catalyst as the company releases earnings with higher margins as they continue to shift to an all digital business.
Chegg recently acquired imagine easy solutions for approximately $42 million in an all cash transaction. This acquisition is expected to be accretive to Chegg in 2016 and provides Chegg access to the company's more than 7 million unique users. We also like how the contingent consideration is payable as stock options at management's discretion aligning the interests of the target and acquirerer. This acquisition continues Chegg's efforts to create a student hub where students can go to get all their educational and career needs met (see below). Currently Chegg owns: internships.com, Instaedu (online tutoring), Campus Special (campus coupons), notehall (class notes) and now a online citation software company. We feel building a portfolio like this is highly valuable as it will keep users within the Chegg ecosystem where additional data can be collected and cross platform revenue streams can be implemented. We feel additional acquisitions make sense for Chegg, as they continue to broaden the platform and create greater scale, which might entice a larger acquirer to consider purchasing Chegg. We view Chegg as a smaller scale LinkedIn in many ways and it is also similar to LinkedIn (NYSE:LNKD) in that both are substantially down from their highs, offering acquirers reasonable entry point from a valuation perspective.

Click to enlarge
Source: Chegg Earnings Deck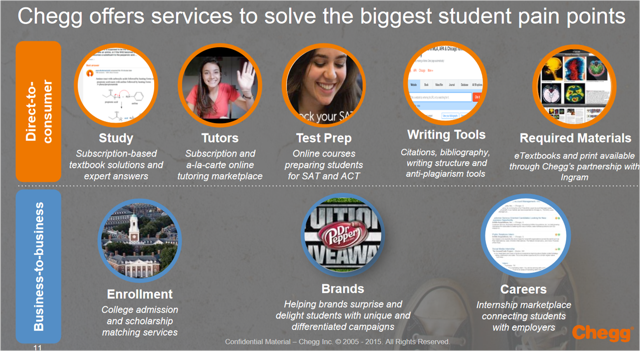 Click to enlarge
Source: Chegg Investor Relations Presentation
Chegg also has a stable balance sheet with approximately $62 million in cash and cash equivalents as of the end of the first quarter. Additionally, Chegg has no long term debt. We view this is a positive for the company as they will be able to continue growing their product and service portfolio with continued acquisitions and are not subject to substantial debt coverage issues. Given the company's progress towards free cash flow generation in 2016 and thereafter the company could appeal to a strategic investor as well, who could add additional leverage to the company and take it public again once the market turns more favorable and the company can be marketed as an all digital high margin educational technology investment. Recently, another small capitalization technology company Skullcandy (NASDAQ:SKUL) received a take private bid from a private equity firm, a similar offer by a private equity firm would send Chegg higher.
Chegg also bring a very impressive management team and board. Dan Rosenweig the CEO brings experience from Quadrangle a well known investment firm and Yahoo as its chief operating officer. Its board includes Jeffrey Housenbold the former CEO of Shutterfly and Marne Levine the chief operating officer of Instagram. We believe this management team has the ability to guide this business towards an all digital future.
In terms of valuation we feel shares can trade near the mean analyst price target of $8, although we are more conservative. Using projected 2017 revenue and a higher 2.5 times revenue multiple reflecting the higher margin and growth digital revenue of $245 million, we arrived at a price target of $7 per share(see below). This provides investors a 40% return and does not reflect any acquisition premium.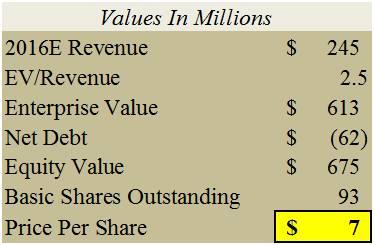 Source: Author Analysis
There are still many risks to investing in Chegg. The company has a history of losses since its formation, largely a result of its capital intensive textbook businesses and there is no assurance Chegg will be able to execute its digital transition in a timely manner. Chegg is also entering business lines(education technology) which are highly competitive and many time their specific competitors have free service offerings and thus there is no assurance Chegg can compete and monetize its new business lines effectively.
In conclusion, we view Chegg as an attractive way to invest in online education and own a company with access to the highly lucrative millennial market. As a small capitalization company, Chegg offers investors return potential of over 40% based on our price target of $7 per share. We feel downside is limited at current levels and Chegg is one of the few public companies for investors to invest in the millennial online education and recruitment industries.
Disclosure: I am/we are long CHGG.
I wrote this article myself, and it expresses my own opinions. I am not receiving compensation for it (other than from Seeking Alpha). I have no business relationship with any company whose stock is mentioned in this article.