Smoking rate has been in decline in the U.S. since the mid-1960s. The continued contraction is a result of high taxes, the ban on tobacco advertisements, and public awareness of smoking hazards. The smoking among adults has dropped from 24.7% in 1997 to 15.1% in 2015, but anti-smoking organizations and public health advocates are still asking for more taxes and forbidding regulations to put tobacco out of reach.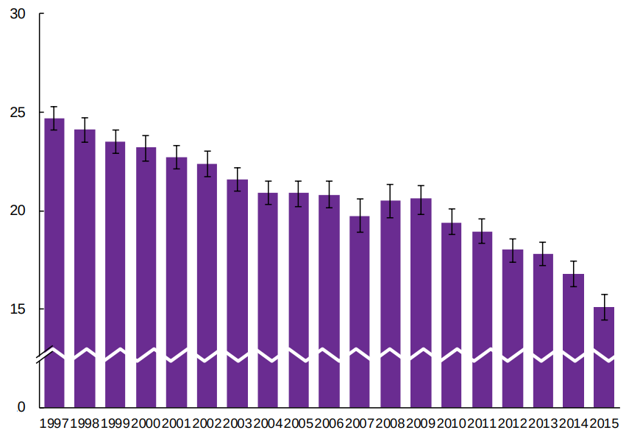 Click to enlarge
Source: CDC
The retail sales value growth of the U.S. tobacco industry has slowed significantly, but Altria Group (NYSE:MO) is making enormous profits. Thus, the stockholders have booked a total return of just over 41% in the past twelve months and outperformed tobacco sector as well as S&P 500 Index. Vigorous fundamentals still have the potential to boost future returns, but historically high valuation, a wave of new regulations and taxes can challenge Altria's performance.
A New Wave
A new wave of cigarette taxes is likely to hit several states, which will significantly increase prices. Since early 2000, different states have passed 130 cigarette tax hikes, including five in 2016. Currently, there are 14 states without a single tax increase since 2006, including Missouri where cigarette tax is lowest among all states. However, a lot of anti-smoking organizations are gathering around to push for the tax increase in at least four states - Missouri, Colorado, North Dakota, and California.
The petitioners are hoping for success in November ballot. Although these states have failed several attempts in the past, the chances of success are vibrant this time due to sizable support and significantly fewer tax levels from an average of $1.67 per pack. The initiatives are seeking an increase of $0.23 in Missouri, $1.75 in Colorado, $1.76 in North Dakota, and $2 increase to the current $0.87 per pack tax in California.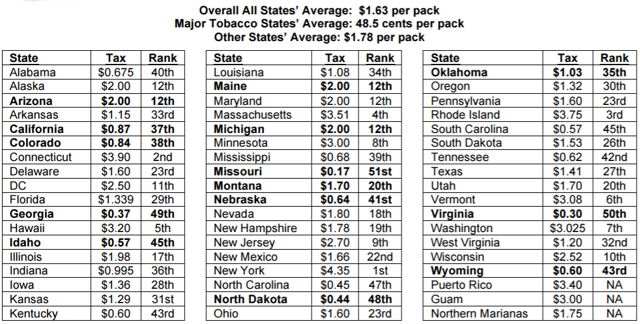 Click to enlarge
Source: tobaccofreekids.org
The proposed additional taxes are significant considering the current per pack tax levels in all four states. Thus, the success of these initiatives will not only hammer cigarette sales, but it will also encourage remaining states to demand higher taxes, which will put further pressure on already declining smoking rates. The historical trends show that cigarette sales plunge after an increase in state tax rate. For instance, cigarette sales in Colorado surged to around 300 million packs annually between 1990 and 2004. However, in 2005, sales suddenly plunged to 226.7 million when an increase of $0.64 per pack took effect and continued to decline to 193.2 million in 2014. Although last year consumption increased for the first time in a decade, the bounce looks temporary.
Although smoking rates are comparatively low in California and Colorado, consumption is high in North Dakota and Missouri, which means the increase in taxes can negatively impact Altria's volumes. However, Altria has robust brand power, and smokers are willing to pay the premium. In contrast, Altria's rival Reynolds American (NYSE:RAI) lacks a significant brand power. Thus, additional taxes could end the price advantage of Reynolds American.
Premium Brands Will Help Survive
Overall cigarette market is stabilizing. Last year, cigarette category decline rate slowed to 0.5% as compared to 5% in 2010, which is an encouraging sign and bodes well for Altria. Despite that, the profit pool of tobacco industry has expanded at a mid-single digit to $17 billion over the last five years, and Altria accounts for 31% of the pool.
Smokers are increasingly using cigarette alternatives that are perceived to be less harmful. Altria is expanding its premium and discount brands to benefit from rapidly growing moist smokeless tobacco. Although Altria's 87% of total operating income comes from cigarettes and cigars, Copenhagen, Skoal, and other smokeless tobacco brands produce the robust operating margin of 65.5%. In comparison, Reynolds American's operating profit margin of smokeless and snuff business is 58.9%.
Volumes of smokeless tobacco are expected to grow at an average growth rate of 1% by 2019, and market size is likely to reach $9 billion - growing at an average growth rate of 3%. Altria is gaining retail share of the premium smokeless tobacco market, which currently stands at 55.1%. Altria is executing strategies, including the successful national expansion of its innovative Copenhagen Mint, to increase the revenue contribution, which will boost the overall profitability of Altria.
Reynolds American's core market share has declined in the past several years, but well-established customer base of Marlboro brand enables Altria to deliver healthy net income growth despite tough industry dynamics. Between 2013 and the first quarter of 2016, Altria's cigarette retail market share has increased from 50.7% to 51.4%. A further push into the market could help Altria gain steady market share, which is expected to reach 51.9% by 2018.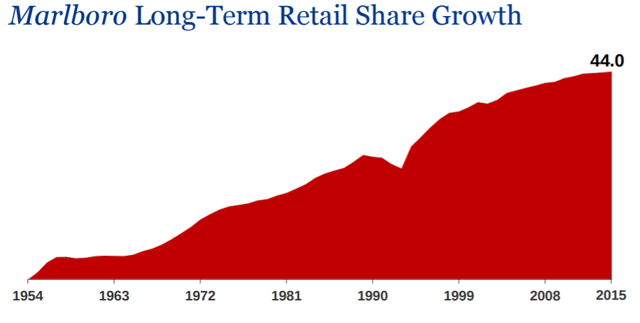 Click to enlarge
Source: Altria
Marlboro brand sales will experience a boost with the launch of iQOS in the U.S. as Atria has gained exclusive rights from Philip Morris International (NYSE:PM) to market iQOS in the U.S. The U.S. Food and Drug Administration (FDA) is extending its authorities to oversee all tobacco products. The final rule will be effective from 8th August, and FDA will formulate regulations for e-cigs, vape pens, all cigars, hookah tobacco, pipe tobacco and nicotine gels. Altria is hoping to get FDA approval for iQOS by the end of this year and is expanding its MarkTen XL to compete with Reynolds American. Altria's market position in the e-cigs market is not impressive, but the extension of FDA authorities and successful approval to market iQOS would change the dynamics of the e-cigs market.
Altria Is Better Than Philip Morris International And Reynolds American
Altria's net income has increased at an average growth rate of 13% over the past five years. The company is focusing on costs savings to maximize the income growth. Altria expects its fiscal year 2016 earnings per share in a range of $3.0 to $3.05, which translates into a year-over-year growth rate of 7% - 9%. Although this year's earnings growth is likely to remain less than the historical average, the growth rate will be higher than 4.3% in 2015.
Altria is trading forward price to earnings multiple of 21 times, which is significantly higher than its 5-year historical average of 17.8x. Altria's looks expensive, but it is pretty much in line with the valuation levels of Philip Morris International and Reynolds American. Altria's dividend yield of 3.24% may look less attractive as compared to Philip Morris International's 3.96%, but Altria has the potential to boost future dividends at a faster pace.
Altria's payout ratio is approximately 75% based on 2016 earnings estimate, which is less than its 5-year historical average of 84%. Besides comparatively lower payout ratio, Altria's cash flow position can support growing dividend payments in the future. At the end of first quarter 2016, Altria had operating cash flows of $1.2 billion and free cash flows of $2.66 billion. In comparison, Philip Morris International's cash flows are pretty volatile, and it's free cash flows were $236 million at the end of March 2016 quarter.
Altria's splendid cash flows make it better stock for dividend investors as compared to Philip Morris International. On the other hand, Altria's premium brand portfolio and loyal customers would help it survive a new wave of taxes and regulations, which is an advantage over Reynolds American.
Disclosure: I/we have no positions in any stocks mentioned, and no plans to initiate any positions within the next 72 hours.
I wrote this article myself, and it expresses my own opinions. I am not receiving compensation for it (other than from Seeking Alpha). I have no business relationship with any company whose stock is mentioned in this article.