Introduction
Joel Greenblatt's Magic Formula is a screening method in which companies are ranked based on two characteristics: Return on capital employed (ROCE) and Earnings Yield. Ranking US stocks based on these metrics has produced consistent outperformance over a long period of time. However, there is hardly any application of these principles on European stocks. In this series, I look at these companies, and determine their quality as a value investment.
Carrefour
After a period of strong declines starting in 2011, Carrefour (OTCPK:CRERF) (OTCPK:CRRFY) decided to restructure its operations. The retail company started focusing on cost management and combined divesting non-core assets with high capital expenditures. In the last full year, the benefits of those measures started to show. This year's earnings promise strong growth again. Meanwhile, the company's valuation has not picked up (yet). For a large global retail player, a forward P/E of 13.6 is conservative at best. In a high valuation market, getting a blue chip at such multiples provides a wonderful buying opportunity, for both dividend and value investors.
Carrefour is a French operator of large supermarkets. It is the number 1 retail company in France, and the fourth biggest player globally. In addition to supermarkets, it exploits convenience stores, hypermarkets (a blend of a grocery store and a department store) and cash & carry stores (the IKEA format where you essentially build your own stuff).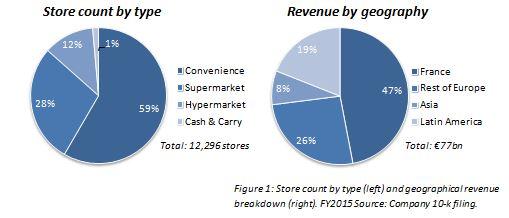 By far the biggest category consists of the 'regular' supermarket type. Convenience store numbers are obviously higher, but their average size and revenue base is much smaller. Overall, the hypermarket and cash & carry types add some product diversification. However, the largest and still primary business activity is within grocery and convenience retail. Geographically, most revenues are obtained in the home market of France. With a population of over 64 million people, this is one of the biggest European markets. Given its maturity, it serves more as a cash generator than a source of high growth, especially considering Carrefour's dominant market position. Growth is more likely to come from Asia, Latin America and Africa.
Recent Performance
As mentioned, Carrefour is likely to find its growth in emerging markets. Latin America has delivered on this potential with 2015 being the fourth consecutive year of double digit sales growth. In fact, during that time, operating margins have increased as well. As a result, sales have grown to over €14 billion. Considering the difficult macro environment in many South-American markets in the recent past, double digit growth rates confirm the company's increasing presence and according success. After initial strong growth in Asia, Carrefour has struggled to gain momentum in the area for the last few years. The company has addressed this by repositioning its model in China. Organic growth keeps on declining in the continent, with again China being the worst performer. Some positive perspective comes from Taiwan, where earnings returned to growth in the last full year.
First quarter earnings show a stabilizing pattern. Growth in France was flat year on year. Given the strong comparable of 7.1% growth in Q1 2015, this is more than acceptable. At the same time, declines in China slowed down somewhat and Taiwan sales grew strongly, increasing overall Asia performance.
Growth potential
Future growth will have to come from margin expansion on one side and increased quantities on the other. Room for growth in developed markets is difficult for both metrics, with population growth flat (or even negative) and considerable competition. A more likely source of growth is in the emerging markets, where both population growth and disposable household income are rising, and are expected to do so for the foreseeable future. Countries like South Africa, Nigeria and Namibia are entering the stage of development where a need for specialty retail arises. Hence, Nigeria alone has a population of over 170 million. The potential in these markets is therefore enormous. AT Kearny confirms this and highlights the growing middle class on the continent as the next big thing in retail.
Risk & Competition
China performance remains difficult. Fortunately, the small base on which these numbers are presented (8% of total revenues) leave their impact limited. However, these are the areas where future growth will most likely have to be achieved. It must therefore be a strategic priority to return to positive growth. The Chinese market is a difficult place for foreign retail and should be subject to constant strategic monitoring.
Competition is relatively high in the retail market. As a result, margins are low. Most goods are treated as commodities, which means large efforts must be put into attracting customers to the store and keeping them satisfied enough to come back. This, in turn, puts extra pressure on already thin margins. Luckily, scale economies can mitigate much of this pressure. As the fourth biggest player globally, Carrefour has that advantage. However, despite increased earnings power, emerging market consumers will be even more price sensitive. As a result, the pressure to innovate and cut costs will be ever present in all geographic areas.
Attractive metrics
Looking at valuation metrics, is seems that the uncertainty that accompanied Carrefour´s strategic restructuring is still priced in. Compared to its direct peers (the top 3 biggest retailers Wall Mart (NYSE:WMT), Tesco (OTCPK:TSCDF) and Costco (NASDAQ:COST) ) the company is priced substantially lower. Meanwhile, the company's strong presence in emerging markets and Europe (for US-investors) offers a welcome source of possible diversification, especially for a retail name.

Carrefour has a return on capital employed (ROCE) of over 15%, and an earnings yield of 6%. This gives it strong performance on the magic formula criteria, and shows that you can indeed obtain the shares of a company that realizes a good return on its capital, again, especially considering the business it operates in. Carrefour pays a yearly dividend (that includes a drip-program) with a current yield of 3.12%. This gives a payout ratio of 45%, in line with the company's target, and with lots of safety embedded. Unlike many US companies, Carrefour does not commit to increasing dividends each and every year. However, positive and strong long term earnings growth and a constant payout ratio leaves dividend investors with the same result: a source of growing income. The only difference is the much lower price to pay.
Conclusion
As a European magic formula stock, Carrefour is often overlooked by US investors. However, the strong scale, steady growth, and diversified geographies can offer a welcome alternative to the often expensive US parties. Carrefour's strategic realignment brought much uncertainty. However, most of that uncertainty is resolved, while share prices have not yet adjusted. Therefore, the company is a strong value play at less than 14 times future earnings. The long term dividend growth potential is a welcome extra. I consider the company a good opportunity for both value and dividend investors.
Disclosure: I/we have no positions in any stocks mentioned, and no plans to initiate any positions within the next 72 hours.
I wrote this article myself, and it expresses my own opinions. I am not receiving compensation for it (other than from Seeking Alpha). I have no business relationship with any company whose stock is mentioned in this article.
Editor's Note: This article discusses one or more securities that do not trade on a major U.S. exchange. Please be aware of the risks associated with these stocks.