Twilio, Inc. (NYSE:TWLO) - Buy Recommendation, $39.25
The 25-day quiet period on underwriter analyses that began with the June 23, 2016 IPO of TWLO will come to an end on July 18, allowing the firm's IPO underwriters to publish reports, recommendations, and analyses of the company on July 19.
We previewed this event on our IPO Insights platform.
Twilio's share price will likely see a temporary increase as a result of the release of underwriter reports, opening a new buying opportunity for the growing firm.
Business Overview: Cloud Communication Platform for Software Developers
Twilio Inc. provides a cloud communications platform that enables developers to build, scale, and operate communications within software applications in the United States and internationally. Twilio uses the cloud as a pay-as-you-go service. Its programmable communications cloud software allows developers to embed voice, messaging, video, and authentication capabilities into the applications. Twilio also provides use case products, such as a two-factor authentication solution.
The company had 28,000 active customer accounts and over 900,000 developer accounts registered on its platform at the end of March. An impressive range of companies using Twilio include Coca Cola Enterprises, Hulu, AirBnB, EMC2, Intuit, Trulia, Box, Nordstrom, Dell, Eharmoy, Zendesk, Wix, Uber, Lyft, Porch, Taskrabbit, Zoom, and UC San Diego School of Medicine.
Management Team Highlights
Co-founder, Chairman and CEO Jeff Lawson has served as CEO since 2008 and Chairman of the Board since November 2015. He has held several founding executive roles at Nine Start, Stubhub and Versity. He was one of the original product managers for Amazon Web Services. He has been a Director of Twilio, Inc. since April 2008. He earned his B.S. in Computer Science & Film/Video from University of Michigan.
CFO, Secretary and Treasurer Lee Kirkpatrick has served in his position since May 2012. His previous experience includes senior financial positions at SAY Media, Kodak EasyShare Gallery, iOwn.com, Hyperparellel, Quotron Systems, and Reuters America. He holds an MBA from Columbia University and a BS from the University of Southern California.
Competitors: Avaya and Cisco
Twilio's competitors come from four main categories: legacy on-premise vendors, such as Avaya and Cisco (NASDAQ:CSCO); regional network service providers; smaller software companies that compete with portions of Twilio's product line; and SaaS companies that market prepackaged applications.
Financials Overview: Increasing Revenues, Steady Losses
Twilio provided the following financial data for the years ended Dec. 31:
| | | |
| --- | --- | --- |
| | 2015 | 2014 |
| Revenue | $166,919,000 | $88,846,000 |
| Net Income | ($35,504,000) | ($26,745,000) |
As of March 31, 2016:
| | |
| --- | --- |
| Total Assets | $167,254,000 |
| Total Liabilities | $52,903,000 |
| Stockholder's Equity | $114,351,000 |
Conclusion: Buying Opportunity
Twilio's powerful IPO underwriters could indirectly influence the price of TWLO shares through the release of positive reports, beginning with the conclusion of the quiet period. These underwriters include: Goldman Sachs, JP Morgan Securities, Cannacord Genuity, JMP Securities, Pacific Crest Securities, and William Blair & Co.
Our firm's research shows a significant potential for above-market returns in the five days prior to and two days after the conclusion of a company's quiet period. This holds true, particularly for tech firms, such as TWLO, which have seen successful IPOs and early market performance.
Twilio got off to a great start on the market by opening at $23.99, 59.9% higher than its IPO price of $15. The stock rose to reach a high of $37.93 on June 7. Currently, the shares trade at $37.20 (early market sessions 7.12.2016).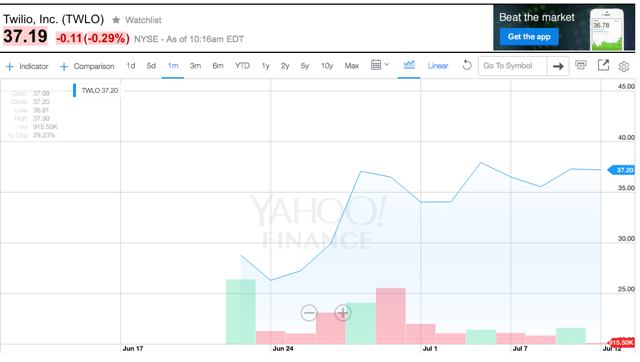 Click to enlarge
Disclosure: I am/we are long TWLO.
I wrote this article myself, and it expresses my own opinions. I am not receiving compensation for it (other than from Seeking Alpha). I have no business relationship with any company whose stock is mentioned in this article.