Shares of Genworth (NYSE:GNW) were trading in the $3.50 to $4 price range just before the Brexit vote, but, like many financial stocks, it has since plunged on concerns about low interest rates. Genworth now trades for about $2.50 per share which is well below the 50-day moving average of $3.35 per share and the 200-day moving average of about $3.50 per share. I believe this drop in the share price over interest rate fears is totally overblown for a few reasons. First of all, interest rates have been low for a long time and that has not stopped companies like Genworth from making money. Secondly, the Federal Reserve did raise rates in late 2015, and the recent jobs report came in better than expected, which could help support future rate hikes. In addition, low interest rates is not all bad news for Genworth (more on this later). I believe the post-Brexit bounce in the stock market could help push Genworth shares back towards the $3.50 level in the coming weeks. If Genworth does rebound back to the levels it traded at before the Brexit vote, that would give investors a gain of about 40%. Longer term, I think Genworth shares will trade at much higher levels, probably back towards the current 52-week high of around $8.
Genworth has not released any news for weeks, so this stock is clearly trading based on macro issues, in tandem with the financial sector and because of overly negative investor sentiment on interest rate concerns. This negative sentiment and fear has created a disconnect in the share price. The fundamentals for this company have not changed in the past couple of weeks as much as the share price would suggest. This has given us a chance to buy Genworth at bargain levels, so let's take a closer look: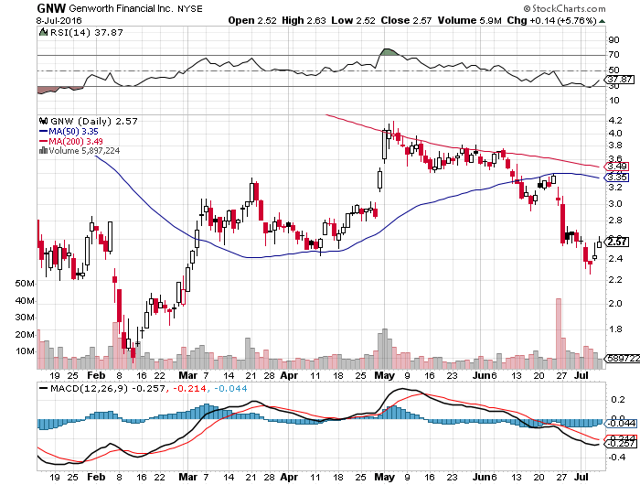 Click to enlarge
As the chart above shows, Genworth shares were trending higher and had rebounded significantly from the market correction in February. One major reason Genworth rebounded sharply off the February lows is because the company posted strong financial results. For the first quarter of 2016, Genworth reported net operating income of $103 million or 21 cents per share. The company also updated its goals for expense reductions and said it still expects to achieve annualized cash expense reductions of $150 million or more by the end of the second quarter of 2016. A lot has happened in the financial markets since those results were reported and the stock has drifted lower based on the fears over low interest rates. However, the market appears to be overreacting, as markets often do. According to Earningswhispers.com, analysts expect Genworth to earn 19 cents per share on roughly $2.09 billion in revenues for the second quarter of 2016. Not bad for a stock that trades for $2.50 or so, as that puts the price to earnings ratio at just below 4 times earnings. That is truly cheap, although other financial and insurance stocks are also in the bargain bin. For example, Metlife (NYSE:MET) trades for just around 6 times earnings, and MGIC Investment Corp (NYSE:MTG), which is a pure play mortgage insurance company trades for just about 5 times earnings.
These examples show how unfavorably the market currently views insurance and financial stocks, but as we all know, you get the biggest bargains when you buy stocks while out of favor. Remember how oil stocks were one of the most unloved sectors of the market just a short while ago? In just a couple of months, many of these stocks (especially low priced small cap oil stocks), have doubled or tripled in value. At just around 4 times earnings, Genworth might be one of the cheapest stocks in the entire market. Many stocks that trade for just a couple of bucks per share are losing money and have terrible balance sheets, but this is not the case here. On the balance sheet, Genworth has about $6.22 billion in cash and around $5.55 billion in debt.
Many investors don't realize that Genworth owns a stake of nearly 50% in the publicly traded mortgage business in Genworth Canada (MIC.TO). This now trades for about $33 per share and has a current market cap of about $3 billion. This stock is trading near a 52-week high now, but earlier this year it was trading near a 52-week low of around $24, due to concerns over oil prices weakening the Canadian real estate market. The value of this stake has increased by hundreds of millions of dollars in the past few months, and it is now worth about $1.5 billion for Genworth. This is an easy source of cash if Genworth wants to pay off debt rather than refinance it in the future. The significant increase in the value of this Canadian stake is another reason why the recent decline in Genworth shares is a buying opportunity. It is worth noting that Genworth has a market cap of about $1.3 billion and that is less than the value of the stake it owns in Genworth Canada. In addition, it also owns a significant stake in Genworth Australia (GMA.AX) which is also publicly traded with a market cap of nearly $1.5 billion. This is another major asset (with its stake estimated to be worth around $700 million) that Genworth could also sell to pay off debt whenever it desires.
Let's take a closer look at the concerns over low interest rates, which is really nothing new. As stated earlier, in the first quarter of 2016, Genworth reported net operating income of about $103 million. A recent article suggests that Genworth could see a $27 million decrease in earnings for its fixed annuity business if rates drop by half a percent, and points out that the 10-year Treasury yield has recently declined in the past couple of months. The article states:
"Margin pressures on long-dated insurance contracts could continue to weigh on earnings. The company pointed out that a 50 basis point (0.50%) reduction in interest rates or credit spreads would result in a $27 million decrease in earnings in its fixed annuity business. Since the end of the first quarter of 2016, the 10-year U.S. Treasury yield has declined markedly, from about 1.8% to 1.47% at the time of writing."
Based on these calculations (about a 30 basis point drop in rates), Genworth could see a decline of about $20 million per year in its fixed annuity business, but that is quite minimal when you consider this company has earnings power of over $100 million per quarter and that it has an expense reduction plan of $150 million annually. With a share price drop of about $1 since Brexit, this company has lost roughly $500 million in market cap. This is ridiculous if you consider the fundamentals and that it might only shave about $20 million off of earnings on an annual basis.
Here is another huge point I think the market is not focused on and that is the fact that low interest rates are counterbalanced in Genworth's case, because low rates greatly increase the stability, demand and price for real estate around the world. Many investors were concerned earlier this year that low oil prices would hurt the housing market in Canada and Australia. However, those concerns appear greatly overblown because those housing markets have remained strong and oil has rebounded significantly off the lows. Low interest rates greatly increase the chance that real estate will remain strong in Genworth's major markets. Low rates also buoy other financial assets like the stock market which also can result in economic stability and strength. The market has not seemed to factor this in, but instead seems focused purely on grouping Genworth as a financial that only suffers with low rates.
This stock traded for nearly $8 per share in August of 2015. That means this stock currently appears to be very far from the 52-week high. However, a quick check of the price history shows that 52-week high will be just around $5 per share after the first week of August. That means the stock won't have such a big hurdle to eventually reach a 52-week high and therefore become viewed more favorably for technical and momentum investors. I believe Genworth can break out and reach above the $5 range later this year, which is the level where many analysts have set price targets.
The S&P price target for Genworth is $5 per share, and Goldman Sachs (NYSE:GS) has also set a $5 target, although the consensus estimate is nearly $7.50 per share. That suggests very significant upside for investors who buy now. As noted earlier, even if Genworth shares only rebounded back to the $3.50 level where it traded just about two weeks ago (before Brexit), this would give investors about 40% gains. For all these reasons, Genworth shares appear very attractive now for traders looking for short term gains, but even more so for long term investors.
Data is sourced from Yahoo Finance. No guarantees or representations are made. Hawkinvest is not a registered investment advisor and does not provide specific investment advice. The information is for informational purposes only. You should always consult a financial advisor.
Disclosure: I am/we are long GNW.
I wrote this article myself, and it expresses my own opinions. I am not receiving compensation for it (other than from Seeking Alpha). I have no business relationship with any company whose stock is mentioned in this article.