Hormel Foods (NYSE:HRL) stock has fallen over 15% since the start of April. Over the same span the market was up almost 3%. That might have some investors looking for reliable dividend payers thinking this is a buying opportunity. Only this "protein" seller is still expensive.
Meat is good
There's no doubt about it, Hormel sells things that we use frequently. It's stable of brands include such customer favorites as namesake Hormel, Jennie-O, Applegate, Dinty-Moore, Skippy, Spam, and many more you've probably seen in the grocery store. That includes newer brands that hit key niches like Muscle Milk and Wholly Guacamole. Yes, a lot of its products are in the so-called center isles, where prepacked prepared foods live. These types of products are being hit by a shift toward fresh foods. But Hormel isn't blind to the trend and has been trying to adjust-it's been around for a while so I'm confident it will eventually adjust adequately to this trend. In fact, Applegate, Muscle Milk, and Skippy are all relatively new brands for Hormel, added via acquisition. In the end, if you are looking for a company selling food basics, Hormel should probably be on your list-even if Spam grosses you out.
Now add the not so subtle fact that Hormel has increased its dividend every year for 50 consecutive years. That's pretty impressive no matter how you look at it. And it's backed by a very conservative balance sheet. Long-term debt makes up just 5% or so of the capital structure. The current ratio, which shows how well a company can pay its near-term bills, has historically hovered around 2 (put another way, current assets cover current liabilities two times over). Dividends, meanwhile, have grown around 14% over the past decade-and even faster over the trailing five year period. That's well above the historical rate of inflation.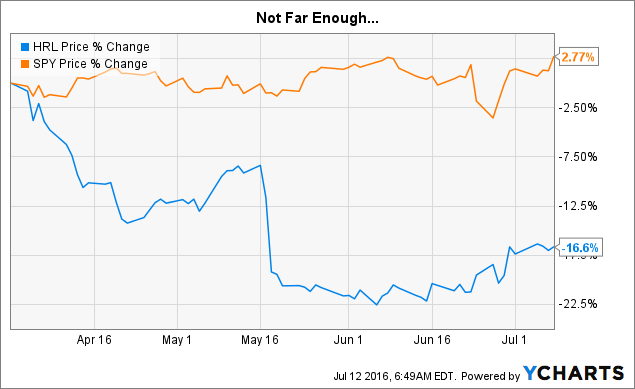 That doesn't make it cheap
No doubt about it, there's a lot of things to like about Hormel. Unfortunately, even after a 15% pull back, price isn't one of them. For example, the company's trailing price to earnings ratio is 20% higher than its five year average. Using forward earnings, which are based on historically fallible analyst estimates, the P/E ratio is still nearly 10% higher than its five year average.
But it doesn't stop there. Price to cash flow is also nearly 10% over its five year run rate. And the dividend yield is about 6% below the norm over the past five years. (During the 2007 to 2009 recession, Hormel's dividend yield got up to around 2.4%, well above the current 1.6% or so.) And then there's some big numbers... The company's price to book ratio is roughly 30% above its five year average and price to sales is nearly 70% over the long-term figure.
Across the board Hormel looks pricey today. That isn't a statement about how good or bad a company it is. It's a statement to investor sentiment. Investors are increasingly looking for safe dividend payers and Hormel's history suggests it fits the bill.
Cheaper for sure
Now, that said, Hormel is cheaper than it was just a few months ago. There's no question about that, but it still doesn't mean the stock is a good value at current prices. Even after a pullback it remains expensive.
You can argue that low interest rates justify the high price. I won't fight you on that one, but I would counter that low interest rates simply pull returns from the future into today's price. So, sure, it may deserve a premium valuation in a low rate environment, but that doesn't mean it will turn into a good investment. If you pay too much up front you will most likely have lower returns in the future. Looking at the numbers above it's hard to argue that Hormel is trading at anything other than an expensive price. And the low interest rate environment argument pretty much rests on the assumption that there will never be a reversion to the mean for interest rates-ever. History simply doesn't support that view.
I really like conservative companies that provide things that are needed and used every day. But I don't like to pay too much. In this case, Hormel scores well on one side of the equation, but not on the other. I wouldn't sell the stock if I owned it, but I would be hard pressed to buy more or initiate a position at current prices. It is, however, on my watch list... just in case it goes on sale.
Disclosure: I/we have no positions in any stocks mentioned, and no plans to initiate any positions within the next 72 hours.
I wrote this article myself, and it expresses my own opinions. I am not receiving compensation for it (other than from Seeking Alpha). I have no business relationship with any company whose stock is mentioned in this article.