JPMorgan (NYSE:JPM) will report 2Q16 results on 14 July. We expect earnings per share of $1.49. We are above Bloomberg consensus of $1.42, mainly due to higher trading income and lower loan loss provisions.
Key trends we expect to see in the upcoming results:
Trading & Capital Markets will drive an earnings beat
Although capital market conditions have deteriorated over the past year, they are somewhat improved from the first quarter, with the FICC (Fixed-Income, Commodities and Currency) and DCM (Debt Capital Markets) being a particular strength.
Within the FICC, the High-Yield segment has seen the most q/q improvement with materially increased issuance in high-yield bonds (+139% q/q pro-rated till end May) albeit of a very low Q1.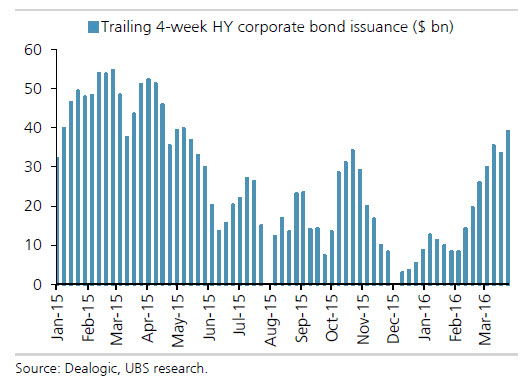 Source: Dealogic, UBS Research
In addition, we believe market volatility/activity levels around the June Fed meeting and the Brexit vote were a tailwind for JPM's trading income. According to JPMorgan CEO, Jaime Dimon, currency-trading volumes reached a record on 23-24 June.
Debt underwriting fees are expected to be up significantly from 1Q16 lows (up ~15% q/q).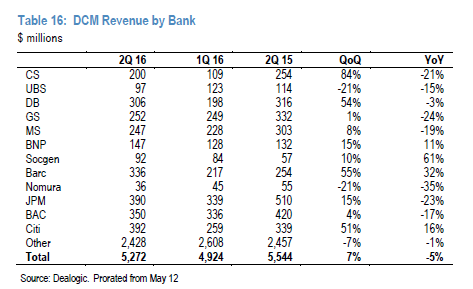 Source: Dealogic, JPM Research
Based on Dealogic data points, ECM (Equity Capital Markets) revenues have underperformed DCM, but were also up on a quarterly basis.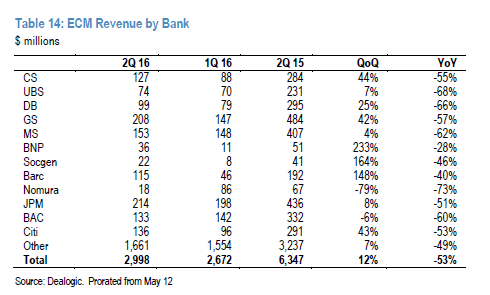 Source: Dealogic, JPM Research
Strong DCM results were partly offset by a weakness in M&A revenues.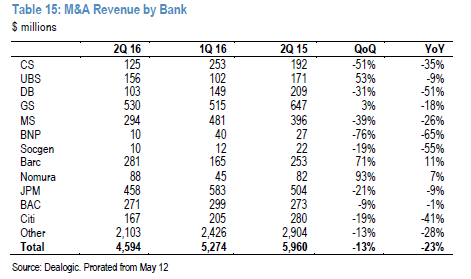 Source: Dealogic, JPM Research
We expect NIM to decline q/q
We expect JPM's NIM (Net Interest Margin) to decrease by 2 bps q/q to 2.28% on the back of a decline in net interest income. While JPM's 1Q16 NIM was supported by the December Fed rate hike, which drove asset yields up 12 bps vs. deposit costs +2 bps, 2Q16 numbers are likely to have lost this support. Having said that, we could see some residual positive impact from the December tightening with loan repricing contractually lagging. We note that this is not built into our and consensus estimates, hence, if these residual positive impacts materialize, investors will be pleasantly surprised.
Improving asset quality
We forecast a substantial decline (-29% q/q) in loan loss provisions (LLP) due to lower charges on energy-related loans. On the consumer side, we expect stable credit quality. We also note that indicators of consumer credit quality on a macro level (employment, debt service) and on a micro level (master trust data) do not show any signs of deterioration and we could still see some recoveries and reserve release in JPM's consumer portfolio.
Cost management to remain solid but the sustainability is an issue
We expect JPM to continue focusing on cost-efficiency measures, in light of the current sluggish revenue growth environment. Cost-cutting looks more sustainable now that it is occurring in the non-compensation side of JPM's business. However, the market has already priced in JPM's cost optimization program.

Click to enlarge
Source: Bloomberg
The market expects non-interest expenses of $56.1bn while the management guidance is "$56+/- bn". The sell-side analysts are now expecting a large chunk of the remaining c.$2bn in expense savings to accrue in 2016, which should keep operating expenses flat(-ish) on a y/y basis. Should it take longer for that to happen, JPM's earnings would be revised downwards.
Above-average loan growth
For 2Q16, the Fed data shows aggregate loan balances increased 2% on a quarterly basis and 8% y/y. While we do not think that JPM will be able to maintain a 11% loan growth rate, the bank should still outperform the sector, in our view,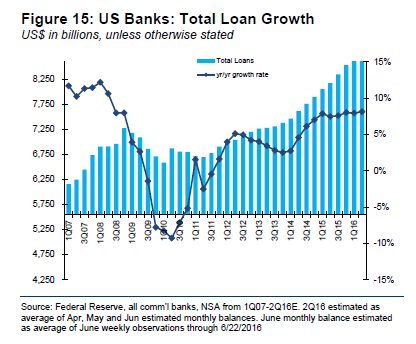 Source: Credit Suisse
JPM has a strong track record of beating analyst estimates

Click to enlarge
Source: Bloomberg
Our expectations vs consensus forecasts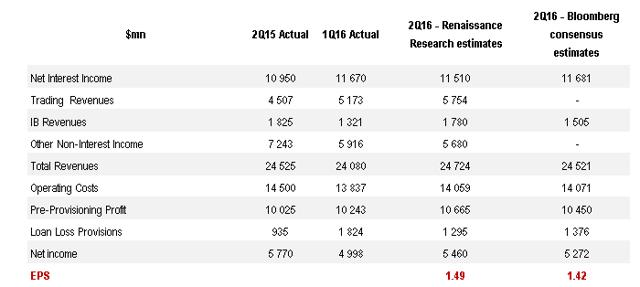 Click to enlarge
Source: Renaissance Research estimates, Bloomberg
An earnings beat coupled with solid results across the board, so why JPM is still a HOLD?
The stock has declined by 3% since our "HOLD" call. W e were assuming no rate hikes in 2016 and our investment thesis was based on the fact that higher rates are crucial for JPM, given its asset-sensitive balance sheet. Hence, we argued that JPM is a HOLD unless the Fed tone turns more hawkish and the market starts to price in at least two rate hikes this year. Just to clarify what we mean by a "HOLD" recommendation:
A hold recommendation means that in the view of the analyst who made it a stock should be retained by those who already own it but should not be bought those who don't.
Source: Reuters
We are still long JPM at an average cost of $56 but we are not buying the stock at the current levels.
What has changed since our call? In fact, outlook on the U.S. interest rates has deteriorated. The below tables show the implied probabilities of a Fed rate hike, calculated as of 21 April and 11 July.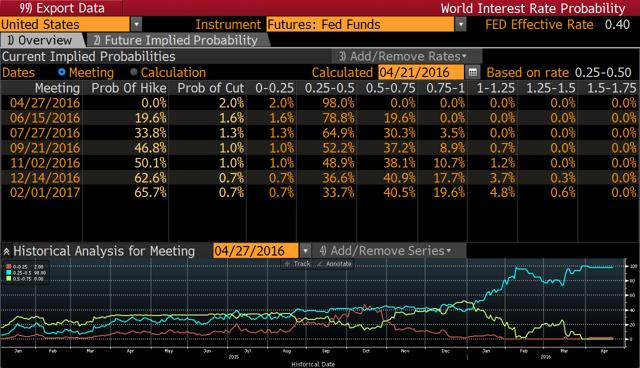 Click to enlarge
Source: Bloomberg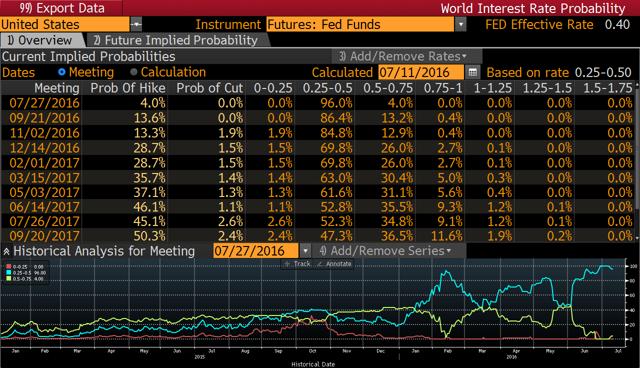 Click to enlarge
Source: Bloomberg
A flattening yield curve puts pressure on the banks' margins.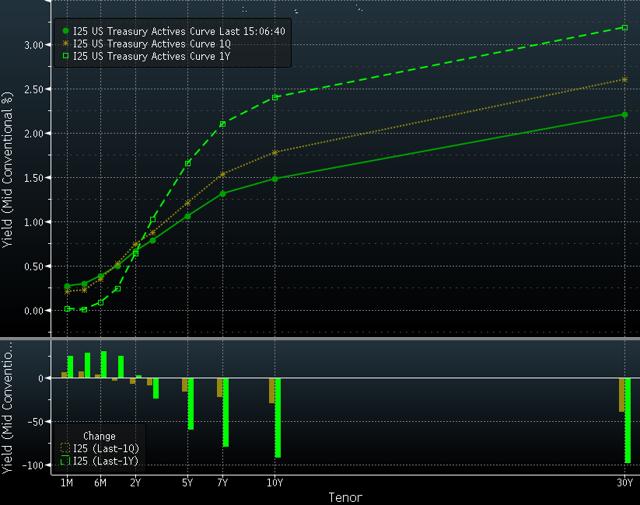 Click to enlarge
Source: Bloomberg
Moreover, the cost of the 10 year is 1.48%, and, in the context of Brexit fallout, the Chinese Yuan devaluation and other global macroeconomic issues, the risk for yet lower yields is not zero, in our view.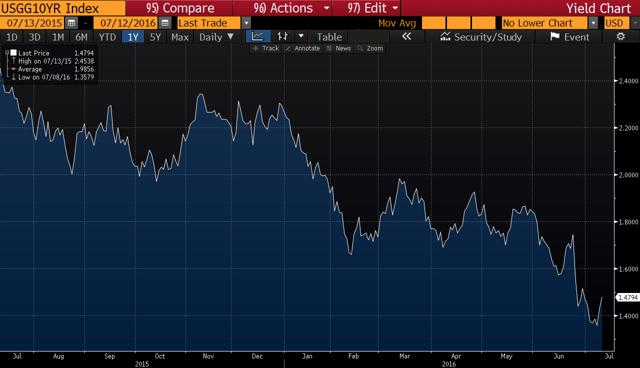 Click to enlarge
Source: Bloomberg
Bottom line: JPMorgan should deliver a solid earnings beat, driven by exceptionally strong trading income. We expect above-average loan growth, a marginal decline in NIM, good cost control and improvements in credit quality. JPM is our top-pick among a basket of "Big-4" banks: JPMorgan, Bank of America (NYSE:BAC), Citigroup (NYSE:C) and Wells Fargo (NYSE:WFC), and we think the stock should get a boost from the 2Q16 results. Having said that, JPM remains a hostage to a low interest rate environment. With a flattening yield curve and the cost of the 10 year at below 1.5%, we are reiterating our "HOLD" call.
If you are interested in equity research on U.S., European, LatAm, and CEEMEA banks/financial companies, including fundamental analysis, DCF/multiples valuation, commentaries on price-sensitive events and actionable trading ideas, click the "Follow" button beside my name on the top of the page.
Disclosure: I am/we are long JPM.
I wrote this article myself, and it expresses my own opinions. I am not receiving compensation for it (other than from Seeking Alpha). I have no business relationship with any company whose stock is mentioned in this article.