AdvancePierre Foods Holdings, Inc. (NYSE:APFH) expects to raise $238.4 million in its upcoming IPO. Based in Blue Ash, Ohio, AdvancePierre Foods produces and distributes sandwich and protein products for foodservice and retail customers, schools, and convenience channels in the United States.
APFH will offer 18.6 million shares at an expected price range of $20 to $23. APFH filed for the IPO on April 11, 2016. The lead underwriters are Barclays Capital, Credit Suisse Securities, and Morgan Stanley. The underwriters are BMO Capital Markets, BofA Merrill Lynch, Deutsche Suisse Securities, Goldman Sachs, Houlihan Lokey Capital, and Wells Fargo Securities.
Business Summary: Leading National Food Producer and Distributor
According to APFH's SEC Filings, the company produces and distributes convenient, ready-to-eat sandwiches, sandwich ingredients, and other entrees and snacks, aimed at foodservice and retail customers, schools and other convenience channels in the United States. Products include chopped steaks, fully cooked burgers, breaded poultry, beef, pork and veal products, fully chicken, drumsticks, fajita strips, meatballs, sandwiches, bakery items and school sandwiches, among others.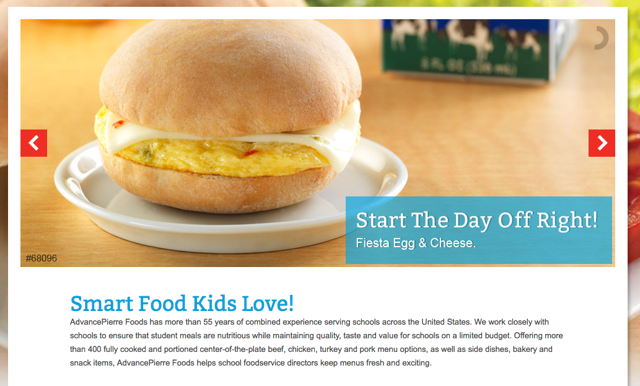 Click to enlarge
(Source)
The company was formerly known as Pierre Foods, Inc. and changed its name to AdvancePierre Foods, Inc. in October 2010. AdvancePierre Foods, Inc. was founded in 1946 and is headquartered in Blue Ash, Ohio. It has manufacturing facilities in Oklahoma, Ohio, and Iowa; sandwich-assembly facilities in North Carolina, Ohio, and South Carolina; and bakeries in Illinois, North Carolina, and Oklahoma. AdvancePierre Foods, Inc. operates as a subsidiary of Pierre Holdco, Inc.
Use of Proceeds: Debt Repayment
AdvancePierre intends to use the net proceeds to repay a portion of an outstanding balance of $1.3 billion on a first lien term loan with an interest rate 4.75%.
Executive Management Highlights
CEO, President and Director John Simons has served in his position since September 2013. His previous experience includes positions at S&C Holdco 3 Inc., Gregory Mountain Products, Swift & Company, ConAgra Foods, and Cargill. Mr. Simons holds a Bachelor of Arts in Economics and Political Science from Stanford University and a Master of Business Administration from Harvard University.
CFO Michael Sims has been in his position since February 2012. His previous experience includes senior financial positions at Chiquita Brands International., Staley Continental, Arthur Young & Co., and Ernst & Young. Mr. Sims holds a Bachelor of Science (Accounting) from Indiana University in Bloomington, Indiana and is a Certified Public Accountant.
Potential Competition: Smuckers, Nestle, Hillshire, and Hormel
AdvancePierre faces competition from several enterprise level companies and smaller producers as well. These include Smuckers (NYSE:SJM), Nestle (NESN), Hillshire (NYSE:HSH), Hormel (NYSE:HRL), JTM Food Group, Lopez Foods, Devault Foods, Allied Specialty Foods, CTI Foods, and American Food Group.
Financial Overview:
AdvancePierre Foods Holdings provided the following figures from its financial documents for the fiscal years ended in January:
| | | |
| --- | --- | --- |
| | 2015 | 2014 |
| Revenue | $1,611,611,000 | $1,577,627,000 |
| Net Income | $37,111,000 | ($37,943,000) |
As of Jan 2., 2016:
| | |
| --- | --- |
| Assets | $1,096,159,000 |
| Total Liabilities | $1,523,386,000 |
| Stockholders' Equity | ($427,227,000) |
Conclusion: Take A Bite
AdvancePierre holds the number one or two market share position in nearly all of its major product categories. AdvancePierre posted impressive net sales of $1.6 billion in fiscal 2015, while nearly doubling net income.
Despite a competitive industry, and risks of contamination in its supply chain, the company is poised for a hot IPO. We hear the deal is already oversubscribed, and interest continues to accumulate.
Disclosure: I/we have no positions in any stocks mentioned, but may initiate a long position in APFH over the next 72 hours.
I wrote this article myself, and it expresses my own opinions. I am not receiving compensation for it (other than from Seeking Alpha). I have no business relationship with any company whose stock is mentioned in this article.