Seagate Technology (NASDAQ:STX) dropped a bombshell after Monday's close, announcing preliminary Q4 results, which indicate a very different situation than investors were led to expect after Q3's disaster of an earnings report. Revenue and gross margin are both expected to be miles better than originally guided for after the third quarter, and what this could indicate about future results requires me to reassess my call for an immediate dividend cut, which I wrote in my past article on Seagate here. STX is up 20% on the news.
Considering I wrote that article calling for a dividend cut just four days ago, it might seem like a rather strange and dubious move for me to backtrack now, but Seagate's preliminary Q4 numbers are extraordinarily more encouraging than the numbers investors were expecting. Here's the gist of it:
Q4 revenue is expected to be $2.65 billion, which is 15% higher than management's original guidance of $2.3 billion.
Gross margin of 25% for Q4 is miles ahead of the 22.7% margin in Q3.
Management expects to boost gross margin to between 27% and 32% in the December 2016 quarter by reducing headcount by 6,500 employees, or 14% of the workforce.
Let's go through this bullet by bullet. First off, I'm not sure how Seagate's management possibly was off on revenue guidance by so much, but regardless this is great news for long investors. Year-over-year revenue is still down almost 10%, but considering revenue was initially guided for a year-over-year decline of more than 20%, this is not bad at all.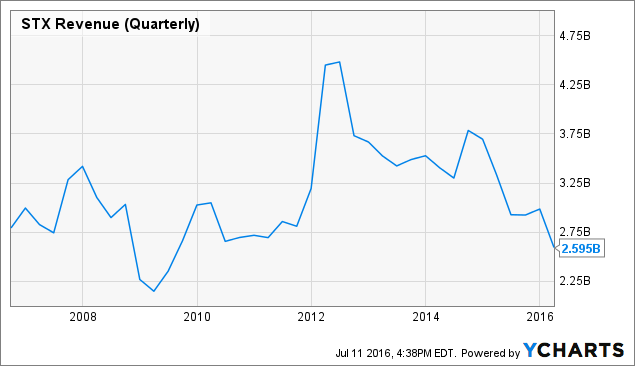 STX Revenue (Quarterly) data by YCharts
The initial $2.3 billion in guidance would have been Seagate's lowest quarterly revenue figure since the middle of the Great Recession. I cannot overstate just how huge this Q4 report is for Seagate. With management's initial guidance, it looked like revenue was deteriorating out of control with no end in sight. This quarter does not give any indication that the HDD market is reversing course, and I don't think it is, but it definitely shows that the company's situation is not as dire as it appeared to be after Q3.
Another big positive is the gross margin for the quarter, which Seagate attributed to better-than-expected demand for its HDD offerings. Higher revenue and higher gross margin will likely translate to higher net income at a company aggressively cutting back on expenses. Similarly, higher net income will likely translate to higher operating cash flow, which Seagate desperately needs if it wants to stay afloat. At previous guidance, Seagate looked headed for an atrocious Q4: massive revenue decline both YoY and sequential, further deterioration of gross margin and cash flow, and further evidence that the dividend was unsustainable. And the good news was not done yet.
Thirdly, and I think most importantly, we finally got indication that Seagate management was willing to make significant changes in order to increase the viability of the company. In the preliminary Q4 results, management stated that 6,500 employees, roughly 14% of the workforce, would be laid off in order to boost gross margin to between 27% and 32% in the December 2016 quarter. This comes after an announcement on June 29th that it would be laying off 1,600 workers to save $100 million a year in costs.
In my article on Seagate and the sustainability of its dividend, I claimed that firing 1,600 employees for $100 million a year was not nearly drastic enough to protect the dividend. The restructuring plan disclosed in the Q4 report is more like it. Seagate had a shortfall of $78 million between cash flow and dividends paid last quarter, and I foresaw this gap widening significantly based on management's original guidance. However, with a revamped gross margin, much higher revenue expectations than initially forecasted, and the high probability that the company will turn a profit in Q4, insufficient cash flow will likely not be an issue this quarter.
While most of what I wrote in this article sounds like sunshine and daisies, that is only because of what I am comparing these results to. The original guidance was horrid and by comparison the preliminary results for the fourth quarter are stellar. However, the core problem still remains: the HDD market is moribund. It will still bear fruit for years, but the benefit will become sparser with time. Revenue will continue to decline and cash flow will suffer. The increase in gross margin might soften the blows for a while, but eventually a quarterly dividend of $181 million will be unsustainable. It likely already is.
What the Q4 results have shown me is that Seagate does not need to cut its dividend immediately, but the time frame is the only variable that has changed. A yield above 10% for a contracting company with few to no visible growth ahead is just not the correct financial move in my mind. Barring some miraculous comeback in HDD demand or an ace hidden up management's sleeve, the dividend will be slashed. And if management truly wants to turn Seagate's fortunes around, the move should take place sooner rather than later.
If you want to stay up-to-date on my articles, you can Follow me by going to my author page or by clicking "Follow" at the top of this page.
Thanks for reading!
Disclosure: I/we have no positions in any stocks mentioned, and no plans to initiate any positions within the next 72 hours.
I wrote this article myself, and it expresses my own opinions. I am not receiving compensation for it (other than from Seeking Alpha). I have no business relationship with any company whose stock is mentioned in this article.