Berry Plastics (NYSE:BERY) - Long Idea, $64 target
Contents
Boil Down
Company
Math
Valuation
Skeptics
BOIL DOWN
Berry Plastics is a classic "sleep well at night" equity investment for the following reasons:
The math -- simple and compelling,
The business -- steady and recession resilient,
The valuation -- shockingly cheap on FCF and EBITDA, and
The skeptics -- worries are clearly identifiable and fixable.
BERY is our biggest long position and we see a straightforward path to $60+ over the coming 12-24mo. Despite our investment hitting long-term gains status, and despite the stock reaching all-time highs on Friday July 8, we have not sold (have actually increased our position year-to-date). The biggest thing the stock needs is better appreciation of the story; hence, this article.
The short version: $4.50 FCF/share @ 7% yield = $64 fair price

Click to enlarge
Figure 1: cap structure and debt stack; source: author
COMPANY
Berry Plastics is a plastic packaging company with 117 facilities throughout the world serving 13,000+ customers (none greater than 2% of sales) across three segments: Health, Hygiene & Specialties ("HH&S") (45% of sales), Consumer Packaging (35%), and Engineered Materials (20%). In total, 80% of sales feed stable consumer-oriented end markets, including personal and health care (37%), food and beverage (29%), and household chemicals (14%), with the remaining 20% of sales from engineered materials. Geographically, North America makes up the bulk of sales (76%), including all of the consumer business, with the remaining sales spread between EMEA (12%), South America (7%) and Asia (5%).
Big Picture: Stable, defensive end markets and heavily weighted toward the U.S. In other words, ideal for today's uncertain macroeconomic outlook.
Products: The simple way to think about BERY's business is to think of any plastic-made packaging product. On the consumer side, this means containers, lids, bails, handles, drink cups, closures, caps, bottles, prescription vials, tubes, films and bags. Stuff you see everywhere. On the health and hygiene side, think of baby diapers, feminine products, dryer sheets, medical garments, cleaning wipes, filters, wraps, surgical drapes, and face masks.
Inputs: The company's main input is resins (50% of COGS) in the form of polypropylene (55%) and polyethylene (45%). The company currently buys 3.5 billion pounds of resin annually, equating to significant buying power and volume-based discounts. These commodities fluctuate, typically in sympathy with crude oil; commodity risk is often cited when discussing BERY. However, we would highlight two critical considerations:
BERY contractually passes on 75% of the resin cost to customers with an average lag of about 45-60 days. Of the 25% that is exposed to spot rates, it does its best to mitigate impact. Overall, most analysts are overly fearful because they fail to appreciate the pass-thru.
U.S. polyethylene capacity is set to rise dramatically, perhaps as much as 40%+ by 2019. Utilization rates should drop into the 80s, which tends to depress PE prices. Most of this passes through to BERY's customers, per #1 above, but nevertheless there is a tailwind to BERY as they fight to hold what they can on the non-passed-through portion.
*Note: FX exposure is limited because resin is a dollar-denominated commodity, so many contracts are dollar based (including all contracts in Brazil for example)
Summary: BERY is a company producing plastic packaging for food, beverage, healthcare, and cleaning products-- plus a bunch of diapers. These markets remain resilient regardless of employment levels or macroeconomic sentiment and are buoyed by favorable demographic trends (aging in developed countries leading to healthcare needs, growing populations in EMs). We have no customer concentration risk, nonexistent counterparty risk (customers include McDonald's (NYSE:MCD), Kimberly-Clark (NYSE:KMB), P&G (NYSE:PG), etc.), and an over-indexing to the relative safety of North America. Some may call it boring; we call is sustainable.
*Note: a big part of the story is the recent acquisition of Avintiv. If we had written this article a few months back, it would be a bigger focus. At this point, integration is on track, assets are performing, related financing activity is completed, and the deal is mostly in the rearview mirror. We'll touch on the deal in our "skeptics" section below.
MATH
The packaging space primarily trades on FCF yield, though EBITDA multiples are also frequently cited. For a de-leveraging story, we mostly care about FCF available for debt paydown. We then check for the sustainability and trajectory of the key inputs. Ultimately, it comes down to a simple equation:
EBITDA (-) capex (-) cash taxes (-) cash interest (-) other cash costs = FCF
CY17 EBITDA: $1,230mm. This represents 1.65% growth off an expected $1,210mm for CY 2016. LTM EBITDA is $1,190mm. Drivers:
Just started to show positive volumes, could see organic growth in 0-2% range without heroic assumptions.
Fragmented packaging space offers myriad bolt-on opportunities.
Avintiv business has better volume trends than legacy BERY.
BERY is already dramatically outperforming its original synergy targets (raised from $50mm to $65mm to $80mm); BERY has integrated more than 30 deals with an average synergy achievement of just north of 5% of acquired sales, which would translate to $120mm; we think $100mm is easy.
We're essentially in-line with consensus here, with the up-down skewed in our favor; better to be conservative, we want math to work without expecting too much.
*Note: interesting to observe how low consensus is for 2H FY 2016 (ending 9/30). They could likely crush numbers as we move forward the next two quarters. See historical front half / back half split and where consensus is currently in the chart below (Figure 2).
CY17 Capex: $285mm. LTM capex is $285mm. Guidance for CY 2016 is also for $285mm.
CY17 Cash Taxes: $105mm. This one requires some digging. BERY is subject to a TRA (tax receivable agreement) with Apollo, its former PE sponsor. In short, BERY came public with NOLs and agreed to pay 85% of the realized value of these NOLs back to Apollo. The easiest way to think about it is that BERY gets a 15% discount on a normal tax rate throughout the life of the TRA (i.e., until the applicable NOLs are exhausted). In 2016, the TRA payment is $57mm per SEC filings and company reports, plus the company has $30mm in other cash taxes (local, state, international). In 2017, we see this going higher with EBITDA growth and fewer below-the-line items (e.g., restructuring charges).
Note: after 2016, the remaining TRA liability is $98mm, so it should mostly be exhausted by the end of CY 2017. After that, BERY will use acquired NOLs from the Avintiv deal ($400mm) to shield taxes for a brief period of time. Most likely, BERY will have very little cash taxes for CY 2018-2019 and then be a full payer thereafter. You could NPV these NOLs or incorporate into a DCF. Instead, we put this in the "oh that's nice" bucket and make sure the investment works without it.
CY17 Cash Interest: $240mm. Currently cash interest is running $270mm including the cost of swaps they have in place for hedging purposes. Recent financing activity will reduce CY 2017 interest by ~$12mm. The company has indicated it will de-lever by 0.5x turns per year and is going to spend 2016 FCF on debt paydown. 2016 FCF will be about $500mm (guidance is $475mm), so at 5% that would be another $25mm interest reduction. Given timing, we reduce interest by only $30mm in total.
CY17 Other/WC: $40mm. This captures WC ($10mm in 2016), pension cost (~$10m), integration costs, and other costs associated with synergy realization or balance sheet optimization. In 2016, this total "other/WC" bucket is projected to be $73mm, reflecting the heavy refinancing and integration activity. Should be cut in half as company settles into steady state in 2017. To the extent BERY does more M&A (serial acquirer after all), this number would increase but so would EBITDA (beyond our model). Net-net, we're comfortable with a material improvement here.
CY17 FCF: 1230 EBITDA - 285 CAPEX - 105 CASH TAXES - 240 CASH INTEREST - 40 OTHER = $560 million
Dil S/O are currently 124.4
--> $4.50 per share of FCF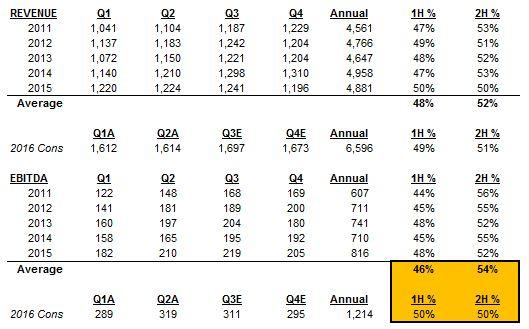 Figure 2: consensus EBITDA for 2H FY 2016 very conservative
Source: author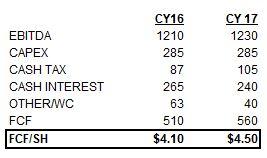 Figure 3: Free Cash Flow
Source: author
VALUATION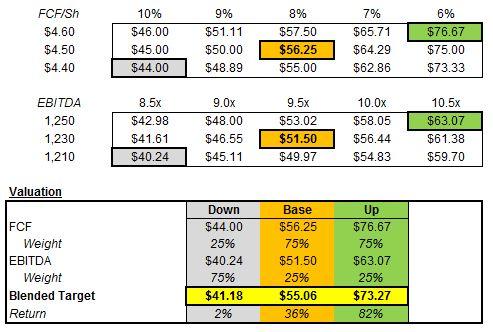 Figure 4: Valuation Table
Source: author

Click to enlarge
Figure 5: Comps
Source: author
SKEPTICS
If I were reading this writeup, I would wonder what I'm missing. Huge valuation gap to peers for a defensive, steady business?
We've spoken to bears and heard every pushback. Here's the story:
Leverage: BERY is the most levered name in the packaging space. CCK is second at 4.1x net debt to forward EBITDA, SEE is 3.7x and the rest of the group is much lower. The group average is 2.7x, putting BERY at 2-turns north of the group. BERY is working hard to bring long-only blue chip "vanilla" investors into the stock with outreach and education. However, many funds still balk at the high leverage. It is simply a gating item (until it's not). As BERY approaches 4x, we expect this concern will erode as a matter of course. Should see new investors getting over the hurdle by early 2017.
Track Record:
BERY is relatively new as a public company, having gone public in October 2012.
When it first came public, it was less disciplined with regard to tightening up the resin pass-through lag, resulting in more noise on a quarter-to-quarter basis. This came to a head at its first ever Analyst Day on September 17, 2013, when it spooked everyone with bad numbers and the stock fell 12.5% on huge volume (backed up with further selling, eventually moving from $25 before the event to $18 weeks later).
BERY told everyone it was all about de-levering, then levered up to buy Avintiv unexpectedly.
The net result of the three factors above is that investors aren't sure how much they can trust management. This is where we have spent a significant amount of time. The company clearly understands this set-up and is working hard to ameliorate the situation. They have fixed the resin lag to reduce volatility; they have exceeded quarterly and annual guidance numbers ever since the early stumble; and they have met with investors on non-deal roadshows to explain Avintiv and to promise that they won't buy anything until they de-lever to 4x or less (currently 4.8x net). Management gets it. And over recent months, they have seen the stock recover from high 20s to 40 simply by sticking on-message.
Barriers to Entry: Some fear that the fragmented world of plastic packaging is one with low barriers to entry. Some products, moreover, are commoditized (cups). Additionally, you might fear that cost is the biggest driver of winning business, which puts pressure on margins forever and requires constant outlays to improve or upgrade heavy equipment.
In reality, capex intensity is low and the primary competitive moat is scale. Berry can price best because it buys so much resin. Moreover, it is uniquely positioned to service massive international conglomerates (partial customer list above because of its global footprint). These advantages are not easily replicated.
Volumes: after going public BERY had negative volumes every quarter until recently. Food and beverage end markets have been challenging for several thematic reasons, and the company promise of "GDP+" growth has never materialized. Recently hyped volume initiatives, like the new Versalite product (recyclable plastic with thermal qualities similar to non-recyclable Styrofoam), have largely fizzled.
Fair point on this count, we do worry volumes will never take off and could stay mediocre. But as we have hopefully shown, this investment works without volume growth-- we just aim for stability. What's more, this is the exact reason for the Avintiv deal-- exposure to growing markets, both geographically and sector-specifically. BERY now has a couple positive volume quarters under its belt and we expect this to continue.
Disclosure: I am/we are long BERY.
I wrote this article myself, and it expresses my own opinions. I am not receiving compensation for it. I have no business relationship with any company whose stock is mentioned in this article.
Additional disclosure: IMPORTANT DISCLOSURES This presentation is not an offer to provide investment advice or a solicitation of such an offer. No one should rely on the information contained in this presentation to make any investment decision. The presentation contains and is based in information that the author believes to be correct but has not verified that information and assumes no liability if such information is incorrect. The author has no duty to correct or update the information contained herein and may buy, sell or sell short the security at any time without notice to anyone. This document contains forward-looking statements based on the author's expectations and projections. Those statements are sometimes indicated by words such as "expects," "believes," "will" and similar expressions. In addition, any statements that refer to expectations, projections or characterizations of future events or circumstances, including any underlying assumptions, are forward-looking statements. Such statements are not guaranties of future performance and are subject to certain risks, uncertainties and assumptions that are difficult to predict. Therefore, actual returns could differ materially and adversely from those expressed or implied in any forward-looking statements as a result of various factors.